In today's ever-developing digital landscape, brands can no longer rely on innovative packaging, shelf position, or even the product itself. It's all about marketing, customer service, and distribution.
Don't get us wrong – the product, of course, has to be good or else, what's the point of buying it? But even the best products cease to ever find a market due to poor strategy and a lack of positioning in an already flooded market.
This is where direct-to-consumer (D2C) ecommerce has changed the game for brands looking to establish a deeper connection with consumers and cut out the costly "middle-men."
In this blog, we'll cover what exactly D2C ecommerce is, the pros and cons, and provide you with the best digital marketing strategies for your D2C brand for 2022 and beyond.
What is D2C Ecommerce?
Direct-to-consumer, also commonly abbreviated to D2C or DTC, is an ecommerce strategy where a brand does the manufacturing, marketing, and distributing completely in-house for its own products.
With traditional retail or business-to-consumer (B2C), a brand will have to go through a number of parties to complete a sales journey, including a third-party manufacturer, wholesaler, distributor, and retailer – this is before it ever even reaches the consumer.
D2C differs in that a brand will typically ship directly to the consumer or run their own pop-up shops in order to sell their products. Comparatively, D2C brands are also more likely to utilize a subscription-based strategy as a way to engage customers and build predictable revenue.
Examples of D2C Ecommerce Brands
While D2C brands operate in a different distribution framework and marketing strategy than a classic B2C brand, it doesn't mean these businesses fly under the radar.
Many of these well-known D2C brands have quickly rose to the top with a few garnering $100M-$310M in sales in less than two years.
Let's take a look at a few of these monumental brands and how they have changed the game for businesses everywhere – both D2C and B2C.
Glossier
Image courtesy of Glamour Magazine)
Glossier is an American direct-to-consumer beauty brand that cultivated the "minimalist makeup" trend – all but erasing the former Instagram filtered makeup trend of the mid-2010s.
From Glossier's inception, the brand has continued to stay D2C with all sales conducted on the ecommerce site, Glossier.com, in order to maintain complete control of consumer relations and first-party consumer data.
This not only provides Glossier with advantageous data they can use for marketing, but also gives insight onto emerging trends in order to compete with similar beauty brands and retailers, like Rare Beauty, Fenty Beauty, and Sephora.
Warby Parker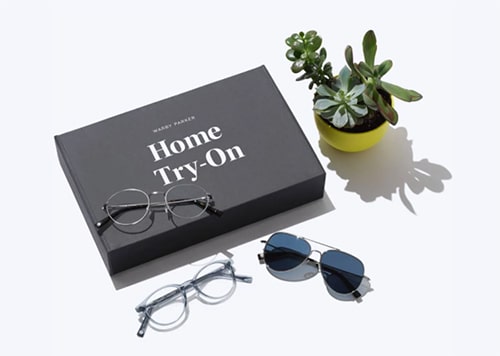 Image courtesy of Warby Parker)
Warby Parker is an American online retail brand based out of New York City that specializes in high-quality eyeglasses, sunglasses, contacts, and eye exams for an affordable price.
The massive success of this D2C brand can be attributed to their innovative social media and consumer experience marketing strategies. The brand allows individuals to try on five frames at home in order to find the one that fits them the best – a convenience that has led this D2C brand to garner a massive following since its founding in 2010.
Hello Fresh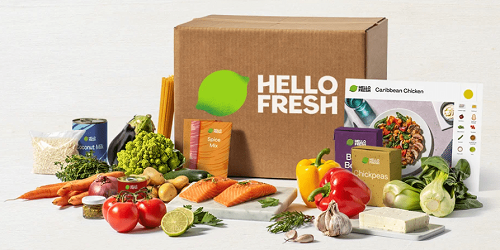 (Image courtesy of HelloFresh)
HelloFresh is an international meal-kit delivery service with a distinct focus on customer experience and sustainability. The premise of HelloFresh is simplicity – with their freshly prepared ingredients, consumers are able to have a home cooked meal without having to grocery shop, prep, or plan.
You'd be hard-pressed to find a YouTube video that hasn't, at one time or another, been sponsored by this ultra-successful D2C brand. HelloFresh is now the largest meal-kit provider in the United States and continues to thrive in the booming meal-kit delivery service industry via their innovative supply chain model, social media marketing strategies, and customer data optimization tactics (i.e. updating meal options based on customer preferences).
Pros and Cons of D2C Ecommerce
As D2C ecommerce continues to be a favored strategy for businesses looking to digitally optimize their brand and have end-to-end control of their products, it's not always the easiest choice. With any business model, there are pros and cons that need to be addressed in order to determine if this type of strategy is right for your brand.
Pros of D2C Ecommerce
Brand Control – Whereas D2C brands have access to numerous pieces of information like consumer data and manufacturing, traditional B2C businesses often don't. This increased brand control allows D2C businesses the freedom to build a relationship with consumers, develop their own innovating and unique marketing concepts, and gather immediate feedback.

Access to Consumer Data & Engagement – Why is immediate feedback important? In order to understand what sells and what needs improvement, consumer feedback is vital for any brand looking to expand. Because D2C brands have direct access to consumer data, they can better understand consumer purchasing behaviors which helps in optimizing products or creating new ones.

Eliminate Unnecessary Costs – By eliminating the unnecessary cost of the middle man retailer, D2C brands gain higher margins as they're able to sell their products at the traditional retailer price.

Market Expansion – From an operational standpoint, D2C brands have the benefit of geographic and market freedom – without traditional manufacturing restrictions. For brands looking to go global, adopting a D2C strategy is a great way to increase market expansion.
Cons of D2C Ecommerce
Business Responsibilities – With great freedom, comes great responsibilities – especially if you're a D2C brand. Increased business responsibilities can technically be both a pro and a con as D2C brands have full autonomy on their production, marketing, and distribution. This can also be a negative as complex operations like order fulfillment, payments, customer service, and shipments can often become overwhelming.

Increased Promotional Costs – While D2C brands retain higher profit margins, they also bear the brunt of increased promotional costs for advertising campaigns and various product fees that tend to add up – especially for small businesses.

Retail Competition – D2C brands have become a force to be reckoned with in today's digital landscape, but not everyone shops online. D2C brands face increased competition with brick-and-mortar stores that have a loyal consumer base and offer a variety of products.
Best Marketing Strategies for D2C Ecommerce
In order to create a successful and evolving D2C ecommerce brand, there are a few key strategies every business should know. As we said earlier, good products are not enough – it's vital that D2C brands understand the business of ecommerce and create foundational marketing strategies that not only attract new consumers, but retain the loyal ones.
Establish Your Brand's Key Message
Every D2C ecommerce brand must have a key message that delivers to consumers what differentiates your brand from another. Before creating marketing material, before creating campaigns – before everything, your brand. Must. Have. A. Message.
For guidance on strategy and key message development, check out Americaneagle.com's content strategy team who can assist you with developing an end-to-end foundational strategy for your D2C ecommerce business.
Focus on Consumer Experience
As an ecommerce brand, having a clean, easy-to-use website is a non-negotiable; from start to finish, a consumer should be able to operate your website with little to no issues.
If you find that sales aren't what they should be, begin by checking the UX functionality of your website. This will ensure that consumers have a positive end-to-end experience and will, more than likely, return back.
Simplify the Return Process
Since 2020, brands have quickly become aware of the benefit to creating a simple and streamlined return process for consumers. In order to retain customer loyalty and create a positive user experience, the return process must be simple AND inexpensive for customers.
If you're going to invest in one thing, it has to be returns. Of course, no brand likes returns, but they are an inevitable part of operating a business and should be optimized to meet consumer expectations.
Narrow Down Your Target Audience
After developing a key message and before developing a remarkable advertising campaign, it's vital for D2C ecommerce brands to narrow down a target audience. This will give you all the necessary marketing insight brands need in order to market their product.
For example, if your product is meant for a Gen-Z audience, advertising on Facebook may not be the best plan of action.
Utilize Social Media Marketing
For D2C brands, social media is the gold standard for advertising.
Twitter, Instagram, Facebook, YouTube, Spotify – the list goes on. It's also important for D2C brands to use influencers and micro influencers as a way to reach a larger audience. Consumers, on average, are less likely to trust a D2C brand if they've never tried it before, so it's vital to build trust through a social media influencer.
Partner with Americaneagle.com Today
Looking to create the ultimate digital experience for your D2C brand? At AmericanEagle.com, we have a passion for technology and can develop, design, and market your brand with the help of our leading digital experts.
Whether you're looking for web development, digital marketing, experience design, or cyber security, we're here to bring your brand's unique vision to life.
For more information on how to get started, please contact us today!
---
About Author
---