Email personalization is more than just a strategy, it is a way to connect one on one with a lead who is interested in your products or services. According to Campaign Mentor, email personalization is the act of targeting an email campaign to a specified subscriber by utilizing the data and information you have gathered based on their interactions and searches. The information is then used to personalize the email. For example, first and last name, location, and website data usage.
Benefits of Email Personalization
The overall benefits of personal emails are astonishing. According to Hubspot, it increases customer engagement by 80% as buyers are more likely to purchase after a personal experience. Additionally, 90% of US consumers have admitted that they are more enticed by personalized marketing. As a result of personalization, engagement and exposure are increased even if a purchase decision is not made at that exact moment.
Elements of Email Personalization
Personalized emails are more relevant to subscribers. Consequently, marketers should understand the elements of a personalized email including what makes it personal and attractive to consumers. Below are the main elements to incorporate:
Timeliness ー after gathering sufficient actionable and relevant data about a customer, be sure to leverage that information when communicating with them. For example, use location information to ensure that email communications are sent during business hours or when they're most active.
Relevance ー ensure you are incorporating information that is relevant and will have a direct impact on the customer. Make it personalized by calling the customer by their first name.
From an actual sender ー have it come from a person who understands the buyer's needs and not from the overall company that copies the same text and almost makes it resemble spam mail.
There are also opportunities to take personalization a step further. To really engage your audience through email marketing, there are two options: medium sophistication personalization and advanced sophistication personalization. Both consist of different, but beneficial, elements – you just need to decide which will work best for your business goals.
Medium Sophistication Personalization Tactics
Marketers that utilize medium sophistication personalization tactics are pursuing the development of relationships with consumers. They are interested in targeting and hence stimulating high levels of interest and engagement. The five main medium personalization tactics include:
Email content ー make sure to not only personalize the name and subject line but also the contents in the body so they flow together seamlessly.
Copy ー using custom fields and incorporate data from the lead including first name, location, birthday, with some imagery.
Imagery ーadjust your content to, for example, fit a certain location or something that your audience may relate to.
Re-engagement ー contact previous customers in order to reignite a relationship and encourage them to buy your products or use your services again.
Dynamic content offers ー in email campaigns, promote products that fit the gender and preferences of the lead.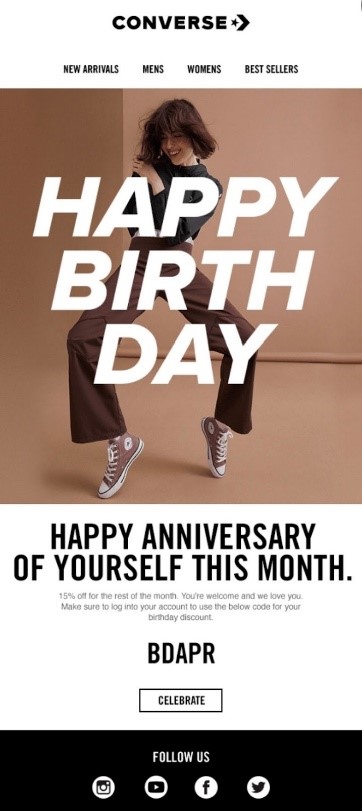 (Source: Converse on Sendpulse)
This ad, promoted by Converse, a popular retailer for shoes and apparel, is a great example of medium sophistication personalization as they send you personalized "Happy Birthday" emails.
Advanced Sophistication Personalization Tactics
Marketers utilize advanced sophistication personalization tactics when they acquire data from customers' website behavior, third-party applications, etc., to create a unique customer experience. This customer experience is then made to seem exclusive to individual customers, making them feel important and heard. The data collected based on engagement is the key element in creating dynamic and personally segmented content. Advanced sophistication personalization tasks are a game changer in terms of building a concrete personalization strategy.
Below are the main elements of email personalization through the lens of advanced sophistication personalization.
Product recommendations ー create relevant and engaging email campaigns through data on recent purchases and suggestions to recommend to the customer. For example, Amazon's "You Might Like" section.
VIP points/loyalty ー create a reward or point system customers can sign up for to gain discounts and special offers. Popular coffee chain Starbucks is a great example of a customer rewards program. When making a purchase through the app, customers are able to earn points and then use those points for free products.
Behavioral segmentation ー targeted and/or personalized image segments based on behavior and interest.
Purchase abandonment ー send a message or email reminding customers who have items in their shopping cart, but have yet to make a purchase. Here's an example of an abandoned cart email from Adidas.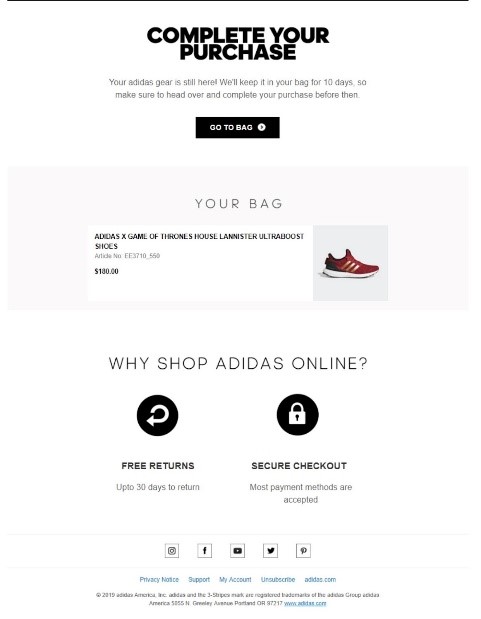 (Source: Adidas on Sendpulse)
Conclusion
Personalizing your emails is a strategic way to deliver targeted and relevant content to your customers and leads, adding merit to their overall experience with your business. When creating personalized emails, gather as much data about your customer as you can and build a campaign that will best speak to their interests. Taking that extra step shows awareness, ultimately driving more traffic. No matter the size of your business, personalization will always attract the right leads.

Are you interested in email personalization tactics for your website? Americaneagle.com can help with all of your email marketing and personalization needs. Contact us today to learn more about how we can help your business thrive.

---
About Author
---