State Electric Supply Co.
Newly Built Site Allows Easy Use and Ability to Make Quick Updates to Product Listings
Founded in 1952, State Electric Supply Co. has grown into one of the nation's largest, highest-ranked, and best-known distributors. A member of Affiliated Distributors and a founding member of AD Ecommerce Solutions, State Electric utilizes AD's advanced and foundational Econtent to showcase its strong ecommerce offerings of over 75,000 products. In addition to their online presence, they also operate 41 locations in seven states.

Challenges
In 2015, State Electric approached Americaneagle.com to redesign an antiquated site and develop one that would allow for easy updates, edits, and maintenance. The company needed advanced functionality for ecommerce as well as a more usable, searchable product listing. State Electric also struggled with legacy SEO and digital marketing issues that were impeding ongoing growth. They needed a partner that could serve all of these needs from one place.
For over seven years, State Electric had grown a successful digital presence with Americaneagle.com. At the forefront of technology advancements that provide new opportunities for their business, the company expressed interest in upgrading its enterprise resource planning (ERP) software.

State Electric had, for many years, relied upon SX.e from Infor, a leading enterprise software provider that has helped manufacturers and distributors facilitate growth for over two decades. Infor recently modernized its platform with CloudSuite Distribution (CSD), a cloud-based SaaS platform offering superior process automation, analytic capabilities, scalability, and more. State Electric challenged Americaneagle.com to help successfully manage a complex transition of the company's user experiences, products, pricing, workflows, and overall business operations to Infor's CSD.

Project
Platform
Industry
Manufacturing & Distribution
Professional Services
Expertise
Digital Marketing
Web & Application Development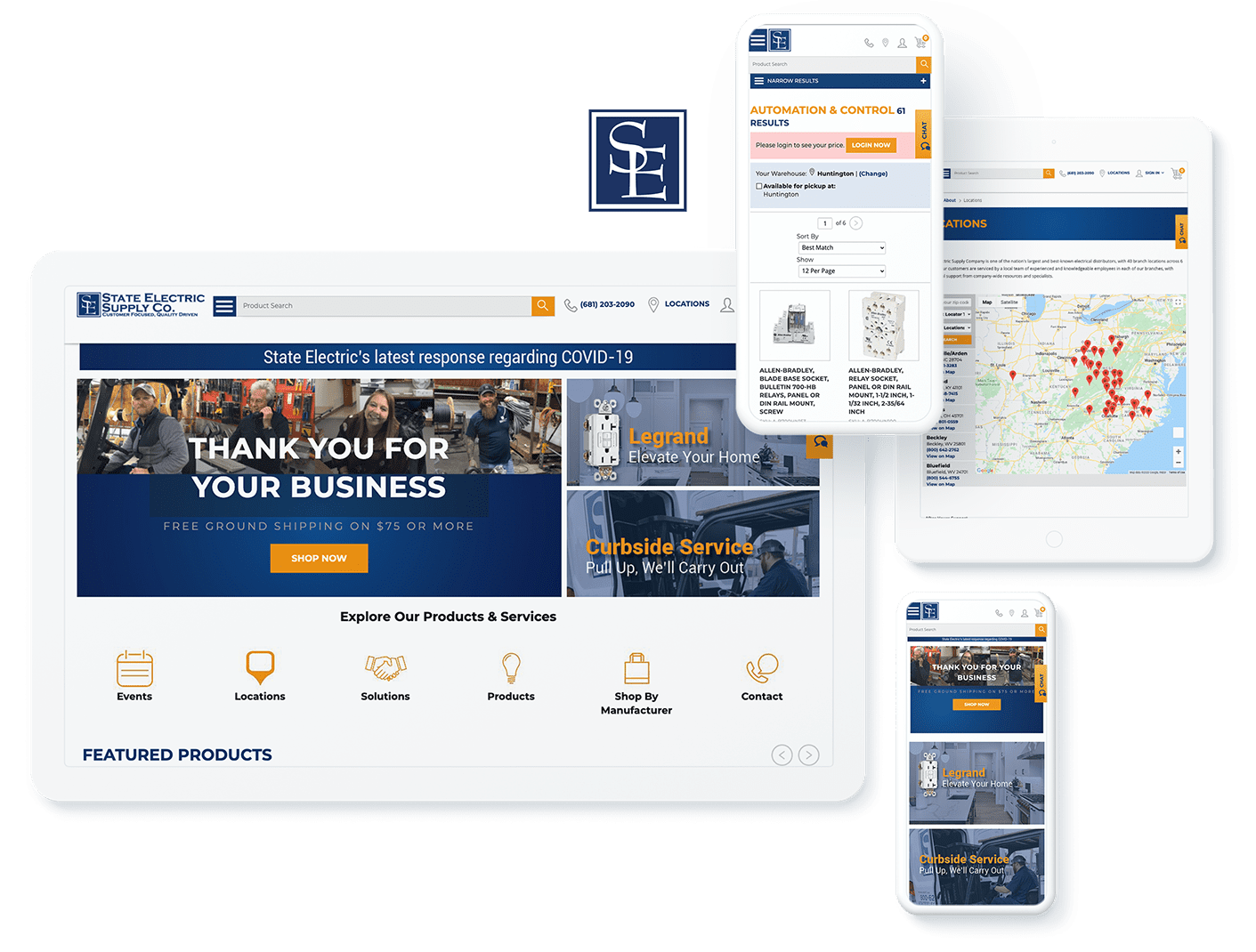 Solutions
To give State Electric freedom to edit the site, Americaneagle.com developed the new site on the ROC Commerce and Sitefinity CMS platforms. Americaneagle.com also redesigned the site to make it more modern, visually appealing and easy to navigate. The website is integrated with Hawksearch, utilizing visibility and boost and bury so customers can quickly and easily find what they're looking for.
This project was very focused on B2B ecommerce, and the new site features many tools to enable an improved B2B customer experience, from shopping lists to special price requests. The site is also connected to a parts configurator to create custom products. The State Electric team also makes use of the news and events tool to give customers the latest company updates. The new website is fully integrated with State Electric's ERP, Infor, allowing customers to have access to everything within Infor on the site, by logging in to the My Account area. The site is also integrated with Billtrust, through single sign-on, so customers can seamlessly view and pay their invoices online.
To help build a full-faceted online presence, the digital marketing team at Americaneagle.com created an SEO strategy for State Electric. To begin, Americaneagle.com conducted keyword research to identify industry terms that would substantially increase the website's visibility on major search engines. All title tags, meta descriptions and headings were edited to include these critical search keywords, which greatly enhanced site visibility and content indexing. The Digital Marketing Team also considered the website URL's in their SEO strategy. URL information was standardized to ensure that only pertinent information was present, making search engine crawling much easier. For added optimization, the Digital Marketing Team confirmed that the sitemap included all relevant landing pages that needed to be indexed and eliminated redundancies and items that didn't need to be included. During the first 12 months, the website ranked significantly higher on major search engines for key industry terms and as a result, overall conversions and ecommerce revenue increased.
With State Electric being an early adopter of CSD, one of the first to make this substantial transition, Americaneagle.com's detailed strategy and ability to solve new tech challenges proved to be valuable assets.
A development environment was created for the build-out of CSD for State Electric. Within it, the company's expansive product catalog, business processes, and distribution workflows took shape. Americaneagle.com worked directly with Infor to develop and test new API conversions and meet specific integration requirements.

Highly skilled installations and thorough testing provided a successful live launch of Infor CSD for State Electric. Within the new cloud-based platform, customers were immediately accessing product details, loading shopping carts, checking inventory, looking up invoices, and completing purchases.
Americaneagle.com continues to host the site and provide ongoing maintenance and support services to the State Electric team.

"With Americaneagle.com's digital marketing efforts, we were able to show off our new website to a whole new audience of customers by increasing our traffic by over 60% compared to the previous site. Through our partnership with Americaneagle.com, State Electric was recognized as having one of the top B2B websites in the electrical industry."