ROC Commerce Delivers Digital Solutions that Represent Brand's Product Expertise
Mars Electric is an independent wholesale distributor of lighting, gear, and electrical supplies. Started in the 1950s, today there are 12 Mars Electric store locations across Northeast Ohio.
Challenges
Mars Electric wanted to launch an ecommerce website that complimented its retail stores and would provide an easy shopping experience for both its current and future customers. The existing website offered a history of Mars Electric as well as product and service introduction but did not include an online store. A priority for the new ecommerce website would be to make sure the online shopping experience for Mars Electric mirrored the informed and helpful one that customers had grown to trust and appreciate in their physical stores.

As store inventory and volume had grown over the years, product management data and fulfillment had become more complex. Alongside the development of a new digital storefront, efficiencies in product management, order fulfillment, and a single source of truth for all product data were prioritized. With continually increasing order volume, these efficiencies would bring compounding gains for Mars Electric.
Project
Platform
Industry
Manufacturing & Distribution
Expertise
Digital Marketing
Strategy & Insights
Web & Application Development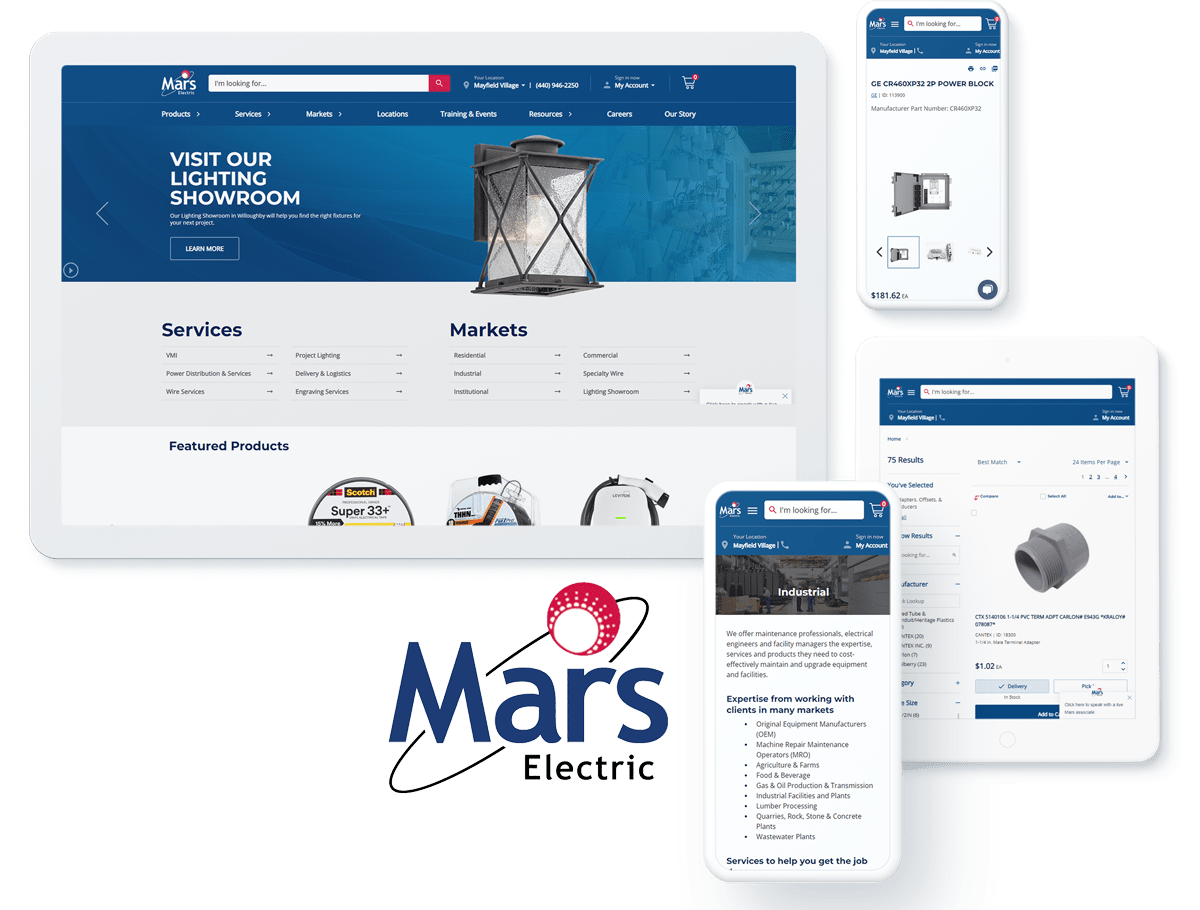 Solutions
Mars Electric engaged the website development and digital marketing company, Americaneagle.com, to partner in the creation of its ecommerce website. ROC Commerce was selected to be the ecommerce platform to capably support, and integrate with the existing business systems of, Mars Electric. The platform's track record of successfully managing large volumes of product data within a fast and high-performing shopping experience for some of the world's most recognized brands instilled confidence in Mars Electric's choice.

In addition to new ecommerce capabilities, Mars Electric aspires to grow well beyond its existing business footprint. The company's immediate and future-focused expansion required an online storefront with the speed, flexibility, and expandability to capably support the growing business.

Product data to build a robust, timely, and dependable online shopping catalog required ecommerce web design integration from many sources. Seamless integrations between ROC Commerce and data within sources like Eaton and the Industry Data Exchange Associates (IDEA) were integral to the project's success. The robust storefront is also continually synched with data from Epicor's Eclipse, the enterprise resource planning (ERP) software utilized throughout Mars Electric's business, to provide real-time inventory levels. This installation was actually the first-ever use of the new Epicor Eclipse APIs on an e-commerce website.

Enhanced user permissions within the website provide advanced access to designated users. After logging in, customers have access to "My Account" functionality which provides improved user experience, order history, the ability to reorder previous favorites, save shopping lists for later purchases, and more. Authorized payment terms are also stored within each customer account. The customer profile includes information relating to both online and brick-and-mortar store activity.

A sophisticated new solution within the online checkout allows customers to select specific items for in-store pickup, delivery, or both, within one order. Mars Electric also operates a delivery fleet that fulfills deliveries within 100 miles of each location. A custom store locator was built into the new website as well.

User experience within the digital solutions has been further advanced via HubSpot integrations with contact forms, live chat, email marketing campaigns, lead tracking, and abandoned cart follow-up.

Since its launch, the ecommerce website redevelopment has been a valuable addition to the Mars Electric family of stores. Data has affirmed that customers have welcomed the added conveniences of the digital store and have been quick to adopt the new ecommerce environment.
Results
1,000

New Accounts in 1st 6 Months of Ecommerce

601

%

YoY Increase in Sessions

510

%

Increase in Email-Driven Site Visits