Dynamically Presenting Cloud Based Solutions for Nonprofit Organizations
Blackbaud is the leading developer of software for nonprofit organizations whose mission is to promote social good. The company's product line focuses on cloud solutions for website management, fundraising, CRM, data analytics, financial management, and marketing for a diverse group of industries, including arts/culture, corporations, faith communities, education and foundations.
Challenges
Blackbaud was in the midst of an overall transformation to its brand communication strategy and they wanted a new website that would support that change. The software company offers more than 40 products and services, from learning management systems to fundraising platforms, which are designed to fit a wide range of needs and markets. Blackbaud's previous website presented these offerings in a disjointed manner and several product pages were hosted on separate microsites. The company needed a cohesive website to serve as a catalyst for Blackbaud's shifting business practices.
Project
Platform
Expertise
Experience Design
Strategy & Insights
Web & Application Development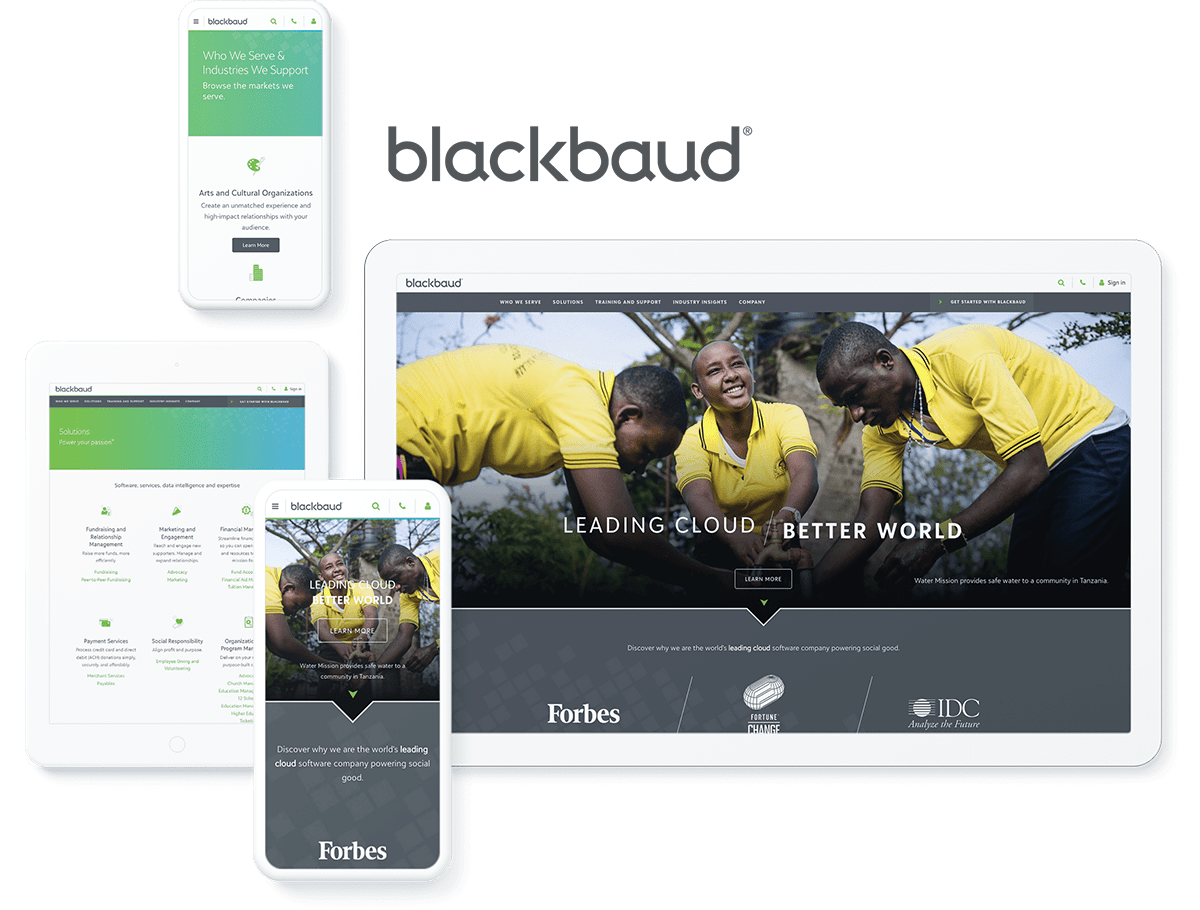 Solutions
Blackbaud partnered with Americaneagle.com for an all-in-one solution on the Sitefinity Content Management System that unified their online presence and promoted ease of use across the organization.
Starting with an extensive strategy phase, Americaneagle.com got to work on creating a concise website information architecture that was built with the customer's anticipated journey in mind. The new website has a much simpler interface and presents Blackbaud's cloud-based offerings not just as a mere listing of products, but rather as dynamic and viable solutions, uniquely tailored to the vertical markets in which Blackbaud does business. With Sitefinity's multi-site functionality, content featured on all of Blackbaud's international and subsidiary websites can be managed on one platform, promoting productivity and efficiency.
To empower more effective marketing, the new website captures critical data about visitors so that Blackbaud can personalize their sales messaging to best meet a prospective customer's needs. The site was launched with multiple conversion funnels and touchpoints present, in which users can utilize to engage with the company. The solution is also scalable, allowing for future personalization tactics and measurement as Blackbaud's goals evolve. Finally, Americaneagle.com seamlessly integrated a variety of third-party services into the website's functionality such as Marketo, Coveo, BoldChat and UberFlip.
The partnership between Americaneagle.com and Blackbaud has produced outstanding results. Blackbaud now has a dynamic digital presence that fits their new company culture.