Member Experience Platform Streamlines Processes & Improves Efficiencies for Engineering Association
Since its inception in 1920, the Association of Professional Geoscientists and Engineers of Alberta (APEGA) has been serving the public interest by regulating the practices of engineering and geoscience in Alberta, Canada. Their main regulatory function is licensing individuals and companies that meet its standards for ethical, professional, and technical competency to earn the right to practice and use reserved titles and designations.
Challenges
As an association with over 72,000 members across Canada, digital functionality is crucial. However, prior to partnering with Americaneagle.com, much of APEGA's online functions were housed on separate portals depending on member types which required members to jump between systems, logging in and out each time. Furthermore, much of their member processes (i.e. paying association dues or logging continuing education credits) had to be completed manually, resulting in significant amounts of time and money being wasted. APEGA realized it was time to upgrade their portal to match their vision to better serve their members.
Project
Platform
Expertise
Experience Design
Strategy & Insights
Web & Application Development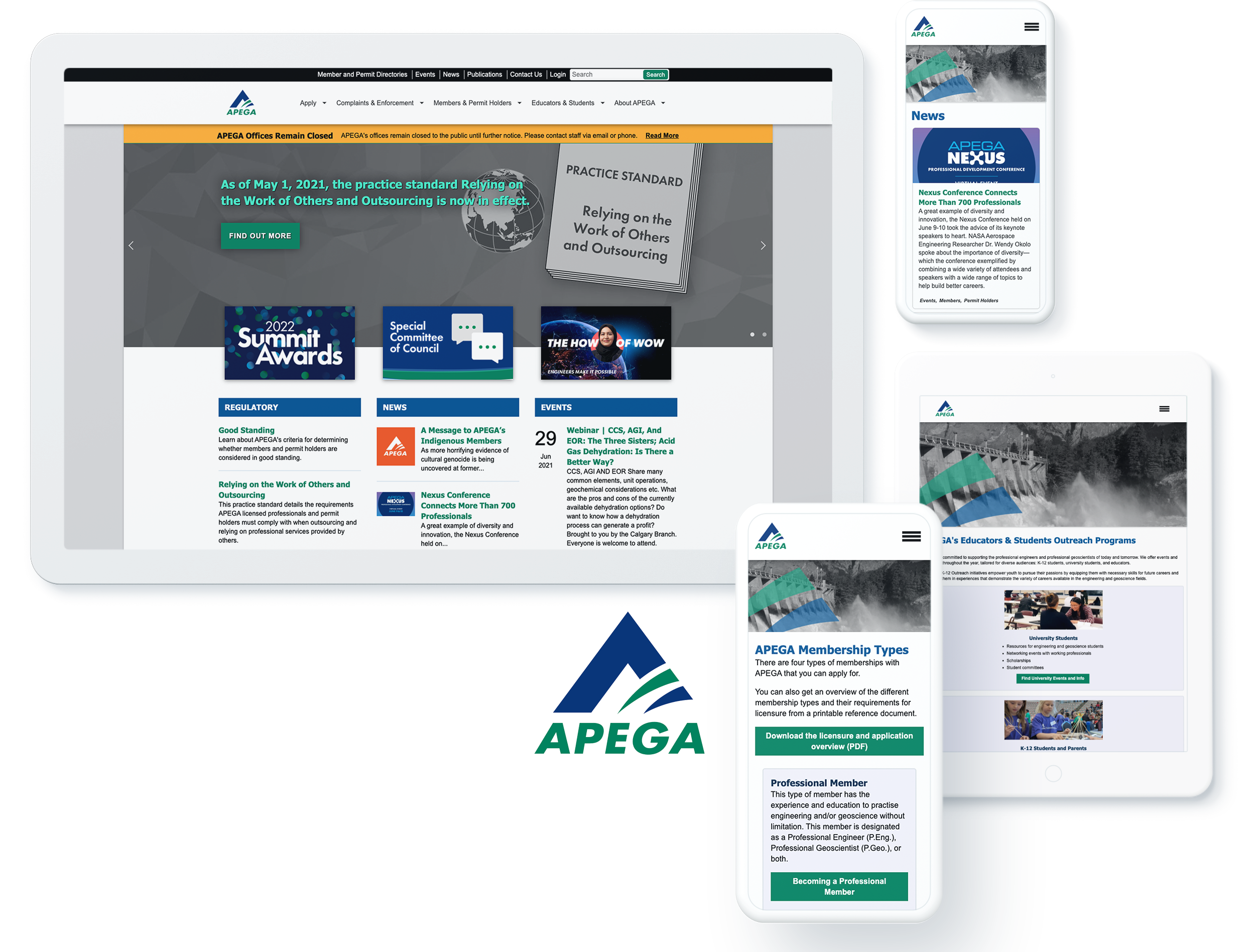 Solutions
APEGA first approached Americaneagle.com at a tradeshow in 2018. The association wanted to build a new website that provided a unified, seamless, and efficient experience for all of its members – and knew that Americaneagle.com was the right agency for the job. The project officially kicked off in June 2019 and involved a multi-phased approach to create a new and improved member experience platform.
To begin, Americaneagle.com performed an in-depth strategy and design analysis to fully understand all of the components involved. After the assessment, the team determined which functionalities were vital to include such as continuing education tracking, purchasing member stamps, accessing financial information, and more. Additionally, prior to kickoff, APEGA conducted its own member research as well as had solutions implemented and designed to their liking. As a result, Americaneagle.com was also tasked with integrating various disparate systems such as Aptify, Microsoft GP, Nintex, and other custom-built APEGA solutions with Sitefinity, the recommended platform, in order to create one unified system.
The real turning point in the strategy, however, was when Americaneagle.com executed the design thinking process to come up with the "WOW" feature that creates a gratifying and meaningful experience users will remember. The team then created around 1,300 user stories for the backlog as well as four personas, which subsequently led to the creation of the Action Center Dashboard – a feature on the myAPEGA portal homepage that displays both required and recommended actions for members to complete in order to stay in compliance with APEGA regulations.
Additional actions members can complete directly through the myAPEGA portal include paying their member fees, adding and keeping track of their professional development activities, updating any legal name changes, purchasing professional member stamps, and viewing both open and paid invoices.
Since partnering with Americaneagle.com, APEGA has received exceptional feedback from its members. What were once siloed and time-consuming processes for association employees and members are now streamlined and efficient – and save both parties significant amounts of money.