Green APU Powers Up Visibility and Sales Via Digital Strategy
Green APU offers customers the most versatile, convenient, and durable auxiliary power unit (APU) for semi-trucks. APUs provide energy to operate the heater, air conditioner, television, and other electrical accessories without the truck's main engine idling. APUs operate on less than one-quarter of the diesel fuel used by the main engine, reducing air pollution and helping the trucking industry comply with idling laws and regulations.
Challenges
Green APU is an emerging leader within its industry. While they have been marketing to compete with their two larger competitors, their efforts had become inconsistent across a variety of agencies that lacked transparency and data-driven goals and strategy.
Green APU was not seeing impactful improvement in sales traffic driven to their website via digital advertising, organic optimization efforts, and other traditional advertising ventures.
Project
Platform
Expertise
Digital Marketing
Strategy & Insights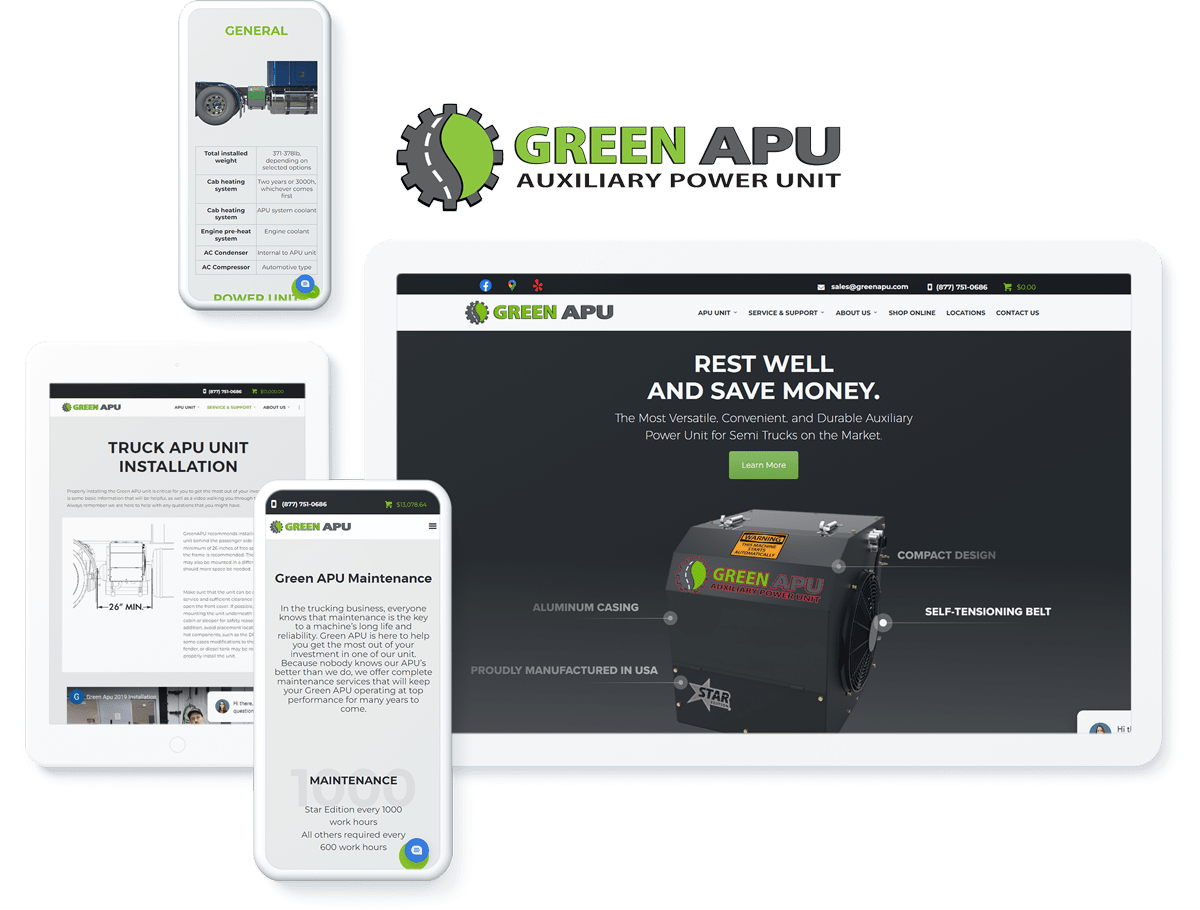 Solutions
Green APU engaged Americaneagle.com to reimagine digital advertising solutions across search networks, social media, and website optimizations. The agency's team began by assessing existing digital efforts, tracking data from Google Analytics and social channels, as well as analyzing recorded user experiences utilizing Hotjar to identify and resolve friction points.
SEO improvements kicked off with the foundational steps of targeted title, description, and tags page-by-page throughout the site. Additionally, keyword research provided a list of content priorities that could quickly improve overall rankings. Location pages for stores selling Green APU options, as well as an improved, mobile-friendly locator solution with one-click links to driving directions and phone contact with each of those stores, provided tangential SEO benefits as well.
Scheduled social media content focused on carefully crafted messaging and maintenance within Facebook, Instagram, Twitter, and YouTube. Newly developed video ads were promoted across all channels. An existing library of material was also refreshed and creatively shared. Each of these efforts led visitors to www.greenapu.com.
These organic reach strategies greatly improved first-page Google keyword rankings for the Green APU website. At the start of the engagement with Americaneagle.com, they ranked on the first page of Google search results for 306 keywords. Just over one year later, their website is now ranking for 1,105 keywords.
Paid search campaigns were also key to improved reach and conversion for Green APU. Google's Performance Max strategy of intelligently blending search and display ads led to lower costs per click and increased conversions. Social ads via Facebook have been second only to Google ads in driving paid traffic. All paid traffic channels now account for between 25% and 30% of overall site traffic.
Success has led Green APU to turn to Americaneagle.com to replicate those digital wins across a broad range of other marketing channels. In the coordinated, omnichannel approach, the agency has integrated print advertising, brochures, and other offline media. Americaneagle.com also now hosts www.greenapu.com and is able to provide efficient site usability improvements, error resolution, updates, and unparalleled site performance.
The partnership between Green APU and Americaneagle.com has effectively disrupted the APU industry. Specifically, they are competing favorably with the two longstanding brands that had previously dominated the market.