New & Improved Kentico Website Now Reflects Residential Association's Market Position
FirstService Residential is a leading property management lender that partners with more than 8,500 communities across the US and Canada. HOAs, community associations, condos, and strata corporations rely on the association's experience, resources, and local expertise to maximize property value and enhance residents' lifestyles.
Challenges
FirstService Residential's website mainly serves two purposes: as a marketing tool for communities it already manages and as an entry point for potential communities to get quotes. Before partnering with Americaneagle.com, the site had been operating on an antiquated version of Kentico Xperience. Ultimately, the company was looking to migrate its existing content and resources to an updated site as well as create a fresh, eye-catching design that both reflected its position as a leader in the industry and enhanced the user experience.
Project
Platform
Expertise
Experience Design
Web & Application Development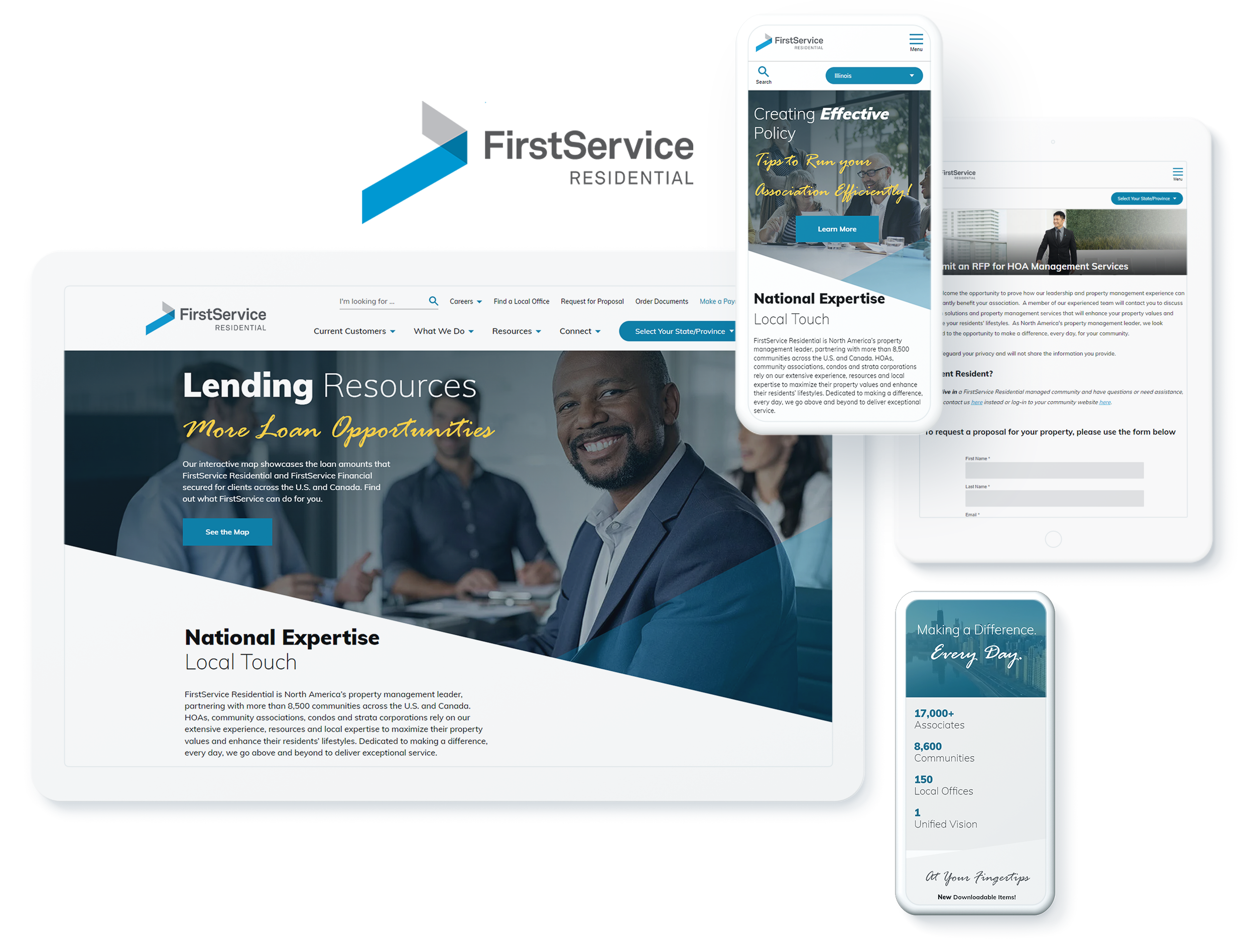 Solutions
Americaneagle.com built the new FirstService Residential site on the latest Kentico Xperience version to reap the benefits of the MVC technology. With this, they're now able to make subsequent version upgrades as they are released in the future. Leveraging the platform's flexibility, Americaneagle.com created custom page types with structured data to facilitate the migration of the content on the existing site to the new site.
A custom "markets" page was also leveraged to assign pieces of content to the particular markets in which FirstService Residential operates. Americaneagle.com was able to use that to help site users filter and organize data by market and provide market-specific navigation to facilitate locating the correct content, faster.
Americaneagle.com utilized Kentico's MVC page builder and custom widgets to build out the home and market pages. FirstService Residential can now display details about its organization to instill confidence and communicate its strength and successes to potential customers. By adding some flare to these, such as animation, highly-stylized widgets, and videos, the company feels that its technology matches its internal organizational culture – leading the way in best practices and tools within the industry.
A multi-tiered navigation approach was taken to allow users to select a market and see navigation elements specific to that market. Both the home and market pages are intended to showcase important resources and educational opportunities for board members. Instead of listing out the resources, Americaneagle.com implemented dynamic layouts and designs for each section with various elements including motion, hover states, background videos, etc. for a more interactive user experience. Additionally, the site was enhanced through several third-party tools for advanced search capabilities and lead generation.
Since partnering with Americaneagle.com, FirstService Residential has received positive feedback from its users. They are now able to easily find and download the exact resources needed to optimize their businesses. Additionally, the company conducted an SEO review in the months following launch and saw lower bounce rates, increased page views, and longer times on site, all of which are indicators that users are interacting with the site more heavily.