Fairfax City Self Storage
Web Design & SEO Initiatives Yield Ongoing Growth for Storage Company
Fairfax City Self Storage is a locally owned and operated self-storage facility in Fairfax, Virginia. Opened in 1990, Fairfax City Self Storage has offered clean and affordable storage to the local community for over 30 years.
Challenges
Fairfax City Self Storage was looking to transform their website through a number of digital marketing solutions. The storage company needed a robust SEO strategy and an updated website to stand out from competitors who were beginning to open similar storage businesses in their general area. They were looking to make some changes in order to increase optimizations, as little to none of the SEO elements (Page Titles, Meta Descriptions, Headers, and Internal Links) were optimized or ranking for many keywords on the website.
Project
Platform
Expertise
Digital Marketing
Strategy & Insights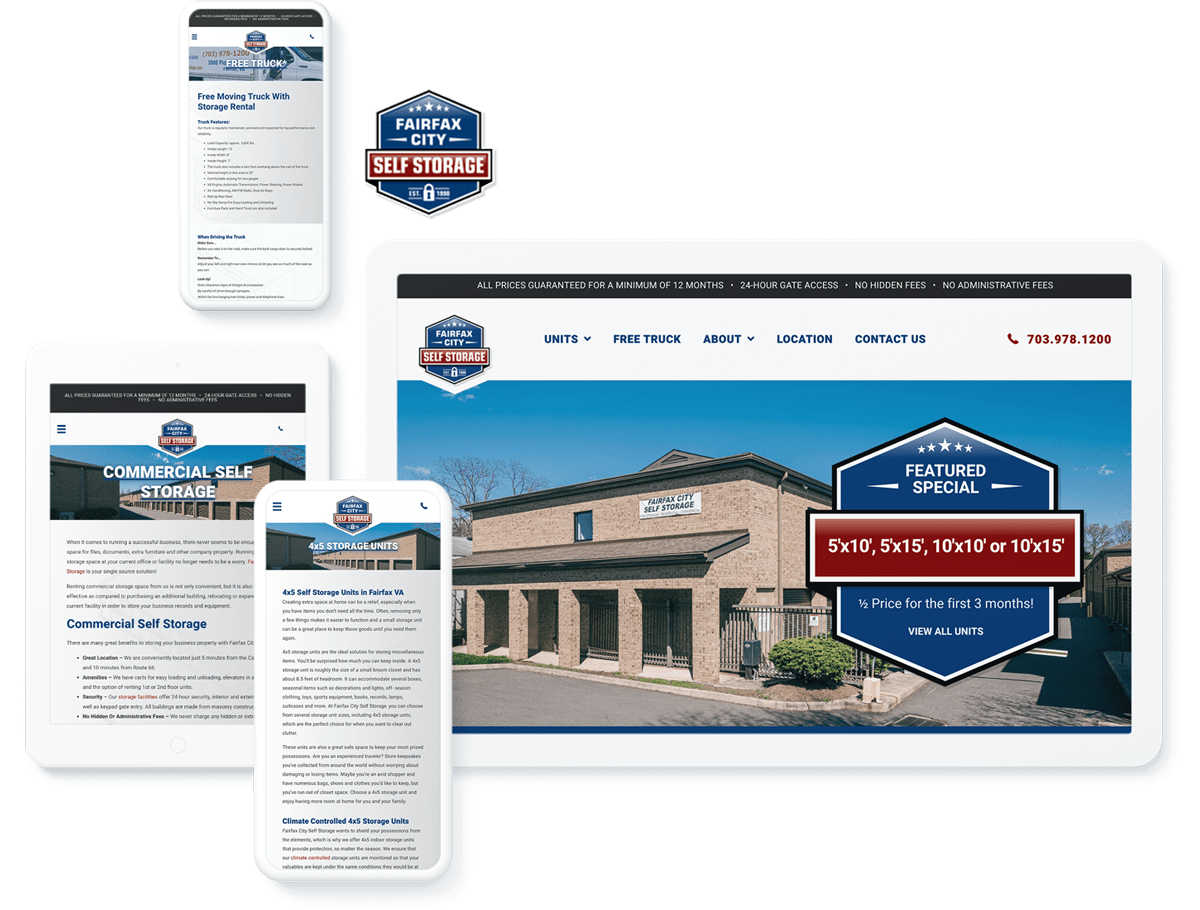 Solutions
Fairfax City Self Storage has worked with Americaneagle.com on a number of services including programming, strategy, analytics and now SEO solutions. Fairfax City Self Storage partnered with Americaneagle.com to develop an updated, sophisticated website and a SEO strategy to support their newly designed website.
To serve the SEO needs of Fairfax City Self Storage, Americaneagle.com created an SEO roadmap and implemented tactics to improve organic rankings and website traffic. They provided an updated website design and enhanced SEO features that will allow a small, family-owned storage facility to compete against their larger, local competitors. The Americaneagle.com SEO team supported a number of initiatives including SEO Element Optimization. They also worked with the storage company to suggest new SEO elements based on keyword research.
Initially, Google Analytics was not set up on the Fairfax City Self Storage website. Americaneagle.com added Google Analytics, Google Search Console, and Google Tag Manager to the site so that Fairfax City Self Storage could gather information on their website visitors.
In addition, Americaneagle.com identified opportunities for new content to be added to the website and wrote several new pages of content. Before engaging with Americaneagle.com, the Fairfax City Self Storage website did not have many backlinks or referring domains. Americaneagle.com created a backlink strategy to build relevant, high-quality backlinks for the Fairfax City Self Storage website.
Since beginning SEO and analytics services with Americaneagle.com, the Fairfax City Self Storage website has improved in organic traffic, website impressions, keyword rankings, and the company continues to see ongoing growth. The results themselves are an outstanding representation of the work Americaneagle.com has done to improve digital marketing efforts for the Fairfax City Self Storage website.