WordPress Re-Architecture Provides Flexible, Easy-to-Use Solution for Government Contractor
Amentum is a global government services company that specializes in technical and engineering services. It supports critical programs, such as maintenance, training, facility operations, etc., across the defense, security, intelligence, energy, and environmental industries. Born from integrated infrastructure company AECOM in 2020, Amentum now supports organizations like the Department of Defense and the U.S. Department of Energy.
Challenges
Amentum had recently gone through a rebranding, but quickly realized that their web partner, a small operation agency, was no longer meeting their needs. They were growing rapidly and needed a high performing partner to be able to keep up with the increasing demands for their new web presence. Furthermore, much of Amentum's content processes proved to be difficult, even after the rebrand, so they were looking for a new backend architecture that was more user friendly.
Project
Expertise
Hosting & Security
Web & Application Development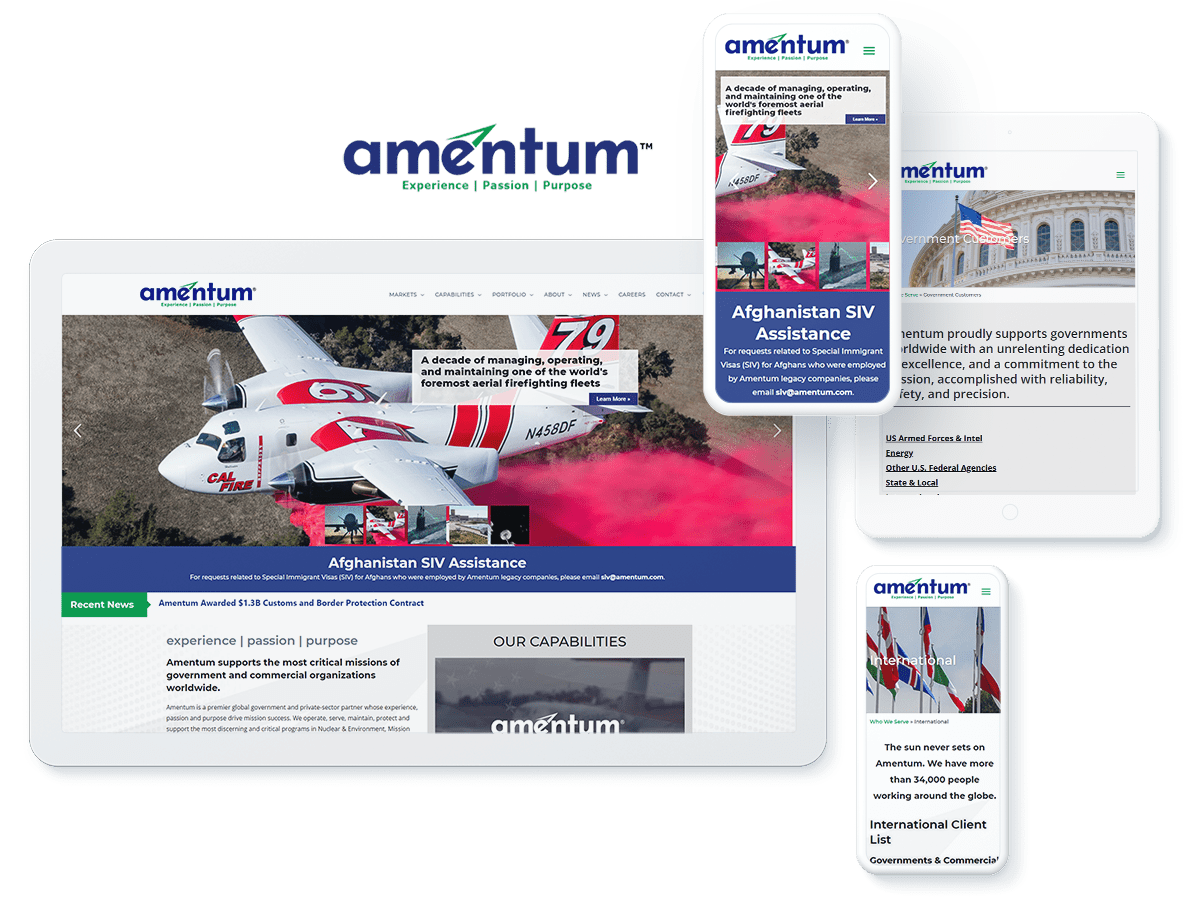 Solutions
For a solution that would meet their needs as a rapidly growing organization, Amentum turned to Americaneagle.com. The project began with an audit of the recently developed site. It was then identified that the government contractor was using an antiquated page builder, so Americaneagle.com recommended that they move to a more future-proof builder such as Elementor. Subsequently, the site audit led to a re-architecture of their WordPress/WPBakery site.
Americaneagle.com rebuilt the existing amentum.com site with the exact same look and feel, but leveraged Elementor, a page builder that permits users of WordPress to design and edit their sites by using a drag and drop feature. With WPBakery, the previous page builder, Amentum's content editing and blogging processes were extremely convoluted. However, by integrating Elementor, processes are now much more user friendly, and the team is able to easily manage and categorize their content.
Because the number of Amentum website users was quickly increasing, it was also recommended that they utilize Hotjar to figure out where their audience was going as well as where they were dropping off. They began tweaking the site as a result of Hotjar findings, thereby enhancing their overall user experience.
Since partnering with Americaneagle.com, Amentum operates with a much more future-proof website. It's flexible and is not only meeting the needs of the growing company, but exceeding it. The partnership has yielded exceptionally positive results and both parties are excited to continue building on it in the future.

As a large government contractor that recently became an independent company, Amentum had some unique security and content challenges. Americaneagle.com helped put our website on to a stable footing that we can grow from and come up with new ways of reaching our unique client base. We've also been growing our partnership, so we're now involving them in parts of our client-facing solutions.