*Updated 10/18/23
The Gartner Magic Quadrant was developed by Gartner, a research company founded in 1979 and renowned in many industries including information technology. The Gartner Magic Quadrant is a visual method of reporting. Magic Quadrants are used to depict which companies are leading the way within a specific market.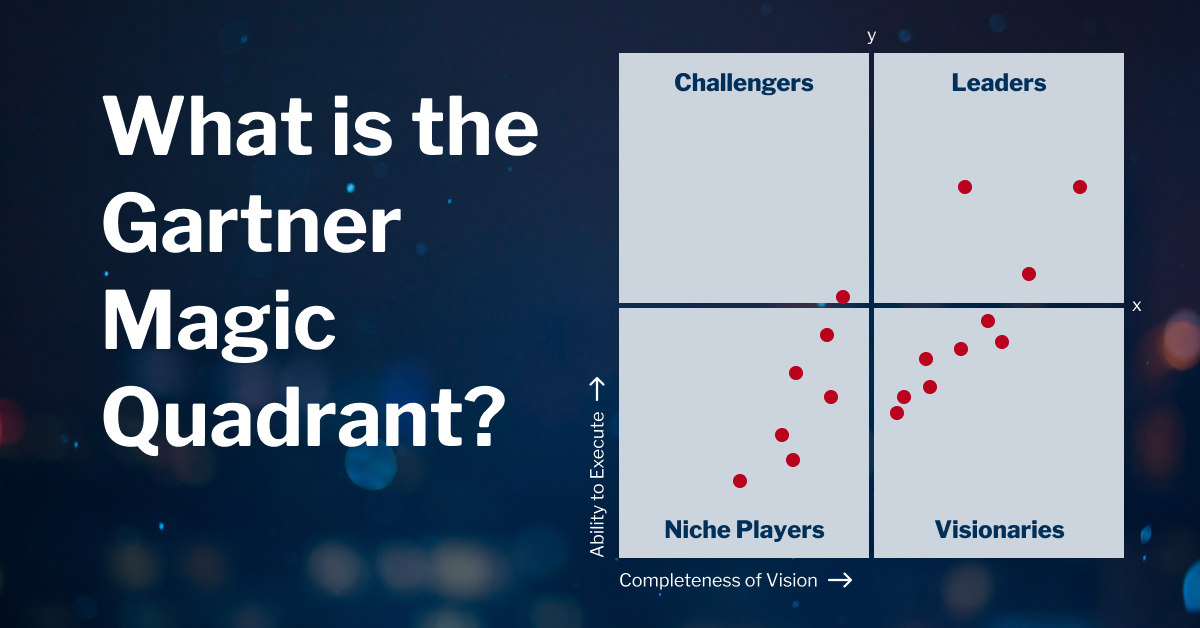 What is Gartner's Magic Quadrant?
In simple terms, the Gartner Magic Quadrant is a graph with two axes. The horizontal x-axis represents "Completeness of Vision," while the vertical y-axis represents "Ability to Execute." The graph is then divided into quarters, hence the name, Magic Quadrant.
Magic Quadrant X Axis – Completeness of Vision
The X axis measures Completeness of Vision, which includes the company's history of innovation and product direction. It reflects a vendor's innovation compared to competitors and how well their market development aligns with Gartner's.
The comprehensive assessment of a company's vision is based on several key criteria:
Market understanding: How well they understand and meet the needs of buyers, shaping their products and services accordingly.
Marketing strategy: Clear and consistent messaging throughout the organization, promoted through various channels.
Sales strategy: Effective use of direct and indirect sales, marketing, and communications to expand market reach and customer base.
Offering strategy: Emphasis on differentiation, functionality, and future requirements in product development and service delivery.
Business model: The validity and logic of the company's overall business approach.
Vertical/industry strategy: Tailoring resources and offerings to specific market segments and industries.
Innovation: Using resources, expertise, or capital for competitive advantage and growth.
Geographic strategy: Expanding resources and offerings to regions beyond the vendor's native area.
These factors all contribute to a vendor's overall vision and success in the market.
Magic Quadrant Y Axis – Ability to Execute
The vendor's Ability to Execute on their vision is measured on the Y axis.
The Ability to Execute includes various factors that determine success in the market. These factors include the products and services offered, the overall viability of the company, sales execution and pricing, market responsiveness and track record, marketing execution, customer experience, and operations.
Under products/services, Gartner considers the core goods and services offered by the vendor that compete in and serve the market, including the capabilities, quality, feature sets, and skills offered by the vendor.
Overall viability assesses the financial health of the company and the success of the relevant business unit. The likelihood of the business unit continuing to invest in and offer the product within the company's portfolio is also a consideration.
Sales execution/pricing evaluates the company's capabilities in presales and sales activities, including deal management, pricing and negotiation, presales support, and the effectiveness of the sales channel.
Market responsiveness and track record looks at the vendor's ability to respond, change direction, and achieve competitive success in a dynamic market. Their responsiveness over time is also considered.
Marketing execution focuses on the clarity, quality, creativity, and efficacy of the company's marketing programs. These programs aim to influence the market, promote the brand, increase awareness of products and services, and establish a positive identification with buyers.
Customer experience considers the relationships, products, services, and programs that enable clients to succeed. This criterion includes technical support, account support, ancillary tools, customer support programs, user groups, and service-level agreements.
Operations assesses the company's ability to meet its goals and commitments, along with the quality of the organizational structure, including skills, experiences, programs, systems, and other factors that enable effective and efficient operation.
How to Read the Gartner Magic Quadrant
The Magic Quadrant has two axes: the "Completeness of Vision" axis and the "Ability to Execute" axis. These two axes create the four quadrants: the upper right is called Leaders, Visionaries is the lower right, the lower left is Niche, and Challengers is the upper left.

At the time of the analysis, each of the quadrants has something different to say about the role of a company in their market. Leaders are the industry giants and emerging trends usually come from this quadrant. Challengers often dominate shrinking segments with products at the end of their lifecycle. Niche companies thrive in specific segments but struggle to keep pace in a changing market.

Use the Magic Quadrant based on your needs and circumstances; don't just focus on vendors in the Leaders quadrant. Companies in the Niche or Challengers quadrant may offer functions that suit your needs better than those in the Leaders quadrant.
The Four Quarters of the Gartner Magic Quadrant
As explained above, the Gartner Magic Quadrant rates companies on their completeness of vision and their ability to execute in any given market.
Niche Players
Those that fall into the bottom left quarter of the Gartner Magic Quadrant demonstrate the least completeness of vision and ability to execute. This quarter is for "Niche Players". Niche Players may have a strong focus in a particular area, rather than a goal to expand to meet wider needs.
Visionaries
Those in the bottom right quarter of the Gartner Magic Quadrant are described as Visionaries. They have a strong vision and great ideas but do not currently demonstrate the ability to execute them.
Challengers
Those in the top left quarter of the Gartner Magic Quadrant are "Challengers". They show a strong ability to execute and provide for their customers today but show lesser completeness of vision in terms of innovative ideas for the future.
Leaders
The top-right quarter of the Gartner Magic Quadrant is home to the strongest players, visionaries with a strong ability to execute. Those grouped in this quarter are "Leaders". Leaders are successful today and have the vision and proficiencies they need to outperform others in the future.
Each player is pinpointed on the quadrant, so even within each section, it is clear who is leading the way. Bear in mind that Gartner Magic Quadrants usually features established, successful companies. New cutting edge players in the market may have what it takes but might not yet be on Gartner's radar.
Why is the Gartner Magic Quadrant Important?
Gartner Magic Quadrants are important because they are so often influential, and can provide insight in terms of key players in a market you're interested in. Big companies often use Magic Quadrants and Gartner reports to find new partners or vendors to work with.
For example, if you're looking for the very best CMS for your company, you can look to the WCM Magic Quadrant. From the WCM Magic Quadrant, you can learn how Kentico Software, Progress Sitefinity, Sitecore, and more compare in terms of ability to execute and completeness of vision.
About Gartner
Gartner, Inc. is a globally recognized research and advisory firm that provides insights, analysis, and advice to help businesses make strategic decisions in the evolving world of technology. Gartner was founded in 1979 by Gideon Gartner, a former analyst at the investment banking firm Oppenheimer & Co. Initially named Gartner Group, the company started as a small research boutique focused on providing data and analysis for the information technology (IT) industry. Throughout the years, Gartner expanded its offerings and influence in the technology space. In the 1980s, they introduced their first syndicated research service and began publishing annual predictions known as the "Gartner Hype Cycle," a popular tool for understanding the maturity and adoption of emerging technologies.
In the 1990s, Gartner made several acquisitions to broaden its expertise and reach. These acquisitions helped Gartner expand its coverage beyond IT into areas like telecommunications, healthcare, finance, and more. In 2000, the company changed its name from Gartner Group to Gartner, Inc. to reflect its evolution as a global provider of research and advisory services. Over the years, Gartner continued to enhance its offerings with the introduction of new research methodologies and frameworks, such as the "Magic Quadrant" and "Critical Capabilities," which evaluate vendors and products within specific markets.
Today, Gartner is a leading authority in the technology industry, providing research and advisory services to thousands of clients worldwide. They cover a wide range of service areas, including IT strategy, cybersecurity, artificial intelligence, cloud computing, digital marketing, and more.
Gartner's research and analysis are highly regarded by businesses, governments, and technology vendors, helping them navigate complex market landscapes and make informed decisions.
Gartner Reports, Charts, & Insights by Industry
Gartner provides insights and analysis for a wide range of industries in their reports. Some of the industries covered by Gartner's reports include:
Information Technology (IT)
Marketing
Manufacturing
Finance
Healthcare
Telecom
Retail
Energy and Utilities
Transportation and Logistics
Education
Their reports encompass various topics within each industry, such as technology trends, market forecasts, strategic insights, and more.
By leveraging their research, businesses can stay ahead of the competition and navigate the evolving landscape of their respective industries. Gartner reports play a significant role in shaping industry trends and informing business decisions. These reports provide valuable insights, analysis, and predictions that help organizations make informed strategic decisions.
Some of the key reasons for why Gartner reports are significant include:
Identification of Trends: Gartner reports identify emerging trends and technological advancements that can impact industries. By analyzing market dynamics and future developments, organizations can proactively adapt and gain a competitive edge.
Technology Adoption: Gartner's research helps businesses evaluate and select the right technologies for their needs, assessing the maturity, capabilities, and potential risks, enabling organizations to make intelligent decisions on technology adoption and implementation.
Competitive Analysis: Gartner reports provide in-depth analysis of vendors, products, and services within specific markets, helping businesses compare competitors, evaluate strengths and weaknesses, and make informed decisions regarding partnerships, acquisitions, or investments.
Strategic Planning: The reports offer strategic guidance to organizations, helping them develop long-term plans aligned with industry trends, allowing businesses to proactively respond to market shifts and identify growth opportunities.
Risk Mitigation: Gartner's research helps organizations identify potential risks associated with technology implementation or digital transformation initiatives. By understanding industry trends and challenges, businesses can make smarter risk management decisions and minimize potential negative impacts.
Credibility and Trust: Gartner is widely recognized as a trusted source of industry insights and their reports carry credibility and influence, providing assurance to businesses that the information they rely on is backed by thorough research and analysis.
Gartner reports offer valuable information and data-driven analysis that shapes industry trends and helps businesses make better strategic decisions. By leveraging these reports, businesses can navigate the evolving industry landscape, seize opportunities, and stay competitive.
DXP, WCM and Ecommerce Magic Quadrants
There are countless Gartner Magic Quadrants available for a wide array of industries. If you're interested in web development, ecommerce, and digital experience, the three Gartner Magic Quadrants to note are the following:
DXP (Digital Experience Platform)
WCM (Web Content Management)
Ecommerce
Gartner follows a rigorous methodology in collecting data, analyzing it, and presenting insights in their reports. While the exact details of their methodology is not publicly disclosed, here is an overview of the general process:
Data Collection: Gartner collects data from various sources to gather relevant information for their analysis. These sources may include surveys, interviews, market research, vendor briefings, industry events, and publicly available data. The data collected is comprehensive and covers a wide range of factors that influence the industry or technology being studied.
Data Analysis: Gartner uses a combination of qualitative and quantitative analysis techniques. They carefully examine the collected data to identify patterns, trends, and insights.
Expert Judgement: Gartner leverages the expertise of its analysts who possess deep knowledge and experience in specific industries or technologies. These experts provide their insights, expert opinions, and interpretations based on the analyzed data.
Validation: Gartner validates the accuracy and reliability of their findings through a robust peer review process. This involves internal reviews by subject matter experts and cross-referencing with external sources.
Report Presentation: Gartner presents their reports in various formats, such as research papers, market guides, Magic Quadrants, Hype Cycles, and more. These reports are typically detailed and structured, providing a comprehensive understanding of the industry landscape, trends, and more.
Gartner maintains strict confidentiality regarding their specific methodologies to protect their intellectual property and maintain the integrity of their research.
How Americaneagle.com Can Help
Americaneagle.com has vast experience working across multiple platforms and industries. We can help you choose the right platform or solution for your business, bearing in mind unique business needs, budget, project scope, and more.
Contact Americaneagle.com today to learn more about the platforms we work with and industries we serve.
---
About Author
---