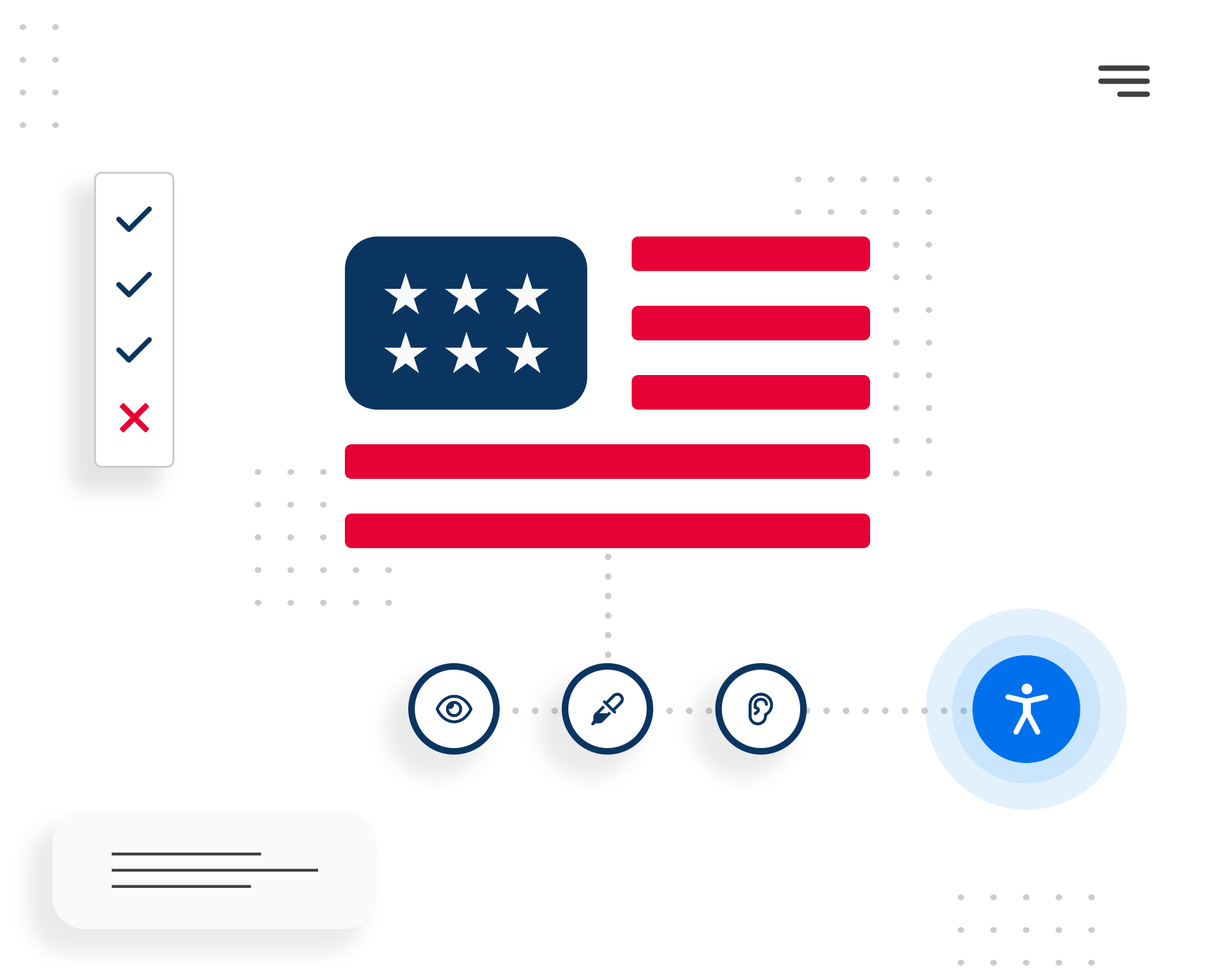 Accessibility Law and Complying with Section 508 of the U.S. Rehabilitation Act
U.S. Rehabilitation Act
Section 508 of the U.S. Rehabilitation Act is a law in the United States for its federal agencies. Section 508 requires all federal agencies to make their digital services accessible to people with disabilities. Web developers play a crucial role in ensuring compliance with Section 508 when creating or maintaining websites for federally funded government agencies or organizations.
Americaneagle.com has partnered with many agencies and organizations committed to exceeding the expectations of Section 508 of the U.S. Rehabilitation Act. The Department of Homeland Security Office of Accessible Systems & Technology (OAST) certifies Section 508 Trusted Testers for their conformance test process, now on version 5. Americaneagle.com employs version 5 certified Section 508 Trusted Testers that oversee code-inspection based determinations of web content performance to Section 508 standards.
Within Section 508, information and communications technology (ICT) is explicitly required to determine how:
Users with disabilities successfully interact and perform functions within ICT.
ICT will be consistently maintained (developed, installed, configured) to be inclusive.
Best Practices for Website Accessibility
We help organizations' web teams identify opportunities for improvement and maximize their inclusive digital solutions. The following are examples of specific considerations that Americaneagle.com helps clients make for Section 508 compliance. These considerations provide a starting point for web developers to make their websites compliant with Section 508 of the U.S. Rehabilitation Act. However, it is important to note that accessibility is an ongoing process, and developers should stay up-to-date with the latest accessibility guidelines and best practices to ensure an inclusive web experience for all users.

Alternative Text
Provide alternative text descriptions (alt text) for all images, graphs, infographics, and other non-text content that will allow users who are using screen readers to understand the integral communication within your website's visual content.

Keyboard Accessibility
Websites should be fully functional when accessed and operated using only a keyboard. Navigation, form completion, dropdown menus, and interactive elements can all make successful accommodations for keyboard-only users.

Captions and Transcripts
Provide captions for all multimedia content, including videos and audio files. Transcripts should accompany all files with narrative audio.

Color Contrast
Color contrast considerations between text and background promote successful readability for individuals with visual impairments or color blindness. Tools are available to test and verify that your website's color contrast ratio meets accessibility standards.

Headings and Structure
Use proper heading structure (h1, h2, h3, etc.) to create a logical content outline of each web page. This helps screen readers and other assistive technologies to understand and navigate the information hierarchy of web pages.

Focus Indicators
Focus indicators allow users who navigate websites using a keyboard to see which element they are currently focused on. Ensure that interactive elements of your website, such as links, buttons, and form fields, have clear focus indicators.

Form Accessibility
Form inputs should have labels, descriptive instructions and function successfully for keyboard-only users.

Testing and Validation
Regularly test your website for accessibility, maximizing accessibility tools as well as user testing.
Embrace Inclusive Digital Experiences: Get Expert Answers on Section 508 of the U.S. Rehabilitation Act