In today's digital age, a well-designed website is crucial for organizations in the healthcare industry. It should include a digital strategy that facilitates communication with customers and others to provide valuable information, products, and online services.
Americaneagle.com is a leading BigCommerce development agency. We have created successful healthcare websites for many customers in the healthcare industry. As an Elite partner, we consistently deliver high-quality websites for clients of all sizes. With our technical and design expertise, consulting services, and post-launch support, you can rely on us to effectively implement BigCommerce development services for your health and wellness business.
Why BigCommerce for Healthcare Ecommerce Websites?
The BigCommerce platform provides excellent customer experiences and patient-centric features on the front-end and an easy to use back-end for your team. Dynamic homepages and product detail pages along with the fact that BigCommerce is certified Level 1 PCI DSS compliant are important considerations. PCI compliance means that it meets the highest level of security standards for processing credit card transactions. This is crucial for healthcare companies that handle sensitive patient information. BigCommerce is also HIPAA compliant, which means that healthcare companies can use the platform to store and process patient data securely. BigCommerce provides an intuitive dashboard for managing products, orders, and returns as well.
Americaneagle.com is a top BigCommerce development partner that has built award-winning healthcare websites. As an Elite partner, our technical and design expertise, consulting services, and post-launch support, enables us to implement BigCommerce for your healthcare business seamlessly.
Key Features of an Effective Healthcare Ecommerce Website on BigCommerce
Patient-Friendly Navigation
The BigCommerce platform provides intuitive site navigation, ensuring patients and customers can easily find products, services, or information. Online health and wellness merchants must excel in creating seamless shopping experiences to foster customer confidence and loyalty, especially without the ability to physically sample products. Americaneagle.com, as an experienced BigCommerce partner, provides best in class user experience design services.
Detailed Product Descriptions
The need for comprehensive product details, especially for medical products, helps patients understand their uses and benefits. This is critical for websites in the healthcare industry. Overall, detailed product descriptions play a crucial role in healthcare ecommerce websites by providing valuable information, building trust, assisting in decision-making, enhancing user experience, improving search engine visibility, and setting businesses apart from competitors.
Secure Patient Data Management
Data security is of paramount importance, particularly when handling patient information and medical records on healthcare websites. Some of the key reasons why data security is crucial in the healthcare industry? It protects the privacy of the patient, meets regulatory compliance, prevents data breaches, gives patients/customers a sense of trust, and facilitates continuity of care.
Mobile-Optimized Experience
Responsive design is crucial in today's digital landscape, particularly for healthcare websites and services, as an increasing number of patients access healthcare information and services through mobile devices. By embracing responsive design, healthcare websites can provide an optimal user experience, enhance accessibility, increase engagement and patient satisfaction, improve search engine visibility, reduce development costs, adapt to changing technology, and maintain brand consistency. This ultimately leads to improved patient outcomes and a stronger online presence for healthcare providers.
Healthcare BigCommerce Ecommerce Designs by Americaneagle.com
Americaneagle.com has years of experience and the expertise, as an Elite partner, to provide designs that reflect the evolving landscape of healthcare, where digital platforms play a crucial role in delivering information, services, and experiences to patients, customers, and healthcare professionals.
The following healthcare websites are embracing a wide range of visual styles to cater to different audiences and purposes. In terms of functionality, these websites demonstrate innovative approaches to user experience and engagement, are responsive and accessible, include integrations, and improve the overall satisfaction of the customer.
Delasco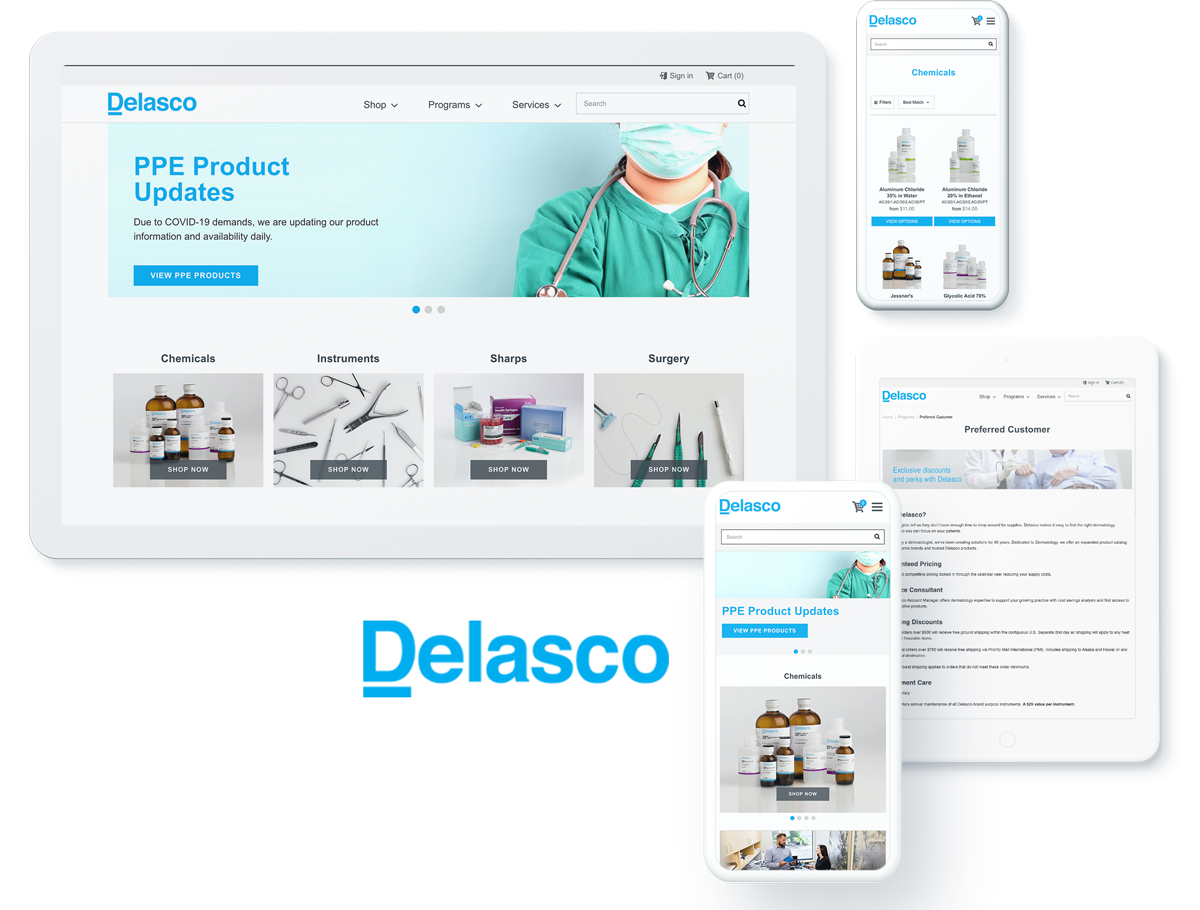 Delasco Physician's Catalog sells dermatological supplies to doctors, researchers, and others. They previously had a custom homebrew platform for their website but switched to BigCommerce for a more modern and readily available solution. Americaneagle.com created a new design for them, assisted with integrating and managing their products using the Jasper PIM, and made customizations to create a beautiful and functional B2B site.
The Compression Store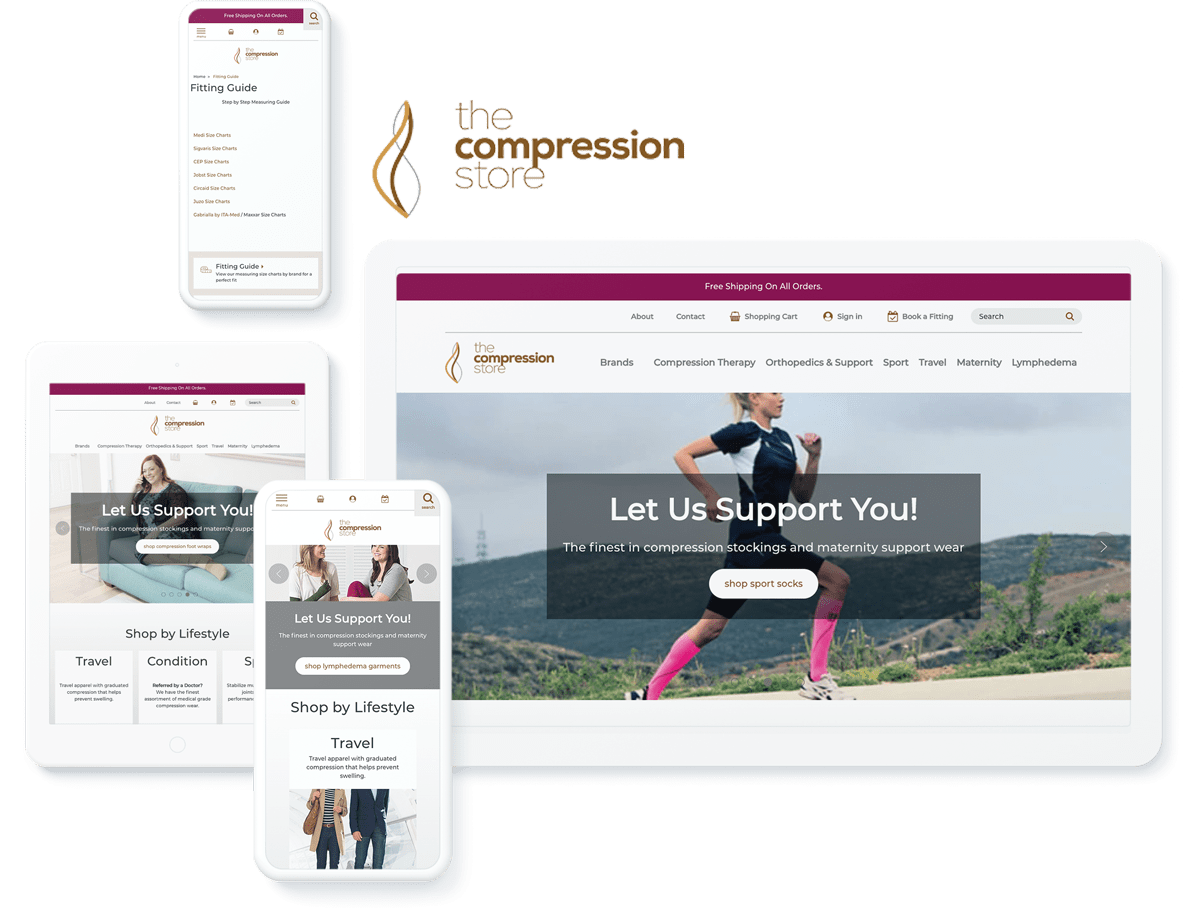 The Compression Store in Brooklyn sells surgical socks and specialty footwear. They didn't have an ecommerce presence until Americaneagle.com designed and developed a new site for them on the BigCommerce platform.
Essential Healthcare BigCommerce Design Questions Answered
What is BigCommerce website design for healthcare?
BigCommerce website design for healthcare refers to the utilization of the BigCommerce platform to create and design websites specifically tailored for healthcare businesses. BigCommerce is an ecommerce platform that provides robust features and tools to help businesses build, customize, and manage their online stores.
How does BigCommerce ensure data security for healthcare websites?
BigCommerce prioritizes data security with features like SSL certification, multi-layered security measures, and compliance with industry standards to ensure that patient information and transactions are secure and protected.
Is BigCommerce compliant with healthcare regulations like HIPAA?
BigCommerce is not inherently compliant with HIPAA (Health Insurance Portability and Accountability Act) regulations. While BigCommerce provides a secure infrastructure and offers data encryption, it does not have specific features or certifications designed specifically for HIPAA compliance.
Why should healthcare businesses choose BigCommerce for their ecommerce needs?
BigCommerce offers scalability, a user-friendly navigation, and a range of customizable templates that make it suitable for healthcare businesses of all sizes. Its security features and integration capabilities further enhance its appeal for the healthcare sector. BigCommerce also provides robust management tools, marketing and analytics capabilities, excellent customer support, and more.
Can I integrate patient management systems with a BigCommerce healthcare website?
Yes, BigCommerce supports many third-party integrations, including patient management systems, appointment booking tools, and other essential healthcare software. This streamlines operations, improves efficiency and enhances the overall patient/customer interaction.
How customizable is a BigCommerce healthcare website?
BigCommerce offers extensive customization options. With access to the platform's HTML, CSS, and JavaScript, designers can create a unique and patient-centric online experience tailored to the needs of their audience. The Page Builder tool enables users to modify the layout, design, fonts, colors, and styles of their website easily.
Are BigCommerce healthcare website designs mobile-friendly?
BigCommerce themes are designed to be responsive, ensuring that healthcare websites are accessible and user-friendly on mobile devices, tablets, and desktops.
How does BigCommerce support the unique product categorization needs of healthcare websites?
The flexible and customizable BigCommerce platform provides custom product categorization, allowing for the organization of diverse healthcare products, from medical equipment to pharmaceuticals, in a way that's intuitive and easy to use for patients and professionals.
Can I offer telemedicine consultations through a BigCommerce healthcare website?
BigCommerce doesn't provide telemedicine features out of the box, but it can integrate with third-party telemedicine platforms.
How can I ensure my BigCommerce healthcare website is accessible to all patients, including those with disabilities?
It's crucial to work with website development companies that are familiar with accessibility standards. The BigCommerce platform allows for the implementation of accessibility features, ensuring all patients can navigate and use the website effectively.
Why partner with Americaneagle.com for your healthcare ecommerce solution?
Americaneagle.com has vast experience in the digital healthcare domain. We have been successfully developing websites for over 25 years. Our developers build websites and mobile apps with scalable, agile, and adaptable technologies that excel in the ever-changing digital industry. We provide a wide range of digital services, including SEO, content marketing, and analytics for healthcare.
As a top BigCommerce development partner, Americaneagle.com has built results-driven healthcare ecommerce websites and our Elite partner status allows us to consistently deliver high-quality websites for clients of all sizes. With our technical and design expertise, consulting services, and post-launch support, Americaneagle.com will seamlessly implement BigCommerce for your healthcare business.
Kickstart Your Healthcare Ecommerce Journey with BigCommerce
If you have a healthcare or wellness website and are looking for the best when it comes to BigCommerce platform implementation, look no further than Americaneagle.com.
Call us at (877) 932-6691 or fill out our contact us form to discuss your BigCommerce healthcare ecommerce needs.
---
About Author
---