Google announced the rollout of its August 2023 core update, which could take several weeks to complete, it said. While most of the details are not yet released, the main objective, like any Google objective, is to further improve search results. Google stated that it will update its ranking release history page when the update is completely rolled out. Continue to check back on this article as we'll update it with new Google algorithm update information once it becomes available.
Understanding Google's Core Updates
Google core updates are updates to Google's search engine algorithm designed to ensure that overall, it delivers on its mission to present helpful and reliable search results to online searchers. The updates are released several times a year and are posted on Google's list of Search ranking updates. So far in 2023, there has been one Google core update in March. Additionally, there have been two other algorithm updates: a February 2023 product reviews update and an April 2023 reviews update.
The Essence of Google's August 2023 Core Update
Google routinely releases core updates to its algorithm to ensure that people are consistently getting the most helpful and reliable search engine results. Google core updates are not intended to focus on particular websites or pages. Instead, they are about refining how content is assessed and rewards websites that provide valuable content to users that are
"Algorithm updates are never about penalizing websites; they're about enhancing the user experience," Kalin Marinov, Senior SEO Specialist at Americaneagle.com, explained. "It's a reminder for businesses to keep their content relevant."
While there is not much information regarding the specific results of this update as of yet, we'll continue to update our readers as soon as possible.
Google Core Update August 2023 Details
Here are the details that we know right now:
Google update name: Google August 2023 Broad Core Update.
Launch time: August 22, 2023 at around 12:30 pm CST.
Rollout term: It will take about one to two weeks to roll out.
Locations: This is a global update impacting all regions, in all languages.
Website industry targets: It looks at all types of content.
Is this a penalty? It is not a penalty. Core updates are geared towards rewarding great web pages with helpful content.
Recovery: It is pretty rare for your website to be significantly affected by a core Google update. We often see false reports of declines in performance that are caused by a different issue. We recommend an SEO Audit to determine the cause of any major traffic losses and ongoing SEO services to improve website content. However, if you've exhausted other reasons for declines in performance, Google provides some great guidelines for reviewing your website content to see if you can do better with Google's core update advice.
Google Core Update August 2023 Impact
Increase to Two Organic Positions Per Domain in Google Search
For several years, Google has largely limited each domain to only one ranking for the same keyword on the first page. This policy underwent a significant shift with the August 2023 Core Update. Now, a single domain can hold two ranking positions if both pages match the user's search query closely.
For example, one of our our clients, Kansas City Steak Company, capitalized on this update, securing multiple 1st-page results for the query "Steak Gift Boxes."


Fine-Tuning Search Intent in Google Core Update
During its core updates, Google primarily adjusts the placement of various sections on search engine results pages (SERPs) to optimize user experience. Elements like the map pack, shopping results, Ads, and organic placements experienced volatility during the last week of August and the first week of September. This was due to Google refining the search outcomes based on automated A/B/C/D tests for different SERP variations.
Sites Relying Heavily on Backlinks at the Expense of Content Suffered
Websites that leaned heavily on their backlink profiles, neglecting quality on-page content and precise page labeling, faced setbacks in the August 2023 Google Core Update. Suppose you run an eCommerce store with scant supporting content, ambiguous labels, and minimal category descriptions, but previously enjoyed high performance due to strong backlinks. In that case, you likely saw a decline. It's crucial to create valuable content around your business's key topics and ensure precise header labels that resonate with targeted keywords. Additionally, supplementary text beneath headings, clear customer support sections, and internal linking can bolster page relevance. Those with scant content and unclear labeling were most susceptible to this update's effects.
Topical Authority Websites Received a Boost
Sites with comprehensive and informative content on particular subjects experienced a positive shift in their rankings. This especially held true for sites that covered a broad range of topics and furnished authoritative pieces on issues pertinent to their industry. This trend, where Google favors extensive, topic-centric sites, has been consistent over the years.
Removal of FAQ Rich Results
While announced separately, the removal of FAQ snippets from SERPs coincided with the core update. The attached screenshots from August 16th and September 7th illustrate the change—highlighting the absence of FAQ rich results post-update.
A More Streamlined Look for SERPs
In the wake of the August 2023 Core Google Update, SERPs saw a reduction in the number of rich results. The spaces between rankings expanded, creating a more spacious and uncluttered look. Google's aim is to enhance the user-friendliness of its search interface. Depending on specific queries, some SERPs underwent additional changes to minimize rich results, favoring a cleaner appearance.
Websites with Credible Backing and User -Generated Content Flourished
Sites featuring first-hand expert insights, real-world user examples, and evidence-based supporting content enjoyed a positive surge. This aligns with Google Search's ongoing objective to spotlight reliable, user-centric content. When creating content, consider the following guidelines sourced from Google Search Central's Helpful Content Section:
Does your content offer original insights, reporting, or analysis?
Does your content give a comprehensive overview of the topic?
Is the content beyond the obvious, offering in-depth analysis or unique details?
If relying on other sources, does it provide substantial value and originality rather than mere duplication?
What are the Possible Google Update Outcomes for Your Website?
With any of Google's core updates, there are possible outcomes for your website. Though they are not intended to focus on particular websites or pages, they may result in previously lower-ranked pages to gain increased visibility. Conversely, pages that were formerly higher-ranked may decline. And for some websites, the update may have neutral impact on search performance.
The inconsistencies in outcomes is due, in part, to the volatility in a website's rankings on search engine result pages (SERP), also known as SERP volatility. Though rankings are constantly changing in SERPs, rankings are typically at their most volatile during Google algorithm updates. Using the SEMrush Sensor tool, you can check SERP volatility of different categories of searches.
Here's an example of SERP volatility for all categories over the last 30 days: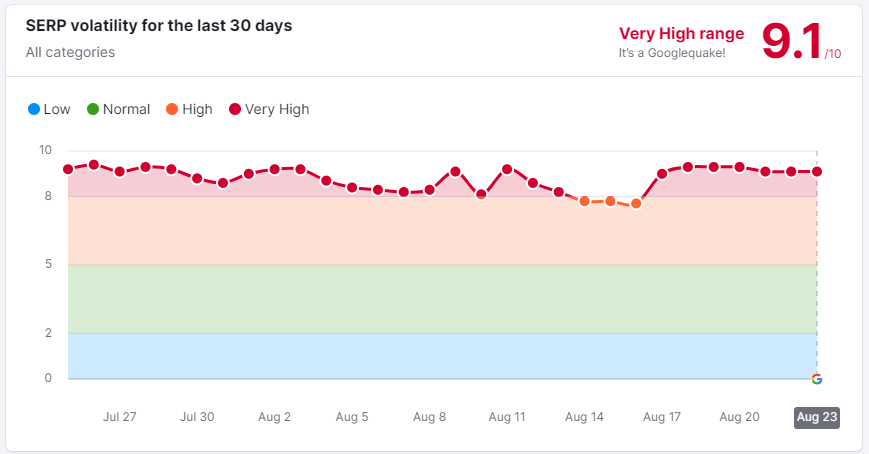 In another example below, you can see that SERP volatility is even higher for "beauty and fitness" searches.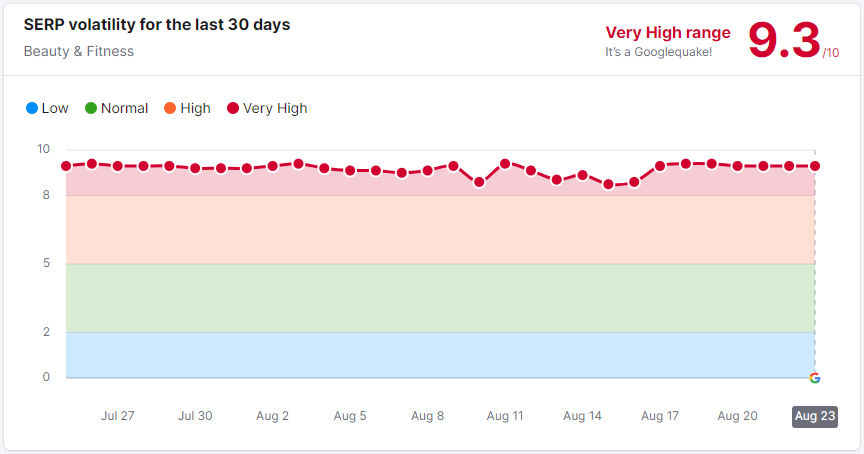 If you see a dip in your website's rankings in the coming weeks, there's no need to panic. Google emphasizes that a decrease in performance following a core update does not necessarily point to a problem with your website. It urges website owners to prioritize the enhancement of relevant, quality content rather than seeking out quick technical fixes. For a review of your website's content, we offer content marketing services by our dedicated team of SEOs, content strategists, content writers, and copy editors that are focused on improving SEO content development for our clients.
Guidance on Recovery & Content Improvement
If you've noticed a decline in rankings, it is important that an SEO Specialist reviews your performance to determine the cause. If there were no other apparent causes to the organic traffic decline, then it may be from the Google core update. There are a few opportunities for recovery. Our SEO team recommends the following:
Complete an SEO audit or review to determine any other causes to traffic loss.
Evaluate pages that declined in performance specifically within Google Search Console.
Align content with search queries, including improved labeling of page titles, headings, and copy.
Expand content to include digestible and multi-media content.
Add thorough topical coverage, introducing related and popular topics.
If you're having trouble determining where your website's rankings stand, let Americaneagle.com help. Our SEO and digital marketing experts help you optimize your website's search engine visibility.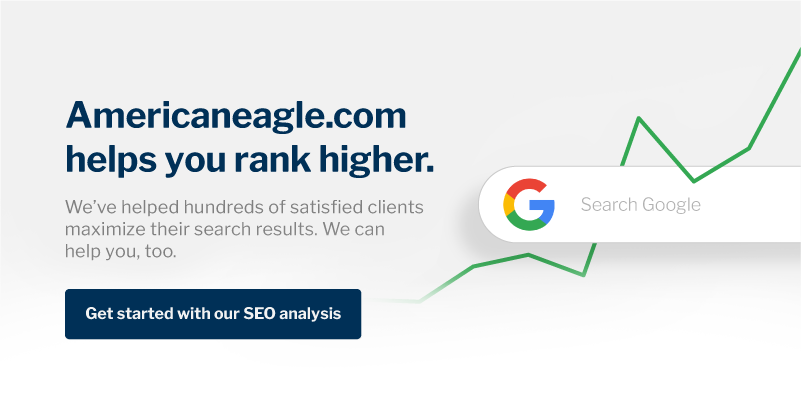 Realities of Recovering from Google Update Losses
Generally, it can take several months for pages to recover lost rankings as a result of a Google core algorithm update. But, because Google is consistently tweaking its algorithms, it may also release additional minor updates that could possibly have a positive impact.
The fact of the matter is that, with a Google core algorithm update, recovery is uncertain. Google cautions that improvements aren't guaranteed to help recover your website's rankings. No web pages have a static or guaranteed position within Google's SERPs.
Insulate Against Google Ranking Losses with Quality SEO Content
As the effects of Google's August 2023 core algorithm update continue to reveal themselves, it's important for businesses and SEO experts to maintain patience, concentrate on enhancing website quality with genuine content, and steer clear of hasty fixes.
We will update this article with more information as it becomes available.
Americaneagle.com is a digital marketing agency and web design company with a robust team of professionals ready to take your digital presence to the next level. We work with businesses across all industries and whether you're B2B or B2C, we're confident in our ability to help you thrive in search results. Contact us today to learn more.
---
About Author
---