Local 3-Pack is a valuable place for local businesses. Business information is concise, prominently displayed, and has all the pertinent information for the searcher to act on. The biggest question for business owners is how to get in the Google 3-Pack. We'll answer that question and look into organic search results vs. local pack search, what a GMB profile is, the importance of reviews, relevancy, and more.
What is a Google 3-Pack Listing and Why is it Important?
We've all conducted a local search on Google using the terms "near me" or "nearby" and viewed the top three results along with the map feature. These results are known as a Google local 3-pack. Also known as a "local SEO 3-pack" or just "local pack", it's the premium place to be for businesses in any competitive market.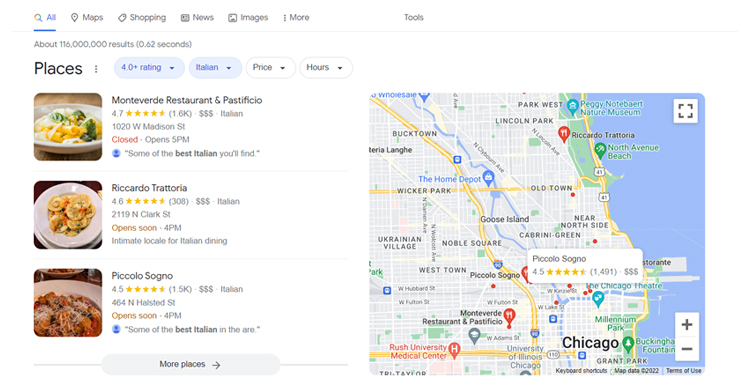 An example screenshot of a Google Local 3-Pack
What's the Difference Between Organic and Local Pack Search
Perform a general organic search on tomato sauce, and first, you'll see paid Google Ads. Next, recipes, the People Also Ask box, followed by search results with snippets. To the left is more information, sometimes in the form of photos, as well as the People Also Search feature. Even further down, you will find Tops Stories from around the world based on the search term.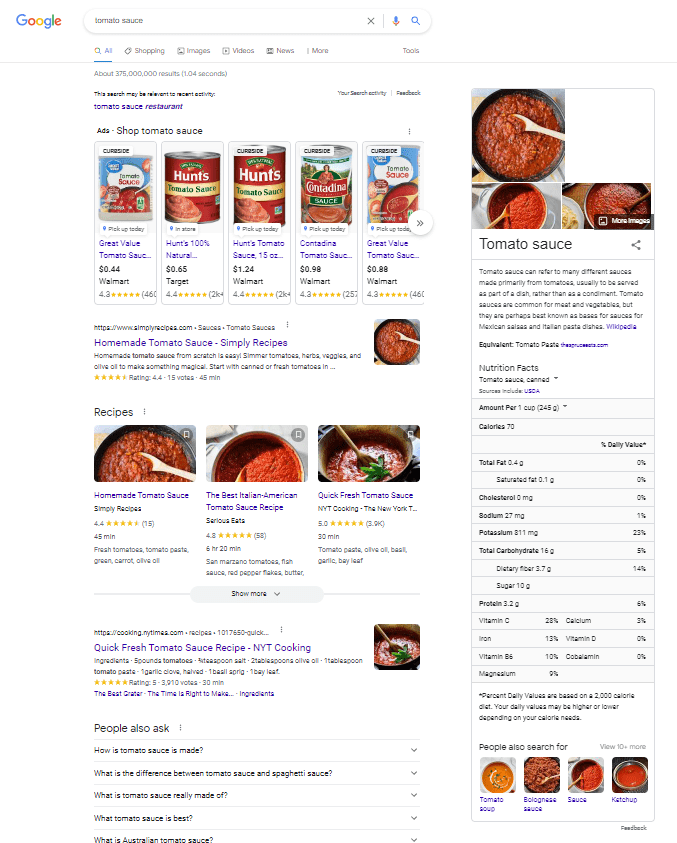 Google search results for "tomato sauce"
Search for tomato sauce near me, and you'll find less information and more pleasing visual results.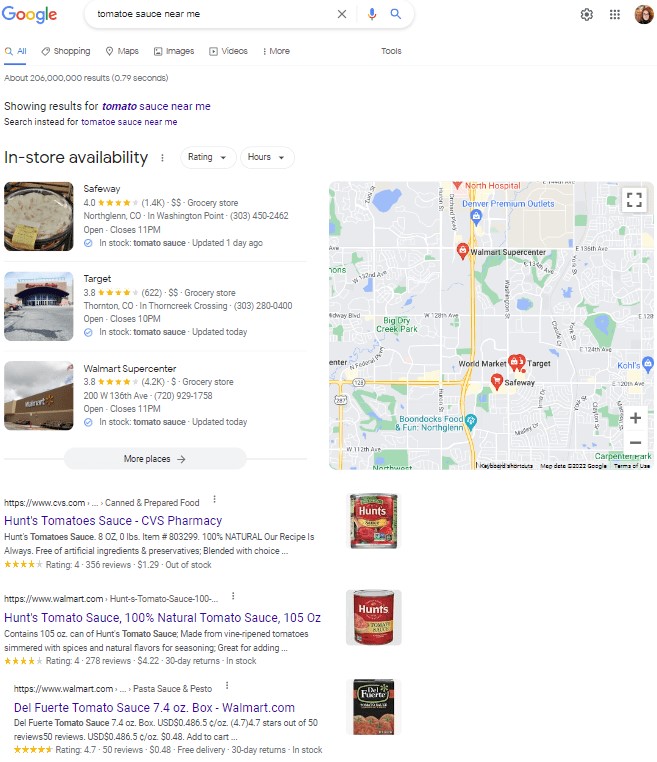 Google search results for "tomato sauce near me"
You'll also see that Local 3 Pack features starred ratings from the businesses listed, which can be extremely important for users making decisions about where to go. In the example above, organic results are below the local pack results. Both will contain localized results, but Google's Local 3-Pack is superior in terms of visual ease and offers an uncluttered view of results.
However, that's not to say that achieving a high ranking on organic search is not as important. They are both essential but should be viewed as different strategies. Businesses can rank on both organic search and Local 3-Pack.
How Do I Get My Business on Google 3-Pack?
In order to be visible in a Google 3-Pack, businesses will first need to create a profile in Google Business Profile or GBP (formerly Google My Business Directory). GBP is a free tool that helps you manage how your business appears in Maps and Search.
Not all businesses are eligible to receive a GBP. Businesses that qualify must have some in-person interaction or a physical location. Some businesses, such as lead generation companies and vacation rentals, don't qualify. However, there are exceptions you should be aware of. Along with the update to GBP, there are new changes that make it easier to communicate with your customers, including important chat features and call history.
Getting Verified on Google Business Profile
There are numerous steps to become verified for GBP. Usual verification methods include email, live video calls, phone calls, and other methods. After verification, it may take weeks for your business information to show across Google products.
The Importance of Reviews for Local 3 Pack
As noted earlier, the local 3-pack listing will show businesses with starred reviews. Businesses will need reviews at 3.9 or above on their GBP to help increase chances of showing in the local pack.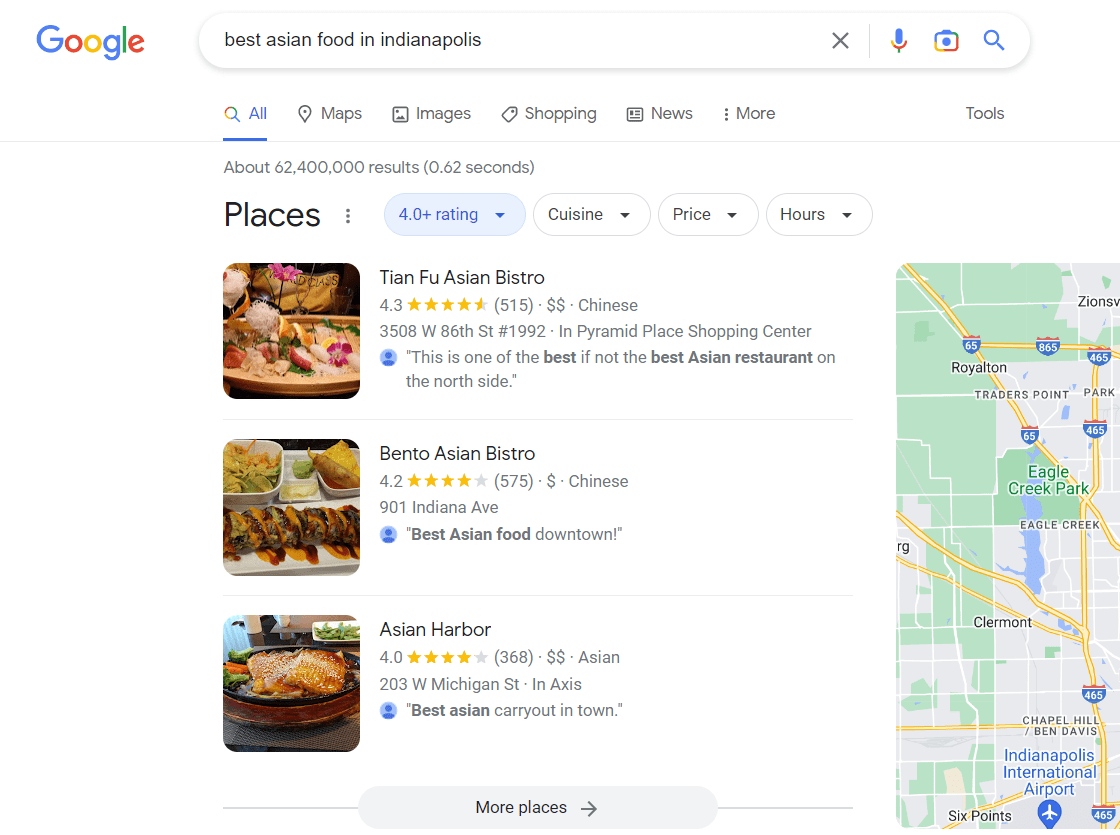 A Google Local 3-Pack example for search term "best Asian food in Indianapolis"
In the screenshot above, you'll see the search term was "best Asian food in Indianapolis," and you'll see that "best" is even highlighted in the reviews. More and more users engage with and trust online reviews for local businesses. It's essential to spend time obtaining positive reviews for your business because they will have an impact on local landing pages.
How Does Google Decide Which Reviews Are Most Relevant?
You may have noticed that Google reviews are not listed chronologically by default but by relevancy. Google decides which reviews are most relevant through several factors as explained below:
Length: Google does not require a set number of words or characters for a review to be shown. However, it appears that a more detailed, well-written review has more power over shorter reviews or poorly written ones.
Keywords: Emotional words such as "best," "clean," and "friendly" are highlighted within the review to draw attention and help the user.
Time: Current, up-to-date reviews are more relevant than older ones.
Location: Reviews from people that are local to the area are considered more relevant.
Fake reviews can be removed, and if a review violates any of Google's policies, they can also be removed. The assessment and possible removal of reviews can take several days. If you see fake reviews, flag the review as inappropriate, and Google will be alerted. A review can be deleted by the writer.
Wrapping Up Google 3-Pack Listings
Google 3-Pack is a powerful search tool for local businesses. Potential customers can get directions, contact information, find your website, and read reviews, all within a single click or even a quick glance. To get your business on that prized area of search:
Create a Google Business Profile.
Become verified on GBP.
Get high-quality reviews on your GBP.
Americaneagle.com has a team of experts that can help you make the most out of your digital marketing strategy, whether it's Google 3-Pack, search engine optimization (SEO), local SEO, or more. We work with businesses in a wide variety of industries to improve brand awareness, website traffic, leads, and conversions through robust tactics that set you apart from the competition.
For more guidance on Google 3-Pack ranking and making the most out of your GBP and Google local map pack, contact Americaneagle.com, your go-to digital marketing agency, today.
---
About Author
---