WeGo Transit - Nashville MTA
Digital Solutions that are Right On Time
The Nashville Metropolitan Transit Authority (MTA) consists of 46 bus routes, a free downtown shuttle, Music City Circuit, train service, and a paratransit program. They strive to connect people to their lives and community, one ride at a time.
Challenges
Without major reconsideration or redevelopment in about seven years, the MTA's website had grown out-of-date. It did not integrate with modern mapping, scheduling, and payment solutions. Their website hosting solution did not provide optimal performance in regard to speed and dependability. The site was also underperforming in regard to accessibility standards. The transit solutions from Nashville MTA had been recently rebranded as WeGo and they were ready for a new digital presence to be developed at www.wegotransit.com.
Project
Platform
Expertise
Accessibility
Web & Application Development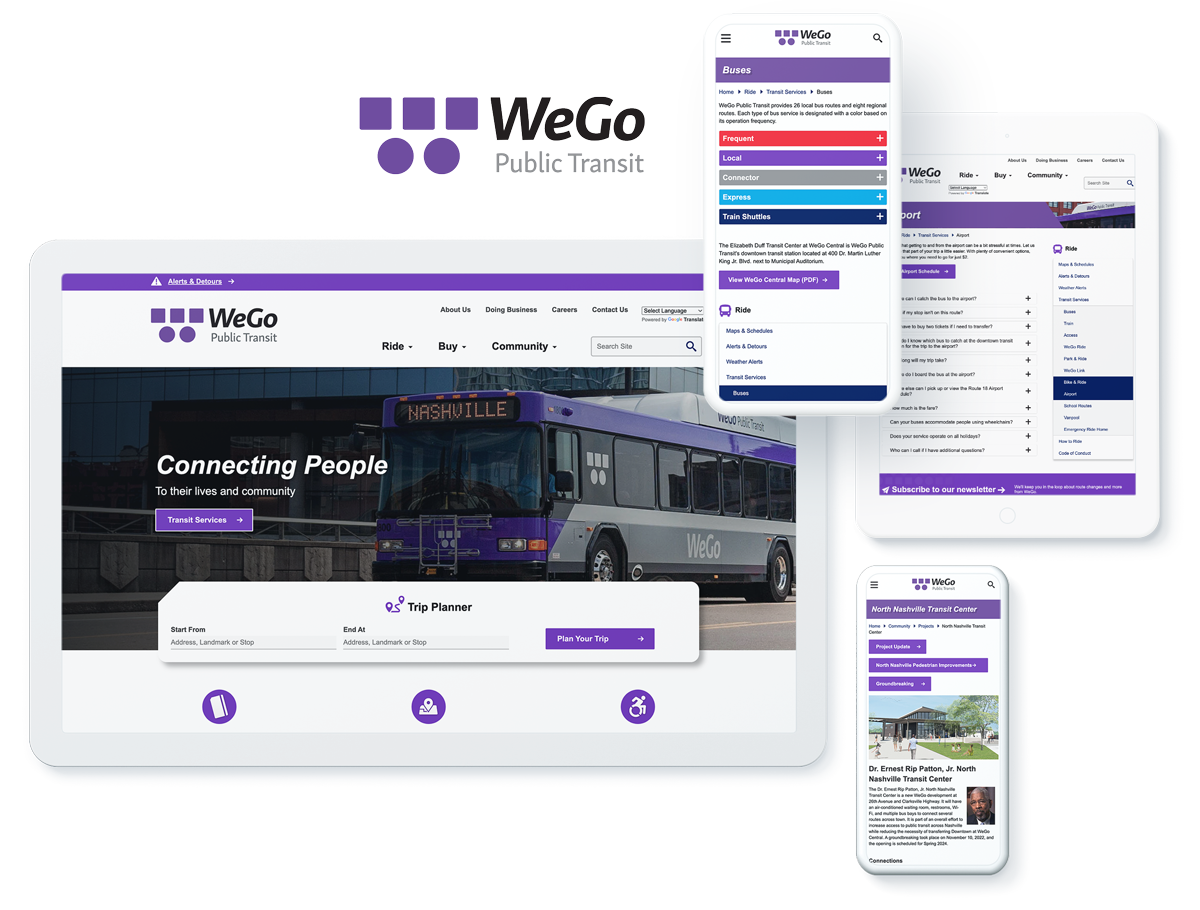 Solutions
Americaneagle.com was engaged as the right website design and development agency to modernize the digital solutions for this major metropolitan transit system. The website and digital marketing experts within the agency conducted a thorough assessment of WeGo Public Transit stakeholder needs that included local focus groups. That important initial step provided many of the foundational priorities for the customer-centered website redevelopment project.

It was imperative that the new website would provide easy and efficient access to bus routes, interactive maps, and well-maintained schedules. The sophisticated new digital solution now integrates with Google Trip Planner and the open data format for geographic information called GTFS (General Transit Feed Specification). For transit users, this produces dependable, real-time bus tracking and timely alerts for schedule fluctuations.

Americaneagle.com created an engaging, intuitive, and user-friendly experience for WeGo customers, prioritizing mobile devices, like popular smart phones. Streamlining site content for improved functionality, route information and schedules were made more visible and quickly accessible. Time and costs relating to customer service have been significantly reduced by popular self-service tools on the website for trip planning. The new WeGo Transit website has provided an efficient and appreciated mode of communication for breaking news, real-time alerts, and promotional programs.

The site, now hosted by Americaneagle.com, also provides unparalleled site uptime, dependability, security, and speed.

Within this modernized, feature-rich, website solution, accessibility was also a consistent priority. Requirements of the Americans with Disabilities Act (ADA) and the Web Content Accessibility Guidelines (WCAG) from the World Wide Web Consortium were consistent contributors toward success throughout the new site. The WeGo Transit website now provides wide-reaching accessibility and dependable usability to more Nashville neighbors than ever before.