Multi-Channel Digital Marketing Creating a Successful Website Presence
Remington Industries is a distributor of top quality wire and raw materials made from metal. The organization was founded in 1991 and provides various types of wire such as magnetic, hook-up and aluminum to various industries. In addition, Remington Industries offers custom services, such as wire repackaging, processing and procurement. They also sell and distribute stainless steel and aluminum that is utilized in many different kinds of applications.
Challenges
After a very effective redesign of their website through Americaneagle.com, Remington Industries found themselves in a dilemma. The organization was not able to create or maintain a viable, marketing presence on the internet. They conducted ecommerce sales on other sites, such as Ebay and Amazon, but could not gain the traction they needed to engage customers from their own website. The site did not rank well (SEO) on the major search engines and there was a great need to increase the traffic, transactions and revenue being generated. Remington industries was very pleased with their new redesign, but didn't feel that they had an effective digital marketing strategy to support it and help them accomplish their goals.
Project
Platform
Industry
Manufacturing & Distribution
Expertise
Digital Marketing
Web & Application Development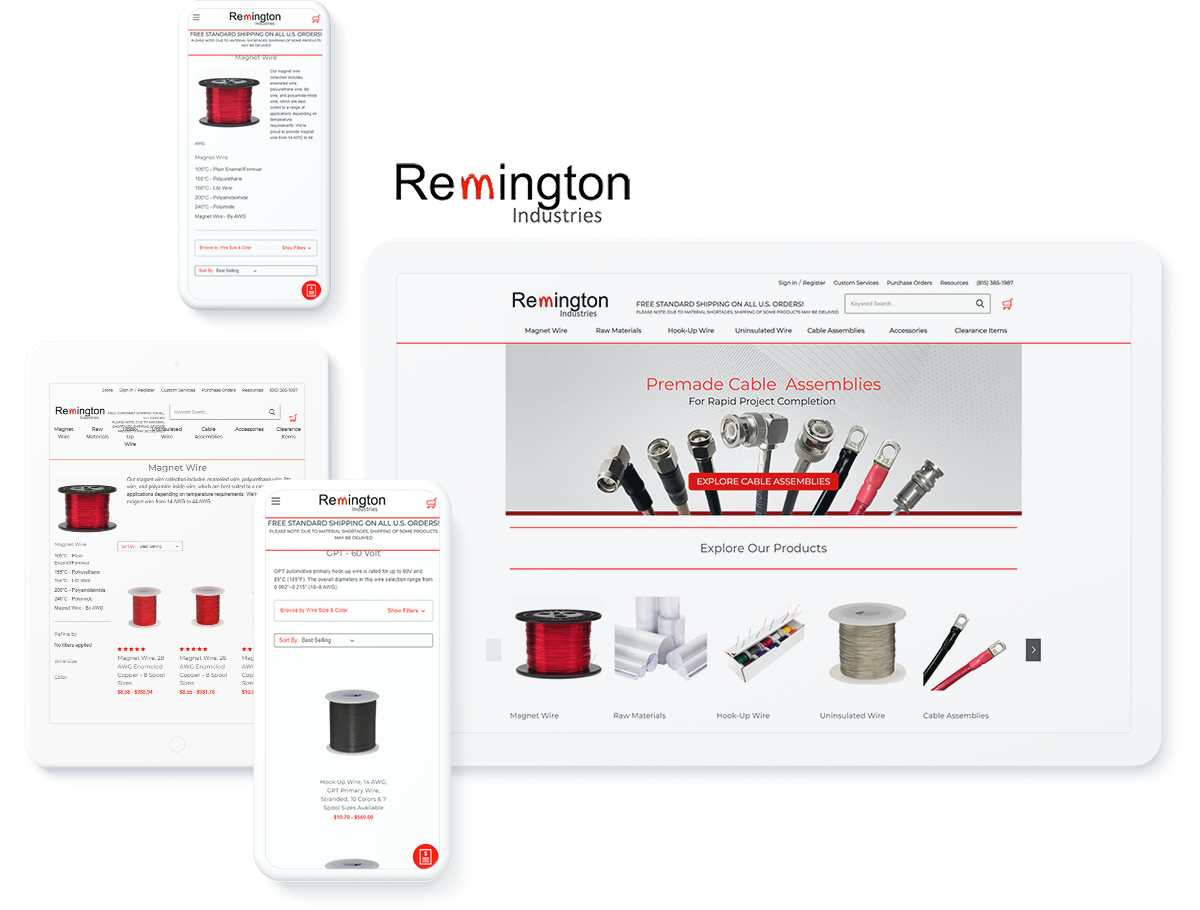 Solutions
When Remington Industries set out to drastically improve their online visibility, search engine rankings (SEO) and direct ecommerce sales, they turned to the Digital Marketing Team at Americaneagle.com. The company was assigned a dedicated digital marketer and team who set out to create a needs assessment for the new website. Once this was accomplished, the team rolled out a customized marketing strategy to meet some specific objectives.

An SEO roadmap was created, designed to improve rankings by implementing strategic key words, effective title tags and relevant content. A paid search audit was also conducted to better position the site in this channel as well. New email marketing templates were designed that more directly align with the new look and feel of the website. Lastly, a content calendar was created that would maintain a steady flow of valuable information to interested web visitors.
After implementing the digital marketing strategy developed by Americaneagle.com, the Remington Industries website directly experienced some very positive results during the most recent 12 months. In addition to a 19% increase in keyword rankings, there was a 5X return on investment with paid ad spend and an 16% boost in email marketing contacts & followers. Website conversion rates improved by 14%, total revenue grew by 20% and for every dollar spent with Americaneagle.com, more than four dollars in revenue was returned.
Results
20

%

Increase in Total Revenue

424

%

Total Retainer Return on Investment

14

%

Increase in Website Conversions

19

%

Increase in Keyword Rankings

"Since partnering with Americaneagle.com on our digital marketing efforts (search engine optimization, paid search strategy/management and email marketing), we have seen a 20% increase in overall revenue. We look forward to continuing this partnership as we grow our website's digital presence."