Transforming Red Gold Tomatoes' Digital Marketing Strategy
Red Gold Tomatoes specializes in producing and distributing a variety of tomato-based products including canned tomatoes, tomato sauces, ketchup, and other related items. The company is recognized for its commitment to quality and has established itself as a trusted brand among consumers across the US. Red Gold Tomatoes is dedicated to providing high-quality tomato products to both households and food service establishments, and its products are often used as key ingredients in various recipes and dishes.
Challenges
Red Gold Tomatoes faced significant challenges in its digital marketing efforts prior to partnering with Americaneagle.com. The departure of its lone marketing personnel left the company with an unstructured and limited social media presence. The strategy was characterized by sporadic and disjointed postings that failed to capitalize on the potential benefits of the channel. As a result, Red Gold sought an experienced website company to build and execute a robust digital marketing strategy.
Project
Platform
Industry
Food & Beverage
Manufacturing & Distribution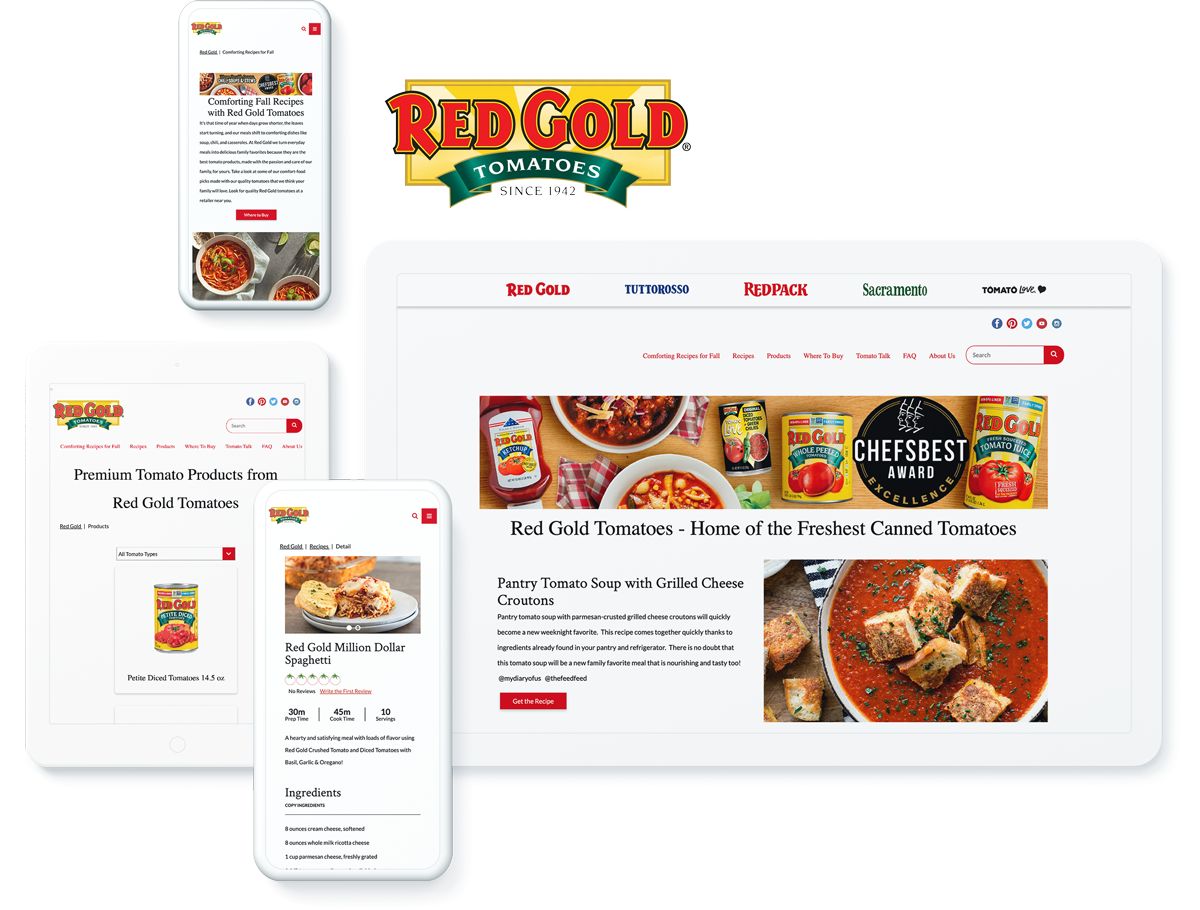 Solutions
To overcome these challenges and propel Red Gold Tomatoes toward digital marketing success, Americaneagle.com worked to design a comprehensive strategy. The primary focuses of the strategy were search engine optimization (SEO) and social media engagement. The agency's approach involved crafting a diverse range of content that utilized various platforms to attract and engage Red Gold's target audience.
Organic Social
A meticulously planned social calendar was implemented to ensure consistent and engaging content. Three in-feed posts per week were strategically designed, complemented by frequent "stories" updates every other day. Leveraging the popularity of TikTok, the Red Gold account was established with engaging content posted weekly. The content was sourced from Red Gold's extensive library within its digital asset management (DAM) tool, which included graphics and media from one of its manufacturing plants.
Additionally, user-generated content, contests, recipes, and brand and product-focused posts were incorporated into the strategy to maintain a well-round digital presence. Americaneagle.com also partnered with a digital web agency to develop compelling video content to further enhance engagement.
Paid Social
Americaneagle.com also provided paid search management services across multiple platforms, including Facebook, Instagram, TikTok, and Pinterest. Ad content was consistently updated every few months, with a focus on recipe advertisements that yielded the best results. The agency's graphic designers contributed to crafting eye-catching ads that resonated with the audience. Notably, Red Gold Tomatoes shifted its messaging to emphasize sustainability and product value, aligning with current consumer trends.
SEO
In addition to social media, Americaneagle.com conducted a thorough SEO audit and implemented essential technical fixes. Duplicate content and meta descriptions were rectified, and specialized content was developed for pages experiencing lower bounce rates. These strategic improvements contributed to better search engine visibility and a more user-friendly website experience.
The case of Red Gold Tomatoes exemplifies the power of strategic digital marketing to overcome challenges and drive growth. By partnering with a digital marketing and website design company, Red Gold Tomatoes successfully revamped its social media presence, implemented effective paid advertising, and improved its website's search engine visibility. This holistic approach not only enhanced brand engagement but also positioned the company for long-term success in an increasingly competitive digital landscape.
Results
192

%

Increase in Video Views

157

%

Increase in Organic Impressions

137

%

Increase in Followers

53

%

Increase in Organic Engagement