Custom-Built Liferay Portal Supports Personal & Professional Development for Abu Dhabi Government Employees
Lifelong Learning is an Abu Dhabi government-launched program designed to refine, develop, and promote a culture of continuous learning and self-development in the emirate. It aims to support the personal and professional development journey of job seekers and employees looking for career advancement at various levels. The collaborative program brings together employers, education providers, and practitioners to address current skills gaps and competencies required for current and future jobs.
Challenges
For the emirate of Abu Dhabi to achieve its goal of developing a culture of continuous learning and self-development for all citizens and residents, it needed an online portal to support it. As a result, the emirate was seeking an experienced web development agency that would be able to handle such an ambitious project as well as one that would best set the program up for future success.
Project
Platform
Industry
Education
Government & Politics
Expertise
Strategy & Insights
Web & Application Development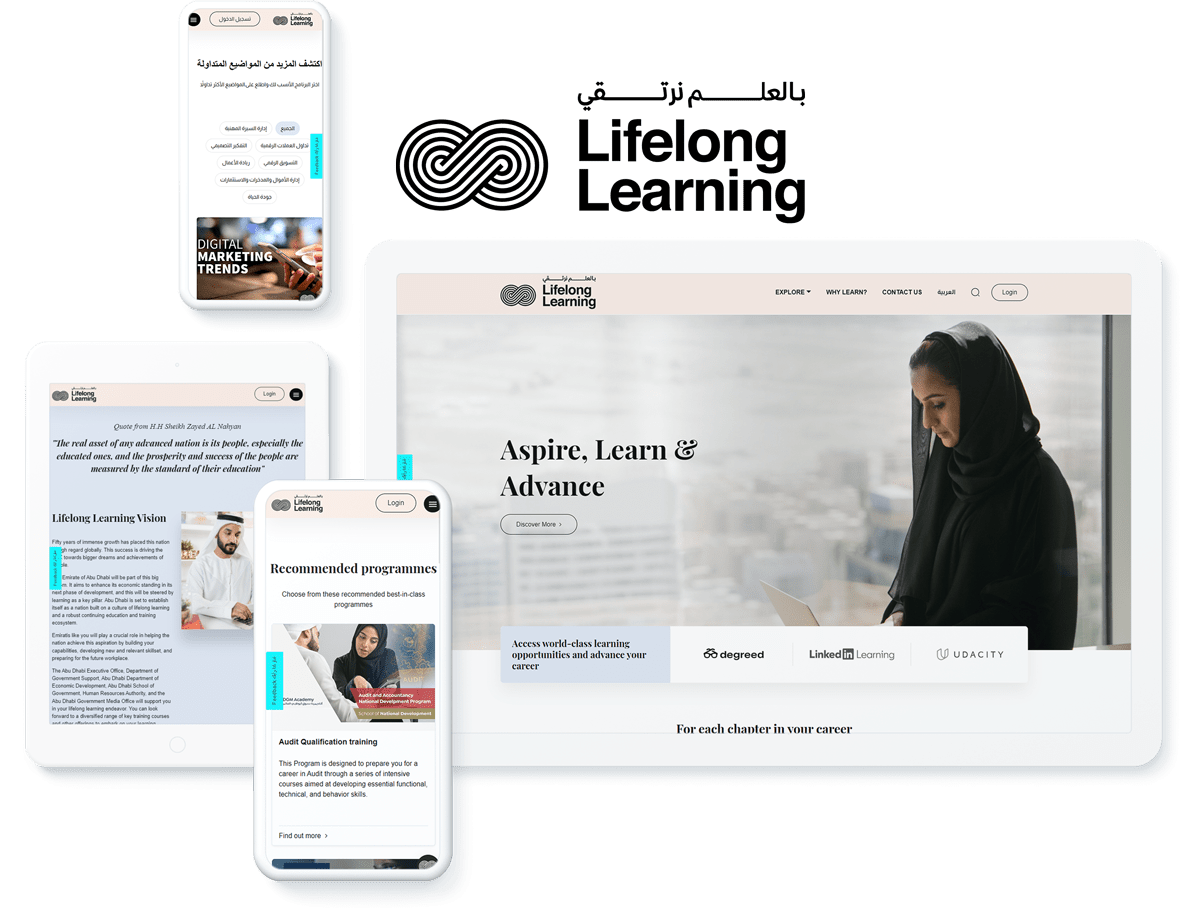 Solutions
The Abu Dhabi government approached Americaneagle.com because of its extensive experience in both website development and website design for the education field. Additionally, Americaneagle.com is a trusted Liferay developer and Platinum Service Partner, further confirming the emirate's confidence that it was making the right decision.
After in-depth strategy work, it was determined that Liferay DXP (digital experience platform) would best enable the web development company to achieve the emirate's goals. The portal, which displays in both the Arabic and English languages, is equipped with several features and integrations designed to steer a robust continuing education and training ecosystem. Users benefit from easy login with UAEPASS single-sign-on, and integrations with Degreed, a learning experience platform that connects content and courses into a one-stop-shop. LinkedIn Learning and Coursera, an online course provider that tracks users' progress on the consumed courses and content are also integrated.
Additional integrations include Lighthouse, an assessment portal, to create a seamless user experience with the ability to view and download assessment score reports, as well as Google Firebase Analytics that utilizes special trackers and event triggers in addition to custom local SQL development to help the education providers understand users' journeys and learning material consumption.
The entities which support the Lifelong Learning program, including the Abu Dhabi Executive Office, Department of Government Support, Abu Dhabi Department of Economic Development, and more, are gratified by the new Liferay portal. It sets a precedent for a future marketplace and roadmap to promote the next generation of Abu Dhabi government employees, allowing the emirate to further establish itself as a nation built on a culture of lifelong learning.