Foley Food & Wine Society
Foley Family Wines Partners with WordPress VIP Agency for Improved Content Editing Experience
Foley Family Wines is a portfolio of highly acclaimed wines from vineyards around the world. It owns more than two dozen wineries, each with its own distinct wine style, legacy, and approach to hospitality. The Foley Family Food & Wine Society provides its members with an exclusive community that embraces culinary experiences, entertainment, and travel in the United States, New Zealand, France, and Argentina.
Challenges
Before undergoing a complete digital transformation to empower its ecommerce experience, Foley Family Wine's content management system (CMS) had a number of ongoing issues and lacked core editing capabilities. For example, the home-grown solution lacked the basic tools necessary to design and update a modern website, failed to provide basic pagination, had poor search engine optimization (SEO), and performed very slowly.
Additionally, when creating new pages, content managers were shackled to a single-page template, which made it difficult to distinguish between the different brands in the portfolio and severely limited their ability to build rich, engaging sites. The largest impact was the lack of integration between the CMS and Foley Family Wine's other digital solutions, which prevented the cross-pollination of content and offered a disjointed user experience. Foley Family Wines needed an expert website agency partner to build a cohesive content editing experience.
Project
Platform
Industry
Ecommerce
Food & Beverage
Expertise
Digital Marketing
Experience Design
Strategy & Insights
Web & Application Development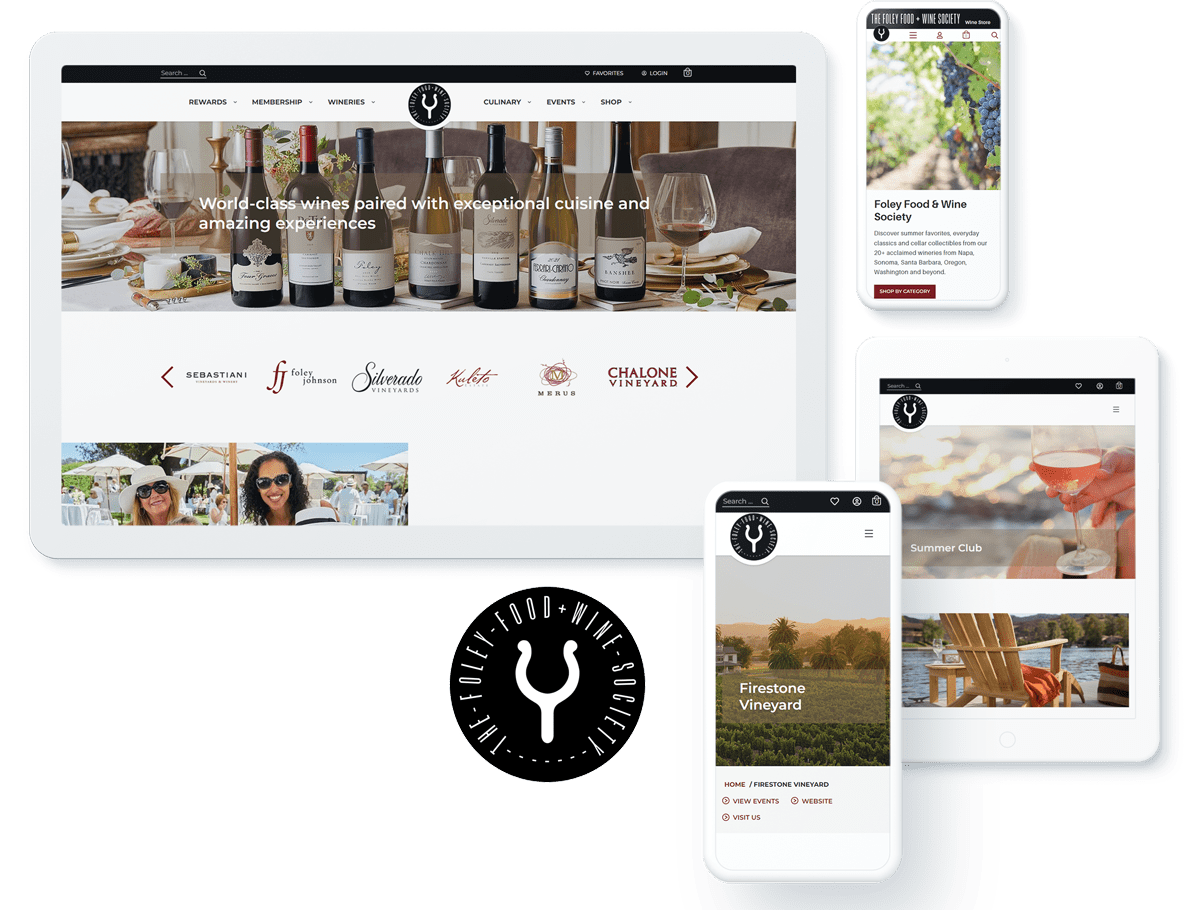 Solutions
Foley Family Wines selected Americaneagle.com, a website development and digital marketing company, to implement a comprehensive solution that provided the necessary content capabilities to support its complete digital transformation. As a trusted WordPress partner, Americaneagle.com determined it was the right solution for Foley for its best-in-class editing experience, SEO value, and performance. WordPress VIP, an enterprise-level hosting and architecture offering, stood out as the platform that would enable Foley Family Wines to succeed. The platform's robust performance and security features were essential to the success of Foley's WordPress-based endeavor.
Leveraging the WordPress Block Editor, formerly known as Gutenberg, Foley Family Wine's content managers are able to quickly and easily create and update new pages across their entire portfolio. Each brand possesses its own unique visual style and impression, while also preserving consistent elements and a common brand identity akin to Foley Family Wines. WordPress also enables content managers to syndicate content, such as recipes for wine pairings or news articles, between the different brands avoiding the need for duplicate work or tedious content entry.
WordPress VIP seamlessly integrates with the other solutions in Foley Family Wine's tech stack truly providing an all-in-one successful ecosystem. For example, utilizing the WordPress REST API, content, such as recipes and wine pairings can be ingested through Salesforce Commerce Cloud and displayed in the ecommerce store, further enhancing the experience. WordPress also displays a shared cart between the content sites and the Salesforce Commerce Cloud offerings, ensuring users can easily move between engaging content and purchasing wine. Other solutions integrated into the site include a number of Salesforce products, such as Sales Cloud and Marketing Cloud for newsletter sign-up and marketing automation.
Since working with a WordPress development agency, Foley Family Wine's content editing experience has significantly improved. The CMS's robust capabilities enable content managers to update and create content and landing pages across the entire portfolio with ease. Additionally, the main website's overall performance has improved and SEO rankings are improving on a consistent basis.