Centralizing Online Operations for FASTSIGNS with a Multi-site Solution
FASTSIGNS is the largest sign and visual communications franchisor in North America, and is the worldwide franchisor of more than 600 independently owned and operated FASTSIGNS centers in 9 countries including the US, Canada, England, Brazil, Saudi Arabia, UAE, Grand Cayman, Mexico and Australia.
Challenges
With hundreds of franchisees around the world and more growth on the horizon, FASTSIGNS was in need of a more cohesive web presence. Given their model and number of locations, the company wanted a standardized process for launching local franchise websites that would align with their brand, services, and overall mission.
Platform
Industry
Ecommerce
Professional Services
Expertise
Web & Application Development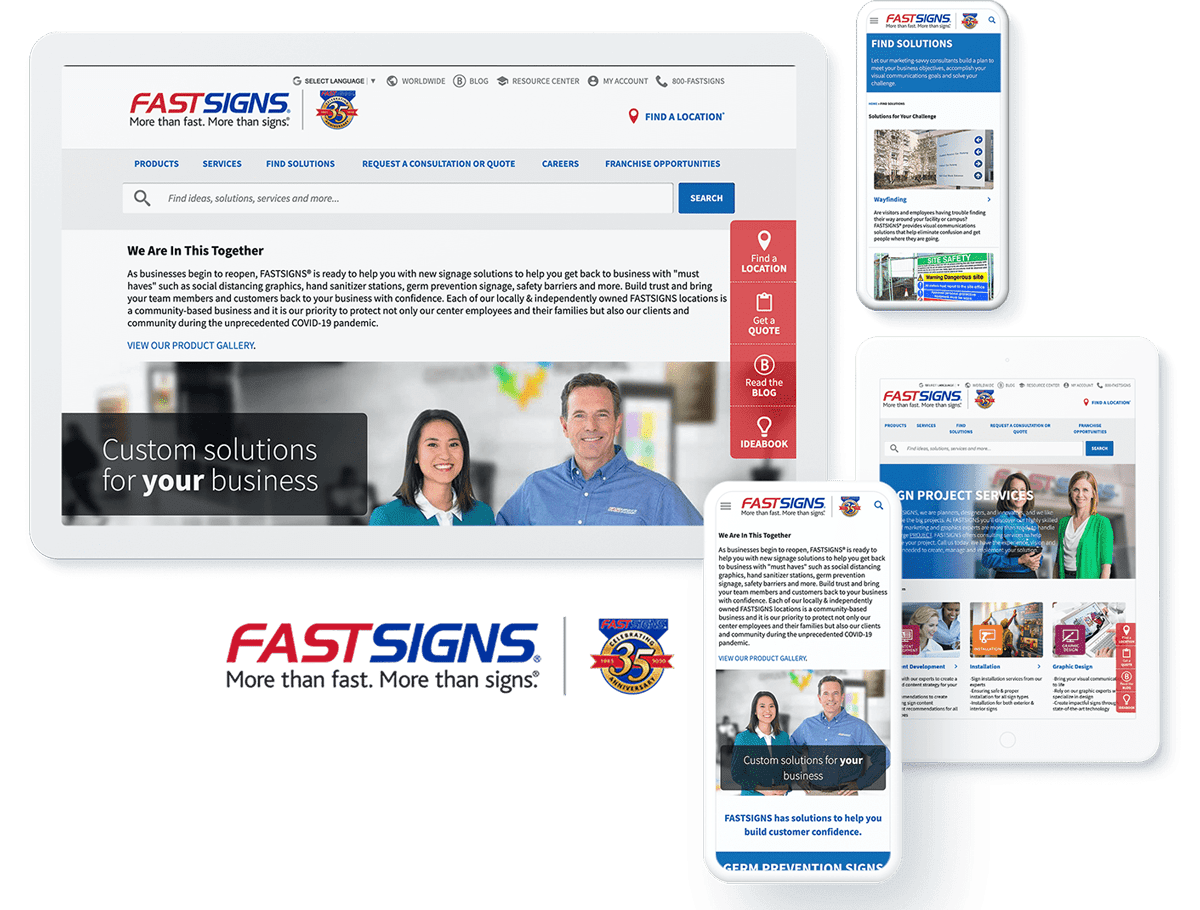 Solutions
FASTSIGNS came to Americaneagle.com for a tailor-made solution that involved developing a centralized company website along with over 600 additional sites for each of their local stores.
The project began with a planning and discovery phase that included phone interviews with stakeholders, on-site interviews with local franchise owners, attending the annual convention for franchisees, and sitting in on company board meetings for background and perspective. To achieve the goal of centralization, the Sitefinity multi-site platform was selected as it allows FASTSIGNS to manage all sites from a single CMS and easily "spawn" any number of franchise-specific sites.
The corporate FASTSIGNS office can now easily move from managing one site to the next, all on a single, familiar CMS, while each store can also have their own log-in to post location-specific content. The multi-site platform also allows any new enhancements to be shared and applied easily across any or all of the FASTSIGNS sites using the single CMS platform, reducing the need for maintenance and support.
The Americaneagle.com team also implemented a highly navigable solution and idea center to help prospective clients plan out their projects. Additional functionality to request a quote, request a consultation, and find a location made it even easier for visitors to connect with their local store. Since launching, FASTSIGNS celebrates its more connected online presence as more franchise sites launch by the day.

"We are very pleased with the design of the website. Americaneagle.com worked with our team to create a design that met our business needs and looks great. The Americaneagle.com team has been great to work with and have done a great job of working with our web editors during the design, implementation and launch phase. Our website results have been great and we are looking forward to a continued relationship with Americaneagle.com as our website and business needs continue to evolve."