B2B Company Receives Sitecore Commerce Strategy and Application
Founded in 1945, Deublin is a leading global manufacturer of rotating unions, electrical slip rings, and swivel joints. With five manufacturing sites and sixteen sales locations around the globe, Deublin is well positioned to provide customers with the products and support they need to keep their machines and operations running efficiently.
Challenges
Deublin was interested in redeveloping its website and needed assistance addressing existing website issues. The website was on an aging commerce solution, therefore, Deublin was looking for a scalable enterprise commerce solution.
Project
Platform
Industry
Manufacturing & Distribution
Expertise
Accessibility
Strategy & Insights
Web & Application Development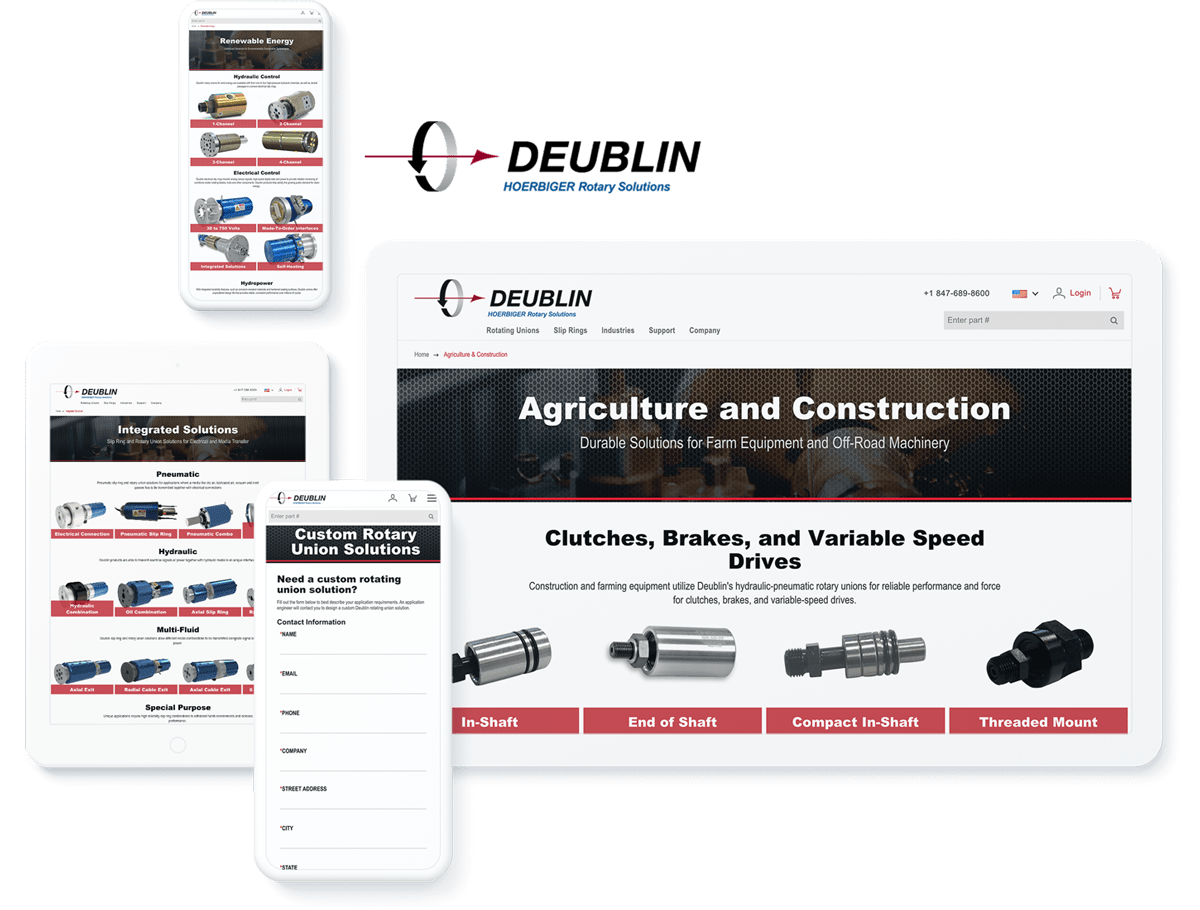 Solutions
Deublin has been a customer of Americaneagle.com's for over 10 years. When the company started experiencing issues with its legacy ecommerce platform, they knew Americaneagle.com would have the tools and expertise to assist.
The project began by Americaneagle.com recommending Deublin move to top commerce digital experience platform (DXP), Sitecore Commerce, and implemented the system. Through commerce strategy, Americaneagle.com identified complexities with Deublin and strategized ways to best implement Deublin's ERP system before the application launched. Americaneagle.com and Deublin planned on how to integrate the new ERP system with a set of new APIs with Sitecore Commerce product catalog.
Americaneagle.com integrated with Deublin's inhouse ERP, therefore, all products were imported from Deublin ETP API including related product details into Sitecore Commerce. To verify products can be added to the cart, product availability now arrives in real time request to ERP. Tax calculation is completed when the user reaches the checkout page, and sales and orders are now submitted back to Deublin ETP. PayPal Payflow Pro was also integrated, which supports credit card payment and validations/tokenizing in order to send the response back to the ERP system. To support the payment method, FedEx/UPS APIs are used to calculate shipping costs based on products dimensions and weight.
Americaneagle.com built a hybrid integration between Sitecore Commerce and their ERP to store customer-related information in Sitecore Commerce. Additionally, Americaneagle.com built a Member Management process which includes a hybrid integration between Sitecore Commerce and the ERP storing customer related information. Americaneagle.com created a registration and approval process inside Sitecore Commerce, where Deublin verifies the registration.
Additional features were included, such as Sitecore multilingual which is built with seven languages comprising of separate and translated catalogs and country specific pricing. Americaneagle.com built out a robust Solr search solution for products with guided navigation and autocomplete. This includes an extensive, part number search with Deublin's B2B catalog.
Since partnering with Americaneagle.com, Deublin has received a number of website upgrades, features, and integrations. With the support of Americaneagle.com, Deublin will continue to make digital improvements and progress toward its overall company goals.

Americaneagle.com completed Sitecore Commerce for us in June of 2020. They have been a great partner to work with and we are looking forward to a continued relationship.