Transforming B2B Business Model with Robust Ecommerce Site
Founded in 1898, Berlin Packaging is the premier source for a vast variety of rigid packaging and industrial supplies. The company carries tens of thousands of vials, jugs, jars, drums, pails and boxes of every size and application. As Berlin's customer base expands across many industries and international locations, online sales have become an extremely important sales channel for the organization.
Challenges
Berlin Packaging was looking to transform their ecommerce presence with an updated website. The company previously sold products online, but its previous website did not handle such a large product line. The new website would have to include specific functionality that provides a seamless and highly satisfactory experience for customers and improves operations across the board. Finally, the company had a very sophisticated ERP system that would need to be integrated and Berlin Packaging needed a content management system and an implementation partner that could handle the job.
Project
Platform
Industry
Manufacturing & Distribution
Expertise
Experience Design
Strategy & Insights
Web & Application Development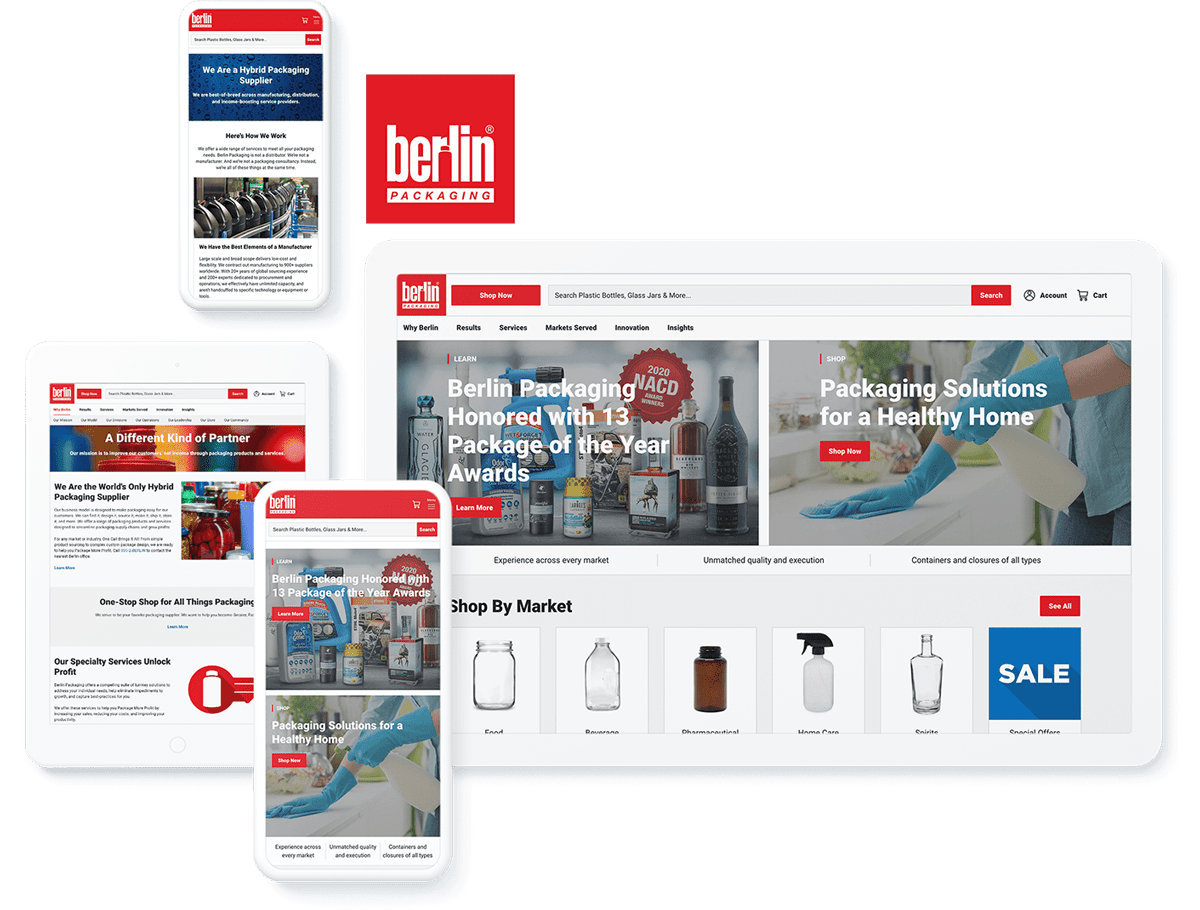 Solutions
The Americaneagle.com team designed and developed a dynamic solution on the BigCommerce platform that enabled Berlin Packaging's inventory of over 40,000 products to be accessed and purchased entirely online. The new site features an aesthetically-pleasing, easy to navigate interface built with the end-user in mind, and custom integrations to streamline the business.
Berlin utilizes specialized item attributes and custom inputs so that all products can be displayed with adequate information and technical detail attached to them. This propriety ERP system has been integrated into the website to provide real time customer service tracking and to ensure inventories are up to date on the site. Americaneagle.com also created a customer portal with specialized functionality to allow buyers to see their credit limits, account balances, and order histories.
The site's shopping cart area has both a standard page and a "quote cart" function, where customers can request specialized pricing on certain products and checkout in an easy and fluid manner. Advanced search, navigation, and recommendations engine, Hawksearch, was also implemented on the site to increase findability for products and services. With the addition of this robust functionality, many traditional B2B business practices including hard copy paperwork and multiple phone calls to the customer service department have been largely eliminated.
The current ecommerce website solution has completely transformed how Berlin Packaging does business with its customers. By modernizing product merchandising, ordering, inventory management, purchasing and shipping, the company has seen a major increase in leads and conversions across all of the industries they serve. The technology is scalable and will allow Berlin to expand its use as the company grows.

"As a fairly complex B2B operation, we had some intricate requests. The team at Americaneagle.com made us feel confident and were able to execute the vision we had. The BigCommerce platform allowed us to create the customizations we were seeking and has resulted in increased conversions and better overall UX for our customers."