The Sitecore XM Cloud is a cloud-based version of the Sitecore Experience Management (XM) platform. It's a scalable and flexible solution that delivers personalized digital experiences across multiple channels.
As a pioneer in web content management systems, Sitecore began as a daring vision at the turn of the century. Its content management system and digital experience platform doesn't require developers and it empowers marketers to deliver personalized, memorable online experiences.
Personalization remains the key to delivering exceptional user experiences and customers expect websites and their own user experience to be tailored to their likes, behaviors, needs, and wants. As one of the leading digital experience platforms (DXPs) on the market, Sitecore has consistently been at the forefront of digital innovation.
The groundbreaking shift of Sitecore's core WCMS to a cloud architecture with XM Cloud is the culmination of a process that makes Sitecore's main content management system (CMS) available on a SaaS basis, a core missing piece of Sitecore's support for a Digital Experience Platform (DXP) based on composable architecture. Positioning XM Cloud as a leader in modern cloud architectures, it allows administrators to access the different SaaS-based Sitecore components within the composable architecture. The introduction of Sitecore XM Cloud provides digital teams with the option to use Sitecore's CMS and editing experience at the center of a composable DXP that – in the long run – will provide more flexibility and agility, avoid vendor lock-in and use the best-of-breed tools of choice. For teams that are used to using the traditional Sitecore integrated suite and want to transition to composable architecture – but want less of a learning curve associated with a new system – the Sitecore XM Cloud provides a great choice.
Key Features of Sitecore XM Cloud: An Enterprise SaaS CMS
Super-Fast Performance
The headless architecture of the XM Cloud results in faster page load speeds, improved Google performance scores, and SEO enhancements.
XM Cloud uses edge computing to reduce bandwidth and improve response time and security. One of the top features of XM Cloud is that this can be done while personalization is running, so site speed for the customer experience is not affected. You can have a lightning-fast website while also serving personalized content to your users.
Enhanced Authoring Experience
The WYSIWYG (what you see is what you get) authoring experience, featuring drag and drop features, greatly benefits content creators. Marketers and website administrators can quickly create, manage, and publish omni-channel experiences thanks to the enhanced authoring experience called Pages. It's a WYSIWYG editor that makes it easier for marketers to build website pages using drag and drop functionality, and other components can be built without any development. This improves go-to-market speed, frees up resources and empowers marketers.
Flexible Deployment Options
XM Cloud's adaptability with headless developments and compatibility with modern, front-end frameworks makes for flexible deployments and rapid development cycles, without a disruption in service. Each service is automated for continuous integration and deployment through agile DevOps.
Multi-Channel Capabilities
Another benefit of the Sitecore XM Cloud? The ability to create content once and distribute it across various channels. Marketers are empowered to streamline content creation and content management. They can easily create, edit, and publish content across multiple channels, including social media, websites, and mobile apps. The focus can be on creating high-quality content that engages with their target audience because efficiencies are greatly improved.
Ease of Development
Support for modern JAMstack frontends and powerful DevOps tools provide ease of development and engaging websites. JAMstack, built with many of the tools and workflows that developers prefer, offers maximum productivity for faster, more secure, and easier to scale websites.
Composability & Scalability
Sitecore's composable stack and the benefits of elastic scaling are excellent benefits of the XM Cloud. It provides both smaller businesses and larger enterprise clients with the ability to efficiently manage any volume of content from any location. The solution is headless and frees up marketers to create content once and deliver it anywhere while also providing back-end developers the freedom to build user experiences with the tools they like.
Continual Upgrade Integration
It's easy to stay updated with the latest features and improvements with XM Cloud. With a consistent cadence of software releases and upgrades, you'll have the most up-to-date version of the software without needing to re-implement the solution. This is a convenient and cost-effective solution for businesses that want to manage their website content without having to invest in software upgrades.

XM Cloud Architecture
XM Cloud consists of the content management application that we all know and love from Sitecore XM. There are tools that many content authors already have lots of experience with being Content Editor and Experience Editor. While, XM Cloud does unveil some new features like Sitecore Pages and Explorer. All of these content tools publish out to the Edge, which by default is Sitecore Edge, but also other options are available. Edge distributes the content and visual design through a GraphQL endpoint and can be used by common front-end frameworks such as Next.JS, ASP.NET core, Angular or React.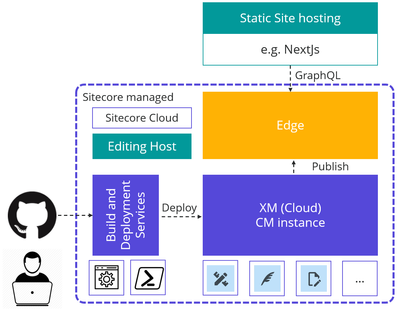 XM Cloud consists of the content management application that we all know and love from Sitecore XM. There are tools that many content authors already have lots of experience with being Content Editor and Experience Editor. While, XM Cloud does unveil some new features like Sitecore Pages and Explorer. All of these content tools publish out to the Edge, which by default is Sitecore Edge, but also other options are available. Edge distributes the content and visual design through a GraphQL endpoint and can be used by common front-end frameworks such as Next.JS, ASP.NET core, Angular or React.
XM Cloud vs. Traditional CMS Platforms

XM cloud and traditional content management systems have some distinct differences. The XM Cloud enjoys many more benefits, though. Traditional CMS platforms support out-of-the-box, fast, easy deployment. Many small businesses that do not have in-house developers, in many cases, prefer this, but it comes at the cost of flexibility, scalability, customizations, and the other benefits of the XM Cloud. A traditional CMS costs less, but it has less functionality and capabilities that the XM Cloud provides. XM Cloud has well-tested, best-of-breed API-driven integrations that are crucial to their architecture, whereas the plug-ins that traditional CMSs depend on are much less flexible and versatile, and they may come with significant security risks.
All in all, a cloud-based content management system's functionalities will provide many benefits, including:
Scalability: You can add or remove resources as required without having to worry about hardware limitations.
Accessibility: XM Cloud can be accessed from anywhere, helping internal teams to collaborate in real-time, allowing for remote document management and content creation that will increase efficiency.
Automation: Automated digital workflows streamline business processes and make compliance simple.
Cost savings: Expensive hardware, software licenses, and technical staff are needed to maintain a traditional system, unlike the XM Cloud.
Security: Cloud-based CMS providers prioritize data security with robust measures, including permissions, encryption, data backups, and multi-factor authentication. Additionally, the security of a cloud content management system is consistently improved in real-time with upgrades and patches.
Easy updates and maintenance: Cloud-based providers handle software updates and maintenance, meaning you don't have to stress about keeping your system up to date.
Integration ecosystem: Cloud-based CMSs easily integrate with other cloud-based business applications like an ERP or CRM, email marketing, and social media platforms.
Flexibility: A cloud-based CMS can be tailored to meet specific needs. You can easily add or remove features as needed and scale the system to meet changing demands.
Enhanced customer experiences: You can deliver relevant, personalized, and consistent content across multiple channels, leading to an engaging customer experience.
Benefits of Sitecore XM Cloud for Enterprises
The Sitecore XM Cloud provides several benefits for enterprise companies to streamline operations, enhance their customer engagement, and increase their ROI. The scalability, flexibility, security, and personalization of the XM Cloud allows businesses to easily manage their digital content and customer experiences across multiple channels and touchpoints, while also providing powerful analytics and insights to optimize their marketing efforts.
Benefits of Sitecore XM Cloud for Developers
The ease of development, rich toolset, and support for modern development frameworks are benefits for developers. The integrated Deploy App allows users to deploy solutions directly into the XM Cloud. This reduces the development work needed by developers and accelerates workflows and front-end updates. Rich tools allow developers to customize and extend the content authoring experience, while powerful APIs enable developers to use their front-end framework of choice to create fast, modern user experiences. Agile development and faster dev cycles are provided because of the modern headless architecture and the ability for developers to choose the front-end development frameworks they prefer.
Final Thoughts on Sitecore XM Cloud's Potential
The Sitecore XM Cloud is a fully cloud-native and composable CMS that enables effective collaboration across teams, lightning-fast global delivery, and automation and integration across the digital ecosystem. It also encourages adaption and businesses to evolve with the digital landscape.
Explore Sitecore's XM Cloud further or reach out to Americaneagle.com – a Platinum Sitecore implementation and hosting partner – for tailored solutions and services. The following are just some of the benefits businesses can expect when they invest in XM Cloud:
Faster time to market
Total cost of ownership is reduced
New features are deployed much quicker
Increased productivity
More time to innovate
Stronger collaboration across multiple teams
No more upgrades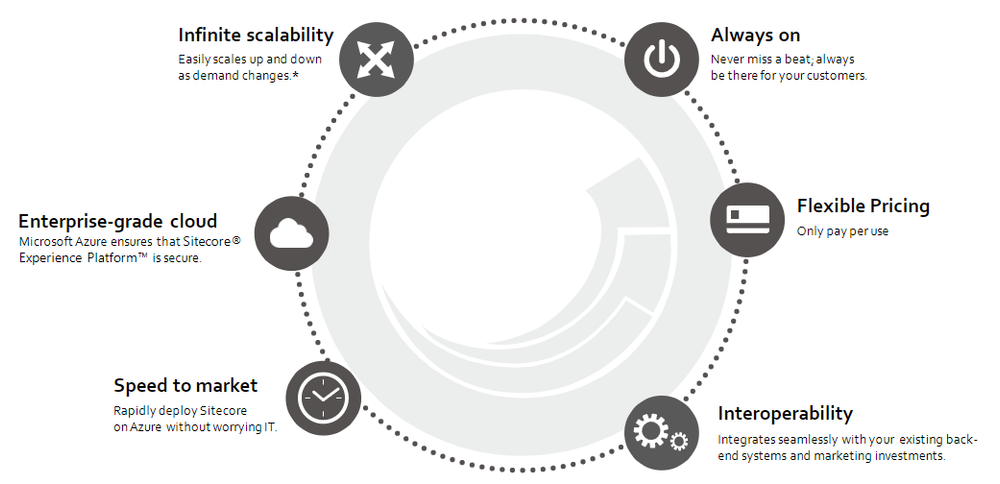 The benefits of XM Cloud are easy to understand – you'll save time, money, and create memorable customer experiences.
Sitecore XM Cloud Frequently Asked Questions (FAQs)
Is Sitecore XM Cloud suitable for large enterprise businesses?
It's a robust and powerful digital experience platform that offers a range of functionalities and features, like multi-channel publishing, to meet the needs of large enterprise businesses.
Does Sitecore XM Cloud support multi-channel publishing?
Yes, it's designed to support publishing of content across multiple channels, including websites, mobile apps, social media, and more.
Does Sitecore XM Cloud offer continual upgrades and updates?
The platform is updated regularly to keep up with the latest innovations and upgrades and to ensure that businesses can continue to deliver exceptional digital experiences to their customers.
How does Sitecore XM Cloud enhance content authoring and deployment?
Sitecore XM Cloud offers enhanced content authoring and deployment, including drag-and-drop functionality, WYSIWYG editing, and a streamlined content creation and publishing workflow. It also provides granular control over content permissions, ensuring that only authorized users can create, edit, and publish content.
Can Sitecore XM Cloud be integrated with other Sitecore Products?
It can be easily integrated with other Sitecore products, including Order Cloud, Content Hub, Personalize & CDP. This allows businesses to create personalized, data-driven digital experiences that seamlessly integrate with other business processes and systems.
Getting Started with Americaneagle.com
For more insights on Sitecore, check out our resource page regarding Sitecore and our extensive experience with this powerful platform. You can also explore Sitecore's benefits for developers, how to get started with Sitecore's XM Cloud, and how Americaneagle.com can help you with any Sitecore product you prefer.
---
About Author
---