WordCamp Europe (WCEU) 2022 has officially come and gone, and the general consensus from Americaneagle.com attendees is as follows: beautiful city, great venue, and a lot of very interesting and educational presentations.
The WordPress Conference took place June 2-4 at the Super Bock Arena (Pavilhao Rosa Mota) in Porto, Portugal, a coastal city in northwestern region filled with medieval townhouses, gothic palaces, and baroque churches. Over the course of three days, those in the European WordPress community had the opportunity to attend workshops and sessions covering various impactful topics including ecommerce, accessibility, site performance, Gutenberg blocks, and much more.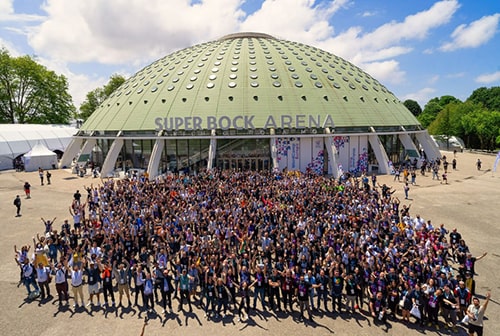 Image courtesy of Europe.wordcamp.org)
An Americaneagle.com employee even had the opportunity to present. Sean Blakeley, WordPress Technical Director based out of Greater Brighton, UK, presented a session titled, "The Block Pattern Revolution." During which, Blakeley discussed how block patterns have revolutionized the entire design process approach. He highlighted several recent experiments, how Americaneagle.com continues to improve the design process, and the tools we use to do so in order to move the expectation from 'impress us' to 'collaborate with us.'
To watch Blakeley's presentation, click here.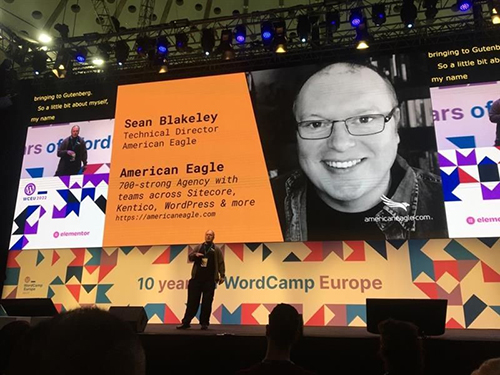 (Image courtesy of Americaneagle.com)
All 11 of the Americaneagle.com employees who attended WCEU 2022 thoroughly enjoyed it. "It was amazing to be back at an in-person WordCamp with the team, especially one of the biggest, hosted in beautiful Porto," Tom Reed, Americaneagle.com WordPress Developer, said. "Credit to the organizers and speakers including Sean Blakeley. I particularly enjoyed watching the sessions relating to site performance, which is a big passion of mine."
"It was great to hear discussions and approaches that we've already been exploring and implementing as well as new tips and ideas," Reed continued. "Learning of the statistics relating to the performance of WordPress as a CMS, compared with other open- and closed-source platforms, was incredibly interesting. Also interesting was learning of the new Performance Lab plugin released by the WP Performance Group for testing performance enhancements before they are merged into core."
Luther Adams, WordPress Web Applications Developer at Americaneagle.com, added: "This was my first ever WordCamp, so I was intrigued to see what it would be like. I saw some really exciting talks and spoke to a lot of very interesting people. It was great to discuss ideas, speak with others who had built solutions to problems I've had in the past with development, and to hear about the seemingly infinite possibilities of WordPress in the future. The WordPress community truly is a welcoming, inclusive place."
Everyone is already looking forward to attending WCEU next year when it returns June 8-10, 2023 in Athens, Greece. We hope to see you there!
(Image courtesy of Americaneagle.com)
Americaneagle.com is a trusted WordPress development partner. We harbor years of experience providing support, theme and plugin assistance, upgrades, implementations, and more. Our experts use the tools available within WordPress and beyond to build award-winning websites.
If you'd like to learn more about Americaneagle.com's WordPress expertise, visit our WordPress page fill out our contact us form to speak with a expert today.
---
About Author
---