Every reputable business knows to keep a vigilant eye out for scams, malware attacks, and other nasties that can seriously affect your security and customers' confidence in you. During the pandemic, there was a massive shift to home working which hackers took full advantage of, initiating cyber attacks on small businesses and large corporations, and creating a heightened sense of cyber attack risk for individuals. According to research by Check Point, 2021 saw a 50% increase in overall attacks per week on corporate networks compared to 2020. With this in mind, there has been a big push for companies to think about how to prevent cyber attacks on businesses and how to dilute their impact.
Here, we explore how to protect your business from cyber attacks.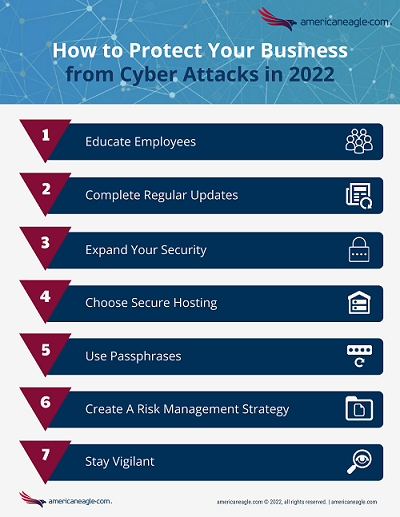 Educate Employees
Education goes a long way to securing your company against cyber attacks. As stated by SoSafe, "more than 85% of attacks start with the human factor". With 60% of knowledge workers accessing systems remotely, you can see how this weakness can quickly become an Achilles' heel.To stay one step ahead, companies should provide annual training, implement a strong password policy, annually review data security, internet use, and confidentiality policies, and send updates and weekly reminder emails to employees to remain security aware. If more of your workforce is working from home, it's worth thinking about using a Virtual Private Network (VPN) as you will be able to exchange information safely no matter what WI-FI network you or your employees are on.
Complete Regular Updates
Cyber attacks on small businesses and large companies can often be avoided through the simple procedure of performing your regular updates. It might seem slightly inconvenient at the time, but updates often protect against vulnerabilities that with a click of a button can be secured; good news for you and your valued customers.
Expand Your Security
As the trend for homeworking and hybrid working continues, companies must expand their security to cover off-site, mobile, app, and the cloud, to keep their business and their employees safe. Conducting a Personnel Risk Assessment will help to identify any areas of concern and creating a Remote Working Policy should help to keep employees working from home aware of the risks and vulnerabilities of doing so. Ensuring any IT equipment has the latest firewalls, duo verification, encryption, and security software installed will be a great step towards guarding against any malicious viruses and cyber attacks.
Cybersecurity mesh is also becoming more popular as employees are no longer working under one roof. As explained by Simplilearn: "IT departments… can create smaller, individual perimeters that protect distributed access points, allowing network managers to offer different levels of access to different constituents and assets — and making it harder for cybercriminals and hackers to exploit an entire network." It even evolves as new threats appear.
Secure Hosting
Have you checked your web host lately to see how they're protecting you and your business? All web hosting services should come with some form of basic protection but it's a good idea to look around and see if you need more than what you're currently getting. If your company holds sensitive information such as customer data or credit card information it's imperative you have a higher level of protection. Americaneagle.com offers web hosting that is Level 1 PCI-compliant and is manned by experienced staff 24/7/365 in two data centers. This offers the highest level of security for businesses that have anything to do with handling credit card data.
Passphrases
It doesn't matter whether you have special characters, mixed with numbers and capitalized letters to spell out the name of your childhood pet, unfortunately, passwords just won't cut it anymore. It is a scary fact from BetaNews that for 71% of companies, cybercriminals will most efficiently find a route in via simple passwords. For a stronger, more secure way to keep your company's information private, consider using passphrases that consist of three or more words to create a sentence, therefore becoming much harder to penetrate. It is a simple but effective way of keeping hackers out of your system.
Create a Risk Management Strategy
It is always better to be prepared than have to deal with the impact of cyber attacks on your business. Creating a risk management strategy allows you to easily identify vulnerabilities, prioritize, and immediately improve your strength and security. A risk management strategy involves auditing your security policies, providing employee training, and creating an incident response plan. An incident response plan will help you if you are unfortunate enough to be on the receiving end of a cyber attack. It will enable your team to react instantly, reduce the impact of the attack, and minimize downtime.
Stay Vigilant
Cyber attacks will continue to evolve. Unfortunately, there will always be another report declaring that a small business has suffered from a cyber attack. We're here to help make sure it isn't yours. By staying one step ahead with the latest technology and secure hosting, you will be doing everything in your power to keep your business and customers safe from cyber criminals.
Your Trusted Partner in Cyber Security
Americaneagle.com provides secure, reliable, and PCI-compliant hosting services through in-house data centers. Our hosting services are tailored to your site and delivered by a team of experts who anticipate your site's needs whether that's speed, traffic, hardware space, or general performance.
We have staff on hand 24 hours a day, seven days a week, 365 days a year. Our infrastructure is secure, Level 1 PCI-compliant, and built with multiple redundancies to ensure network reliability. In addition to our managed hosting services, we provide cloud hosting and support, disaster recovery, performance and load testing, DevOps and automated deployments, intrusion detection, and more.
Our team of web security experts can help your business stay safe online. Get in touch today to learn how to better protect your brand, reputation, employees, and customers.
---
About Author
---