Do you ever feel like two of your most critical teams are in a constant tug of war over implementation resources and budget? On one hand, experimenting with new strategies and technologies is important and valuable for your digital marketing strategy. On the other hand, integrating new tools into your enterprise architecture takes time and diligent planning. ​
Finding a balance between IT and marketing that ensures progress and stability may seem impossible.
Not according to Brad Skeen, Director of Enterprise Architecture and Executive Strategist at Americaneagle.com. Skeen, who's been programming since he was 11-years-old and earned a degree in graphic design, is as logical as he is creative.
His presentation, "Technology Tug of War: Aligning IT & Marketing for Optimal Efficiency" at the Americaneagle.com Forum, helped clients from fields like marketing, technology, operations, design, management, sales, and customer service understand how to address the IT-marketing dichotomy and find ways to operate more efficiently.
This article reviews the highlights of his presentation.
Common Challenges with Aligning IT and Marketing
Here are three scenarios that plague companies in their quest for business growth and digital expansion:
Problem Scenario 1: You Don't Have the Right Tool(s)
This is one of the most common dilemmas for large organizations.
If you ever find yourself saying "we need a new digital tool," or "we need to fill a gap," know that this is perfectly normal. Skeen calls this stage "hammering in screws."
"The landscape is pretty diverse and pretty cluttered," he says. "There's something new and innovative coming out all the time." He explains that keeping up with the number of available tools is "an exercise in futility."
This is also the point where the marketing department starts suggesting different software options, only to be met with resistance from IT, who are concerned with protecting the integrity of the digital ecosystem.
Problem Scenario 2: We're Not Sure What They Do...But it's Not Helping Us Much
"They" being the other department. Siloed or autonomous teams may have their own resources, including digital tools, but the data integration piece of the puzzle is often missing. As a result, the tool ownership is separate, the resource team can be separate, the teams can't seem to align or communicate effectively.

"You really don't know where your master record for customers, products, or orders," Skeen says. "Because marketing is getting that information from one tool and IT is providing reports out of another."
Problem Scenario 3: We Cannot Work Autonomously
This could look like overlying on IT to deliver what marketing should. Here are some of the key friction points:
Marketing must wait for IT governance to approve new tools, which may take some time.
​Marketing must wait for IT to implement and integrate new tools, which may take a lot more time than anticipated.
In the worst-case scenario, the existing tools still require IT support for even the most mundane tasks (e.g., content updates to your site require IT support)
The Tug of War Between IT and Marketing
The first tug-of-war ensues over implementation resources.
Typically, IT has its own projects and the resources are allocated 100% to those projects. Marketing work gets put on the cue as not to consume all IT resources with their own agenda. And while most of the time the project is well scoped, the iterative work/ongoing efforts are underestimated, leading to a 'resource drain.' Reprioritization is also a big issue. An IT team may have to choose between giving their immediate attention to the company or to the marketing team (clients).
In real life, this dynamic might play out in a couple of different ways:
For example, a marketing professional asking for a developer resource to help implement the new marketing automation tool​. Meanwhile, IT needs to put down a lot of internal 'fires,' so by the time they deal with this request, the marketing department is months behind and their list of requests is about a mile long. When IT finally gets around to implementing the tool, months or years later, marketing is already looking into another, more powerful option that was just launched.
A second tug-of-war ensues over budget.
It's common for marketing to hire a third party for a marketing automation tool project, but they still need IT to integrate it with the CRM and the website​. Surprise: there's no budget to purchase the license needed for Integrated Platform as a Service (iPaaS) that would allow IT to do its job. Leadership steps in, and each department starts deflecting product ownership. Problems get pushed to the other team.
IT Concerns Versus Marketing Concerns
Marketing is focused on acquisition​, nurturing,​ and retention/increased engagement, and all of these require innovation​, speed​, experimentation​, repetition, and redundancy.
IT on the other hand is concerned with maintaining the system's stability, security, and compliance while ensuring business continuity. Many of their requirements conflict with those of marketing: standardization and predictability, data consistency​ and integrity​, scope control​, etc.
How to Align IT and Marketing
Step 1: Start with the basics
Focus on your corporate goal first. Once you've established a digital strategy in support of these goals, finding the right marketing tools becomes easier. Requirements to consider:
Marketing (who is this for?)

Functional (what it should do)

Nonfunctional (is it secure and stable?)

Transitional. (e.g., data and content migration)
Next, look at what you already have.
Perhaps your marketing department needs new tools to scale (e.g., email campaigns to coordinate with social posts​). The IT team might suggest using your CRM vendor's tool for email marketing with the promise to provide an ecommerce integration, later on, that can take orders directly and free up customer service and sales.
Step 2: Establish a dynamic team approach​​
Define a cross-functional core team, making sure you have that representation from both marketing and IT from the beginning, and declare a product owner. Who will be the decision-maker? Another thing to consider is a project sponsor who can determine if the project is going smoothly and if resources are needed.
Step 3: Ready, aim, fire​
This is where you determine if an existing tool will do the job or if you need to invest in a new one. IT will determine: what business capabilities this new tool needs to provide, how critical it is to the business if it's a good functional and technical fit, etc. Collaboration between departments is key.
Some ideas on allowing marketing to innovate with limited impact on the business and enterprise architecture:
Looking at software as a service solution (SaaS) because they tend to be easier to integrate
Experimenting with free trials
Looking at third parties for proof of concept (POC) implementation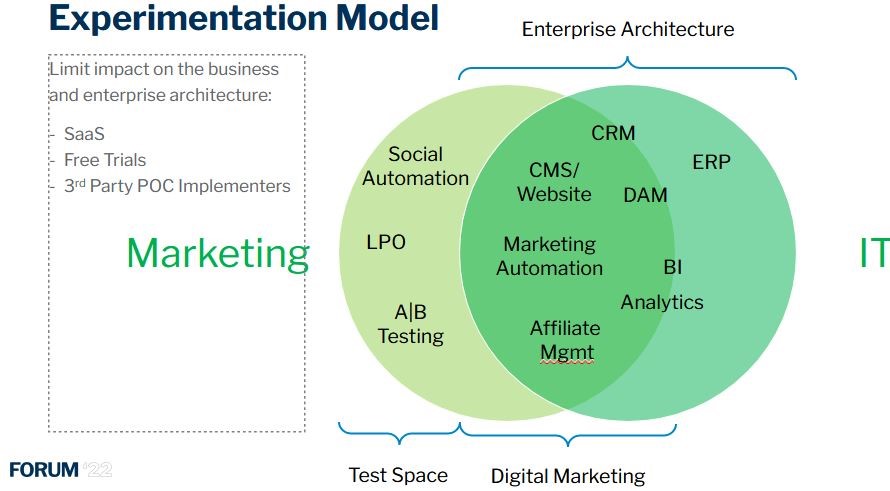 How Can Americaneagle.com Help?
At Americaneagle.com, we help companies bridge the gap between IT and marketing in two stages. In the discovery and definition phase, we'll look at all your requirements (from business and marketing requirements to functional and nonfunctional requirements.) In the enterprise architecture strategy phase, we'll do a tech stack assessment before creating a transformation strategy and give you a roadmap to success. From web design to search engine optimization (SEO), digital marketing services, and content strategy, we have everything you need to take your online presence to the next level. Contact us today to get started.
---
About Author
---