Where's the party? (Definitions)
First-Party Data: My data gets collected by a business I have a direct relationship with. I buy a car. They record the type of car I bought, some details about me and my purchase.
Second-Party Data: One business sells my data to another business or marketplace. I buy a car that has a trial version of satellite radio. The car dealership shares my data with the company selling the satellite radio service after the trial expires.
Third-Party Data: My data is aggregated across a variety of sources. For websites using third-party data cookies, my data is stored throughout my browsing sessions. Before I bought my car, I was searching for nearby dealerships and reading reviews from car experts. Responding to my recent interests and online behavior, I began to see more and more ads relating to the cars I was researching.
The Third-Party Cookie Armageddon
Most businesses and their marketers have heard plenty about all we are going to lose with the death of third-party cookies. Major browsers, like Mozilla Firefox and Apple Safari, have already eliminated third-party cookies. Google Chrome intends to do so in 2024. Historically, third-party cookies have allowed marketers to track touchpoints with their site visitors, record specific interests and digital engagement, then deliver specific ads and content that uniquely align with each visitor's previous activity.
So, Now What?
There is much to be learned about what is coming. Will cohort segmentation replace the specific, individualized data with data of defined groups of people? Google is leading an initiative at privacysandbox.com to create standards for websites to access user information without compromising privacy. Right now, we are not certain where that will end up and what cohort-targeting opportunities digital marketers will continue to have.

Until then, smart brands are doubling down on first-party data. Wherever they are currently engaging with prospects and customers, they are asking questions that elicit responses allowing them to more uniquely and successfully serve that individual. This should not be an entirely new concept for any thriving business. For generations, the businesses that consistently win are the ones that attentively listen to the needs of their existing customers and respond in a way that delights them.
Permission Marketing
First-party marketing data fuels permission marketing. Permission marketing, for those unfamiliar with the concept, is the opposite of interruption marketing, like tv/radio ads, billboards, print ads, and cold calls, which are popular ways that brands attempt to capture the attention of the masses. Within permission marketing, by opting into the brand relationship, prospects or customers have already put themselves into a category proven to return higher rates of both engagement and conversion. There are many strategies that can be deployed to connect with those individuals and, with permission, collect first-party data. Consider the following as you gather the first-party data which is essential to providing a personalized experience for your customers.
Gated content.
Ask for a name and email via a web form before delivering selected content from your website. While the information gathered on these basic forms is limited, this first step is often the most critical one to building an impactful customer relationship database.
(Image courtesy of Americaneagle.com)
Make your fans feel special.
Embrace the reality that your most loyal customers have a significant influence on the overall market perceptions of your brand. For your biggest fans, recognize their status with exclusive opportunities and appreciation. You may even want to give them free stuff! If free products are not an option, maybe an exclusive and free event or webinar is possible.
There's an app for that.
Mobile apps have become a valuable asset for brands to collect first-party data. Loyalty programs within apps provide helpful first-party data like purchase history, specific interests, engagement level, time of interaction, etc. Other apps provide added value or service related to the brand relationship, like a virtual running coach/trainer from a brand that sells running shoes. Within that example, it would not be unusual to collect other data such as age and most impactful product features.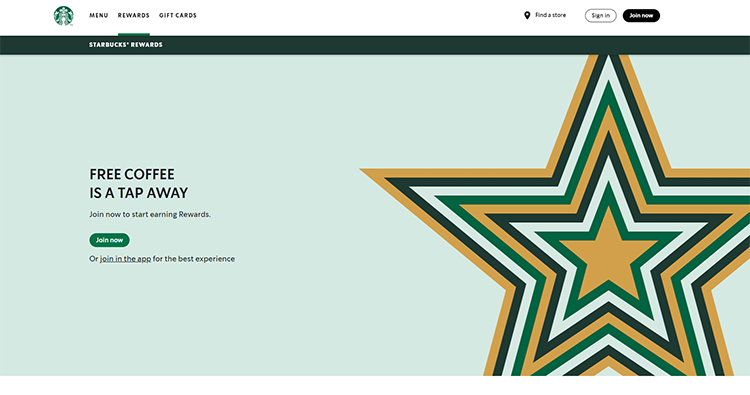 (Image courtesy of Starbucks Corp.)
Just ask.
To consistently affirm the importance of your brand's customer feedback you have to ask your customers for feedback. Surveys are a great way to do that. Provide an incentive for people to complete them with a special offer, rebate, or resource. Share appreciation for the trust that they have put into your brand by purchasing your product. Assure them that learning more about their experience with your brand is the reason for the survey. First-party data is a secondary benefit. Respect their time by keeping surveys brief.
Get social.
Social channels allow brands to cultivate their inner circle of influencers, their biggest fans, and closest friends. Sure, there is also the occasional troll, but they don't keep major brands from utilizing social media more and more these days. The opportunity social media provides to amplify the voices of your biggest fans is unprecedented. There are also other options within social media, such as polls, that provide additional ways to collect first-party data.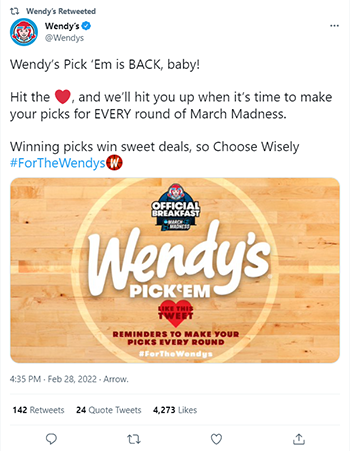 (Image courtesy of Wendy's)
The party is not over.
Brands will continue to win by personalizing service to customers they have taken the time to get to know. Winning brands invest in important relationships. These digital examples of first-party data collection go hand-in-hand with all the ways customer data is also collected through more traditional customer service. Those customer service phone calls, emails, and chat sessions are key sources for first-party data as well.

If you think your brand could improve your prospect and customer database via first-party data, Americaneagle.com is here for you. Our team has extensive experience working with clients to set up the right data collection strategies to support business success. Contact us today to get started.
---
About Author
---