Websites with high traffic, engagement, and transactions require high-performance and redundant hosting services. Latency and downtime, especially during peak business demand or event timeframes, is unacceptable. The Sitecore platform offers solutions for your business and you deserve the world's most capable enterprise hosting partner.

Americaneagle.com is a Platinum Sitecore Solution Partner. We are proud to be one of Sitecore's original Platinum Partners, providing expert Sitecore consulting, website development, and enterprise-level hosting.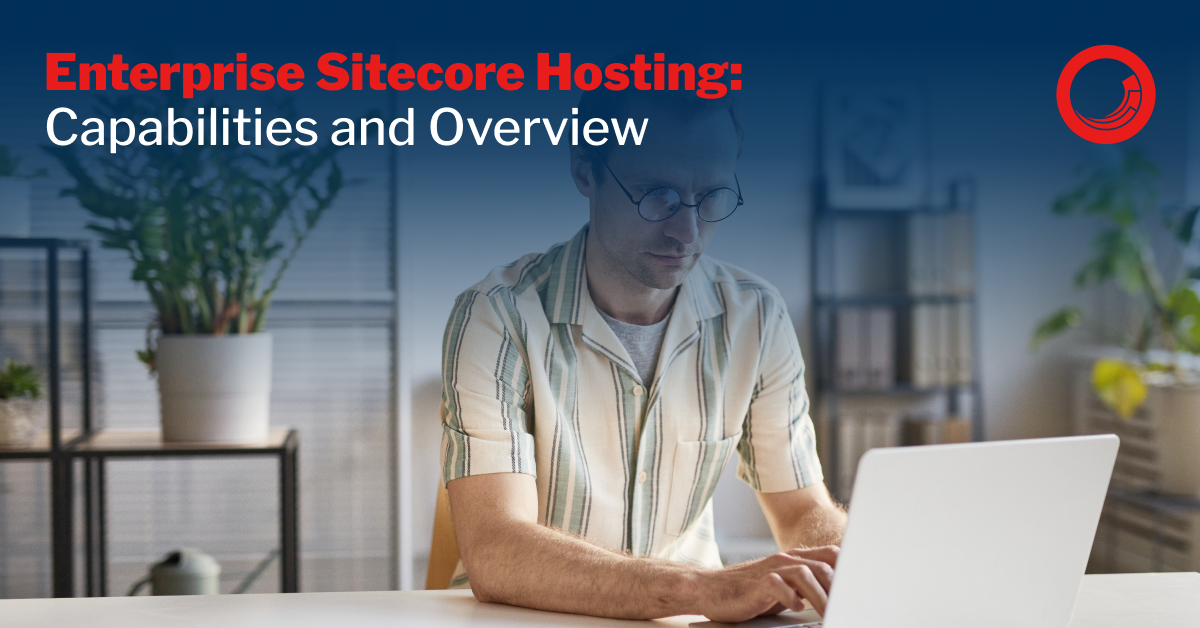 What is Enterprise Sitecore Hosting?
When today's leading enterprise businesses choose best-in-class Sitecore solutions, they opt for one of our enterprise hosting environments: SaaS XM Cloud, Platform as a Service, Infrastructure as a Service (IaaS), or Kubernetes (AKS). In the following, we will focus on hosting Sitecore in an IaaS, PaaS, or AKS environment.
What Sets Enterprise Sitecore Hosting Apart from Standard Hosting?
Enterprise Sitecore hosting options, cloud and IaaS, provide the necessary performance and services that standard hosting options simply cannot. At Americaneagle.com, white glove enterprise hosting and security services for Sitecore clients include, but are not limited to:
24/7/365 Monitoring & Support
Level 1 PCI-Compliance
Management of Microsoft Azure-Hosted Infrastructure
Advanced Security
High Transaction Expertise
Sitecore Managed Cloud Partner
Microsoft Gold Partner
Certified Microsoft Azure Administrators
PaaS, IaaS, and Kubernetes (AKS)
Why Enterprise Sitecore Hosting is Crucial for Large Businesses and High-Traffic Sites?
A Sitecore website without capable enterprise hosting is like owning a world class race car without access to a track. Digital assets within a modern Sitecore implementation are strategically aligned to provide unparalleled brand experiences. Enterprise Sitecore hosting provides the assurance that experience is never compromised and can perform at its best at all times for you and your business.
Key Capabilities of Enterprise Sitecore Hosting
Choosing the best enterprise Sitecore hosting deployment option for your business is important. To make an informed choice, the key considerations should be budget, scalability needs (current and multi-year growth estimate), time to market, systems integration, and international data compliance needs.
Americaneagle.com is a Platinum Sitecore Solution Partner. Many of our clients who host with us began their Sitecore relationship with our world-renown development team. Our longstanding relationships with established brands have led to success within both enterprise hosting deployment choices. We partner with each client to help determine their most business-appropriate choice.
Infrastructure as a Service (IaaS) Managed Infrastructure as a Service (IaaS) Deployment & Management, Enterprise Sitecore Hosting
The following Sitecore products for built for Infrastructure as a Service (IaaS) enterprise hosting excellence:
Sitecore Experience Platform (XP), including Sitecore Experience Database (xDB) and Xconnect
Sitecore Experience Commerce (XC)
Sitecore Experience Manager (XM)
Sitecore Email Experience Manager (EXM)
Americaneagle.com is one of the few enterprise Sitecore hosting partners that own and operate private data centers.
Managed Platform as a Service (PaaS) Cloud Deployment & Management, Enterprise Sitecore Hosting
The following Sitecore products for built for cloud enterprise hosting excellence:
Sitecore Experience Platform (XP), including Sitecore Experience Database (xDB) and Xconnect
Sitecore Experience Commerce (XC)
Sitecore Experience Manager (XM)
Sitecore Email Experience Manager (EXM)
Sitecore Hosting Partners
Sitecore hosting partners provide the optimal server resources and supportive services necessary to power even the most sophisticated, enterprise-level content management, digital marketing, and ecommerce for Sitecore clients. Businesses rely on Sitecore enterprise hosting partners for multi-server, zero downtime deployments, load balanced performance, and disaster recovery dependability.
Scalability
Once Sitecore solutions are deployed within Americaneagle.com's IaaS enterprise Sitecore hosting, there is continual stress testing and load analysis conducted. Versatile virtual server clusters are scaled to demand, adding resources during high-traffic periods, whether they are planned or unplanned. Whether it has been traffic surges from a Super Bowl commercial or a presidential inauguration, our hosting scalability has served every client need with excellence.
Americaneagle.com's IaaS deployment also leverages the content delivery network (CDN) services of Cloudflare. Not only does this leading option in CDN improve reliability, performance, and security, it also caches static resource to optimize asset delivery and minimize the direct requests to IaaS servers. Efficiencies from CDN caching enable overall site performance at a higher scale.
High Availability
Redundancy is the key to high availability. Clustered instances of front-end servers and services ensure that if a server were to fail, all digital resources would continue to be available without interruption. Redundancy built into the enterprise Sitecore hosting plan, either in the cloud or IaaS, should be able to guarantee availability close to 100%.
Performance Optimization
Performance tools should be monitoring and responding to server resource optimization within enterprise Sitecore hosting solutions. Within IaaS enterprise Sitecore hosting at Americaneagle.com, we monitor and optimize server performance 24/7/365. Mobile optimization for websites and applications includes server-side AMP (Accelerated Mobile Pages) tools that monitor performance, response times, errors, requests, third-party calls, and more. The performance optimizations of Cloudflare's CDN caching have also proven to be extremely significant for Sitecore clients.
Security Enhancements
Advanced security measures are essential within enterprise Sitecore hosting environments. Detailed security measures in place for IaaS hosting with Americaneagle.com include physical location security, host-based intrusion detection system (HIDS), anti-virus protection, bot and DDOS protection, PCI framework, web application firewalls, vulnerability scanning tools, security patch plan, security certificates, and monitored, tiered access to server resources.
Backup & Recovery – Disaster Recovery
Backup plans provide seamless recovery from both cloud and IaaS enterprise Sitecore hosting solutions.
Scheduled data center backups within Americaneagle.com include sister center data replication. The offsite replication's recovery point objective is one hour or less in the event of complete destruction of the main data center.
Custom Configurations
Americaneagle.com hosting solutions are tailored to client needs based on traffic, uptime, and security. Our virtual environments are scalable, providing as many virtual servers as needed. In addition to providing servers, we specialize in optimizing CDN caching to maximize cloud delivery while minimizing the impact on website servers.
The Main Benefits of Enterprise Sitecore Hosting
Enterprise Sitecore hosting provides real, tangible business benefits. The following list includes the most prominent.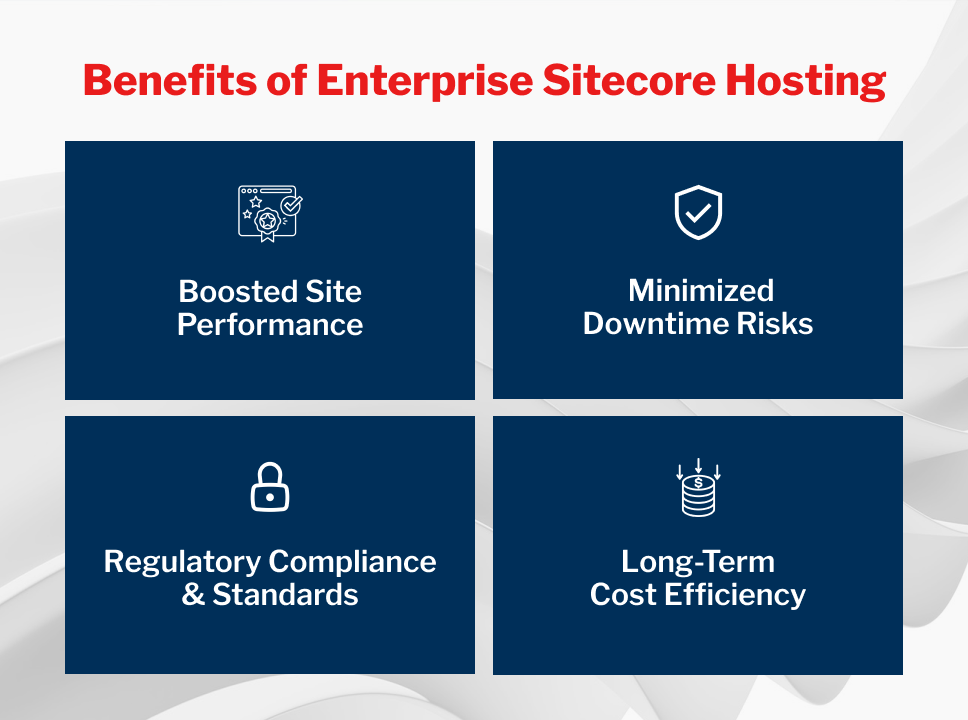 Boosted Site Performance
Enterprise Sitecore hosting clients have access to application performance monitoring tools that allow for detailed diagnosis, performance monitoring, and optimization opportunities. Our experts are able to use these tools to fully maximize the performance of client websites.
Minimized Downtime Risks
Businesses should have a service level agreement (SLA) with their host provider that clearly indicates a guaranteed uptime percentage. The robust hosting infrastructure and support of enterprise Sitecore hosting options, both cloud-based and IaaS, minimizes the risks of website downtime to the point that guaranteed uptime should be nearly 100%.
IaaS enterprise Sitecore hosting with Americaneagle.com includes an annual risk assessment as part of our Visa/Mastercard PCI compliance program. Business continuity documentation is also assured within that assessment.
Regulatory Compliance and Standards
Americaneagle.com maintains a security policy based on PCI, ISO 27001, and NIST standards. We also have a set of documented server build and hardening standards based on Center for Internet Security (CIS) benchmarks. This means that our systems are hardened based on industry best practices such as disabling of unnecessary services, removal of unnecessary software, resetting of default credentials, and having one primary function per server. Our compliance practices have made our Sitecore enterprise hosting environment an ideal choice for highly regulated industries, like healthcare and financial services.
Long-Term Cost Efficiency
The cost efficiency of hosting typically relates to resource ratios of allocation and utilization. A broad range of hosting experience helps high-reputation providers make informed estimations and recommendations for the initial host set-up. Once launched, ongoing resource monitoring should provide clear indications of insufficient allocations or an underutilization of hosting service resources. Cost efficiency analysis should be a regularly-scheduled occurrence within ongoing maintenance agreements.
There are also substantial costs associated with service outage, especially during peak demand. Businesses SLAs should clearly indicate a guaranteed uptime percentage.
How to Choose the Right Enterprise Sitecore Hosting Provider
While we are confident that you being on this webpage means you have identified the optimal enterprise Sitecore hosting partner at Americaneagle.com, the following shares key considerations that all brands should prioritize when making their hosting selection.
Proven Track Records
Whether or not you choose Americaneagle.com as you hosting partner, we implore you to learn as much as you can about the provider you select. Speak with existing clients. A proven track record of success with businesses of similar size, or within your industry, goes a long way toward assuring your success.
Stellar Support 24/7/365
Your website doesn't take time off, and neither should your hosting services and support. Is support available to you and your business 24 hours a day, seven days a week, 365 days a year? Is that around-the-clock support available to you in the way you would like it, whether that is a telephone hotline, email, chat window, text, or any combination of those?

Why Choose Americaneagle.com as Your Enterprise Sitecore Hosting Provider
As a Platinum Sitecore Solution Partner, our Sitecore team implements strategy and implementation solutions specific to each client's unique marketplace and business goals. Now is the right time to plan next-generation Sitecore solutions and hosting with Americaneagle.com. Call us and speak with a Sitecore solutions expert today at (877) 932-6691.

Case Studies
The following case study examples showcase a range of successful Sitecore digital solution implementations, as well as brand relationships for which Americaneagle.com also provides high-performance hosting services.
---
About Author
---