Over the years, the online market has become a strong source for many businesses wanting to expand. It gives leads and buyers access to your platform from anywhere in the world. There are billions of websites out there which raises an important question: how does your digital user experience stand out from the crowd? This article explores five best practices to do just that.
What is Website Design?
Before we can understand how to implement website design best practices, we must first understand exactly what website design is and why it's important.

In the simplest of terms, web design, according to the Interaction Design Foundation, refers to the design of websites that are displayed on the internet. It usually refers to the user experience aspects of website development rather than software development. Web designers work on the appearance, layout, and sometimes even the content of a website.
Why is Website Design Important?
Design is a crucial component of any online business. A well-designed website, that follows the below best practices, helps visitors form a positive impression of your business. It also helps nurture leads, increase conversions, and create repeat customers. And perhaps most importantly, website design provides visitors an experience where they can access and navigate your site with ease.
Web Design Best Practices
As a web design and development services company, we thought it made sense to provide insight into five best practices to follow for a functional, visually-appealing website design.
Cohesive Brand Identity
Brand identity includes the elements that make up a certain brand such as color, design, and tagline. It also includes organizing those elements in a way that naturally draws the attention of your audience.

Visuals will be your greatest ally in capturing attention. Create images that really portray the essence of your business and your story. It is important to make your visuals relatable and engaging, including less text to keep the main idea in focus. Additionally, use creative content to link your visuals to other aspects of the website.
Overall recommendations for a successful brand identity include:
Not making your tagline or logo too massive ー keep the size of your logo in mind as you do not want to take away from the products or services you sell.
Compressing the image to reduce page speed ーdecrease images and add size in order to save space. Make sure the logo, for example, is small but legible.
Use a color combination that's unique to your business ー use vibrant colors throughout your website and on all marketing platforms to help your brand stand out.
Nike has a very unique logo. It was made to be simple and easily recognizable. It is a prime example of how you should advertise your logo and brand in order to attract attention.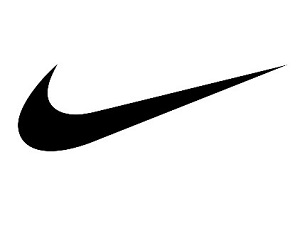 (Source: Nike)

Intuitive Navigation
Website navigation is going to make a large difference in terms of engagement. It is much harder for an audience to remember your brand or want to continue exploring it further if your website is not efficiently structured. The most successful websites keep it simple and connect each aspect together.

Every ecommerce website should have a navigation integration. Consider horizontal navigation which is a list of links at the top of each page. This type of navigation tends to be space efficient while also creating space for proper content flow.

In addition to being easily navigable and efficient, a website should be visually satisfying. This, in turn, makes customers' purchase decisions easier. Below are three tips to keep in mind when designing a simple and successful navigation system, according to Tiller Digital:
Clear language ー include a key at the bottom with features that direct users to a specific page such as "About Us," "Our Services," and "Contact Us." Use easy to understand wording to guide your audience through your website.
Tailoring your navigation to your content ー create interactive images and links between each to lead them to their desired search. The more in-depth your website is, the more links and connections are required.
Breadcrumbs ー "breadcrumbs" means tracking where the user is on your website and being able to easily guide them back to their previous pages, retracing steps throughout the website. This idea is extremely useful for larger ecommerce websites.
Website navigation is one of the most important design elements. Keeping the above tips in mind during the design phase will make it more consistent and straightforward.
Appealing Visuals
Visuals are significant to the success of your website. It is important to keep in mind your audience's attention span. Most do not look at a post for more than five seconds before moving on. Catching their attention with something flashy will get them hooked and more willing to continue on through the rest of the site.

It is more common nowadays to take a simplistic or minimalist approach to design your website. Avoid unnecessary items that could be clouding your site or causing it to slow down. It tends to be the easiest to navigate and engage when there is little effort put into unnecessary additions. It's when the detail is more emphasized in the content.

There are three main principles to focus on when creating visuals that are appealing to your audience:
Colors ー use a specific palette of colors to add vibrancy and cohesiveness.
Graphics ー graphic designers help bring designs to life. They may animate the logo or send pop ups that can be used to further link aspects of your website together.
Typefaces ー use different letter designs such as font types, size, slope, etc.
Apple provides a great representation of a very visually appealing and easily accessible website. The company's website frequently changes in terms of interactive features, but its overall sleek design, font, and color scheme stay similar, thus enforcing brand recognition.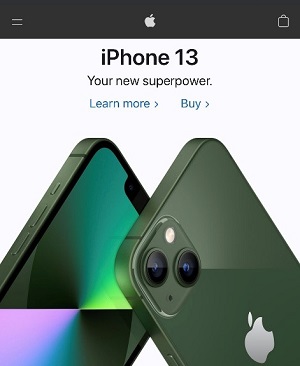 (Source: Apple)
Accessible to Everyone
Web accessibility, according to the Web Accessibility Initiative, means that "websites, tools, and technologies are designed and developed so that people with disabilities can use them. More specifically, people can perceive, understand, navigate, and interact with the web as well as contribute to the web. It encompasses all disabilities that affect access to the web including auditory, cognitive, neurological, physical, speech, and visual."

As a business owner, your website should be accessible to everyone. If not, it's important to create accommodations so that it is. For example, color coordinating. This refers to the awareness of color contracting and giving each section its own palette.

The World Wide Web Consortium has set guidelines for web accessibility. In summary, they include:

Perceivability ー how leads and buyers understand your content and visuals and how it relates to your brand.
Operationality ー how the website is functioning and linked together.
Understandability ー all content is clear and easy to understand.
Robusticity ー the website can be easily used on any device anywhere and has no internal issues.

Following the above four steps will address a variety of primary accessibility issues. Designing a truly accessible website is no easy feat. It's an in-depth process and requires feedback from a variety of users in order to find the right balance.
Clear Calls to Action
A call to action (CTA), is significant to the design of every website. It directs leads to the different resources on your website. One example is the "Contact Us" tab. Other examples include "Learn More" and "Read More," both of which address stages in the buying process. These action focused words encourage a more in depth look into the website's contents as well as encourage the buyer to complete their journey.

An important aspect of CTAs is the sleekness of the design. CTAs should make a statement clear with a touch of color and captivating words.
This CTA example from Spotify is clear, located on the homepage of the website, and provides a link to bring visitors further into the site or app. Its design is eye-catching yet simple and offers a more personalized experience.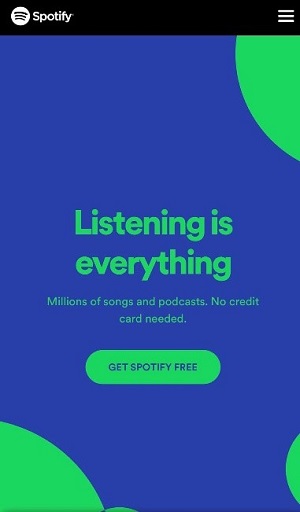 (Source: Spotify)
Conclusion

Your website design is vital no matter if you're brand is established or looking to expand. It requires maintenance and continued improvement to keep interest alive. Keep these best practices in mind when designing or updating your website.
Americaneagle.com Website Design and Development Services
Many websites fail to engage their audience. The technologists, strategists, and designers at Americaneagle.com can ensure your website engages your audience throughout every step of their journey. From creating visual designs to discovery research, testing and validation, performance and analysis, our experience design services create enjoyable, intuitive, and seamless customer experiences. Contact us today to learn more.
---
About Author
---