Product Catalog Success with Three New MacLean Power Websites
As one of two primary businesses of MacLean-Fogg, MacLean Power Systems (MPS) manufactures and supplies products for electric utility, communication, and civil infrastructure markets. Their products include a broad range of industry leading hardware, anchoring, and insulation solutions. The MPS Service Center in Fort Mill, South Carolina, serves customers globally. They operate manufacturing facilities in the USA, Canada, Brazil, and Thailand.
Challenges
MPS wanted to update and upgrade three separately branded URLs to create a more sophisticated and cohesive digital presence. They were seeking a UX/UI that enabled clients to navigate across the three domains without interruption. Together, the sites needed to unfailingly serve sales reps and distributors who sought products, product details, pricing, order history, invoicing, and even quotes on orders.
Platform
Industry
Manufacturing & Distribution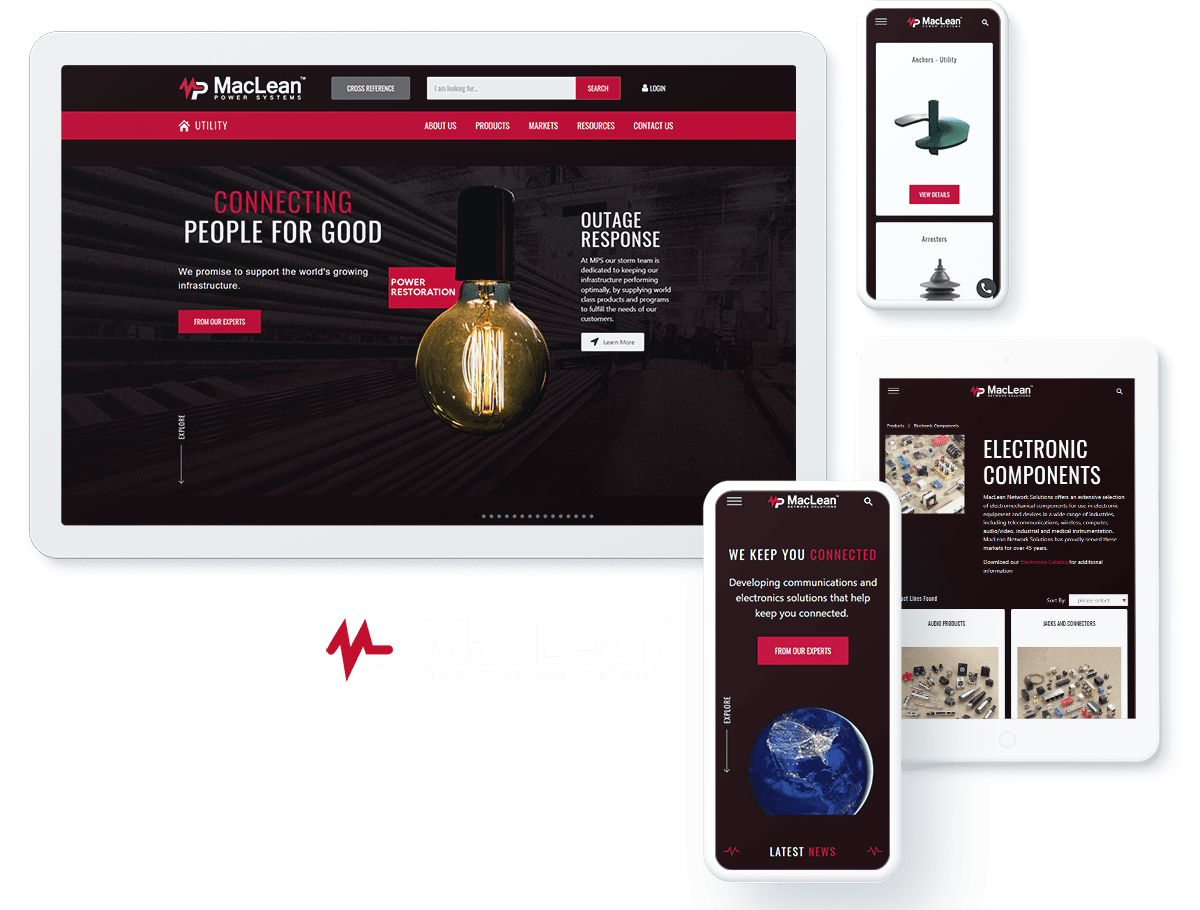 Solutions
To enhance MPS's digital presence, WordPress, an editor-friendly content management system (CMS) was selected. The site was then redeveloped with WooCommerce as the ecommerce backbone. WooCommerce is an open-source ecommerce plugin exclusively designed for use within the WordPress Platform.

For MPS's large product catalog, developers extended the typical WooCommerce setup with sophisticated, custom functionality for over 4,000 parts. The custom work from Americaneagle.com distributed the part specifications across searchable tables on the category level and connected the detailed product catalog to their single sign-on system, called MPServiceNet.

The new, thoughtfully-designed WordPress site enhances the customer experience for distributors and salespeople throughout North America. The order and quote data are tied to the site from MPS's enterprise resource planning (ERP) software. An automated data synch updates those data details each night. Each day, users are provided up-to-date information about orders, status, shipment breakdown, account pricing, and purchase orders. With up-to-date product data and instant access to orders, reps are now able to pull order data for entire regions, send up-to-the-minute pricing, download product specs, and export individual line-item data for any purchase order.

Three custom locators were also built. They indexed company locations, distributor locations, and sales rep locations. The first two, company and distributors, were built using a custom Google Maps integration with dual interaction between each list's data and map pins. For the sales rep locations, Americaneagle.com built an interactive map of the United States and Canada so users can generate a list of reps in their selected territory.