Keller Williams MAPS Coaching
Integrated Marketing Strategy Produces Excellent Results for Real Estate Coaching Program
Keller Williams Realty, Inc. (KWRI) is a technology and international real estate franchise headquartered in Austin, Texas. In addition to KWRI, Americaneagle.com works with two of the company's divisions: Keller Williams (KW) MAPS Coaching and KW Segments. KW MAPS Coaching provides a number of coaching programs for real estate agents to continue their education, helping them grow their businesses no matter where they're at in their careers. It's one of the largest revenue-producing divisions of KW. Based on more niche or special segments of the market, KW Segments is designed to group like-minded peers together to learn from each other. For example, KW Luxury is an agent peer group focused on high-end real estate.
Challenges
Prior to partnering with Americaneagle.com, KWRI, KW MAPS Coaching, and KW Segments were all experiencing a number of challenges. KWRI's social media was not performing to its potential due to inconsistent posting, no clear objectives, and a lack of an overall tactical strategy.
KW MAPS Coaching's outreach had grown stale and disjointed, and the team was having difficulties building an effective integrated marketing strategy. Social media channels were not being posted to consistently, email templates were dated with no clear objective, and agents were having a hard time understanding which courses were right for them, all of which resulted in stagnant program leads.
Consisting of eight overall segments, KW Segments had never been properly branded or promoted. Most had no brand guidelines, no marketing materials for agents to brand themselves, and no websites or social media presence to promote and utilize for outreach. Like MAPS Coaching, all of these factors contributed to poor awareness and lead generation.
Project
Platform
Expertise
Digital Marketing
Strategy & Insights
Web & Application Development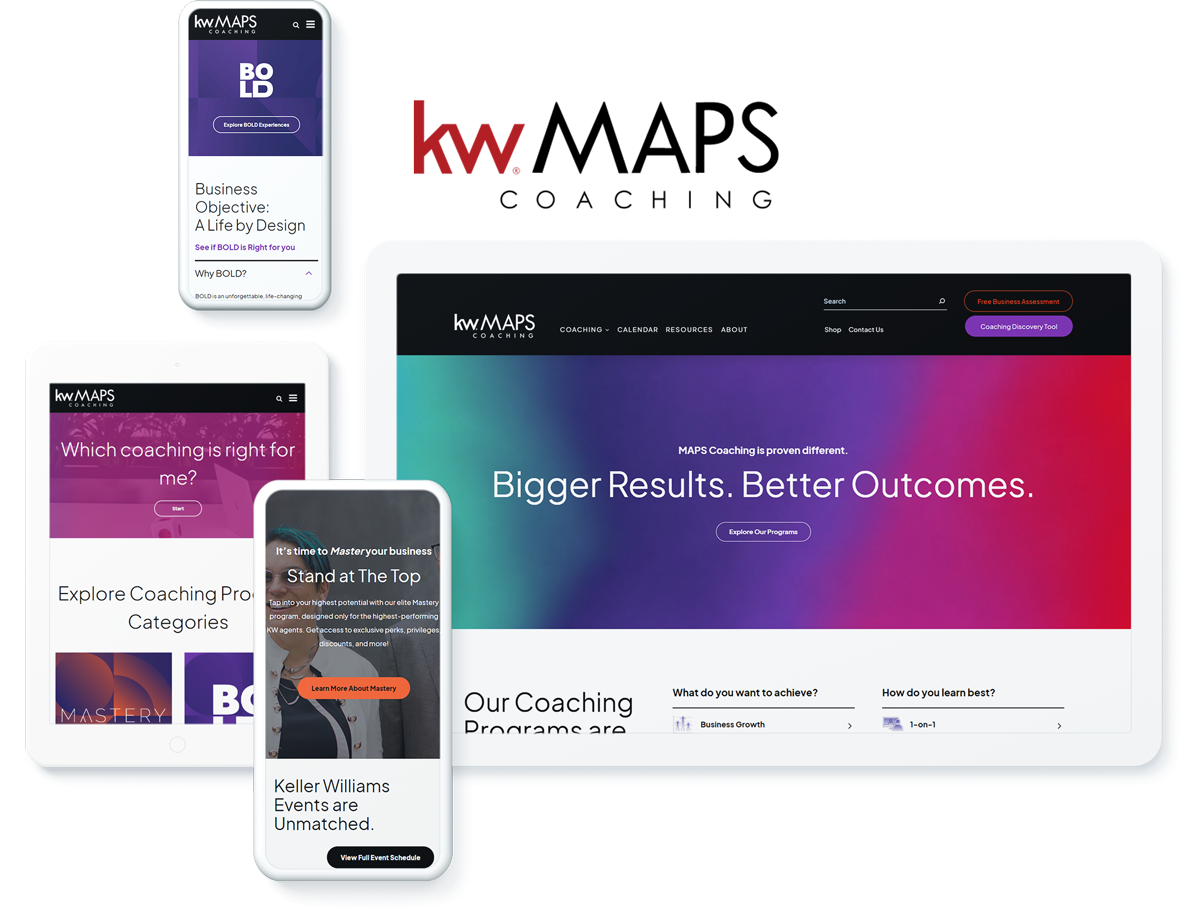 Solutions
Americaneagle.com reviewed KW's business objectives and goals and built a robust integrated marketing strategy to increase both the company's as well as each program's awareness in order to drive leads. To help grow its social media presence, Americaneagle.com worked collaboratively with KWRI's creative director and video team to develop a consistent social media content calendar and graphics for Facebook, LinkedIn, Instagram, and TikTok. Monthly reporting and analysis are conducted to identify market trends and further develop KWRI's personas.
The MAPS Coaching project began with a complete refresh of the branding to include a more modern and sophisticated look that would catch the attention of potential leads. Both the email marketing and social media strategies were revamped to provide clear messaging on what each class offers and the value they provide. Personalized email campaigns for three of KW's programs, Mastery, Bold, and Life Coaching, were created and strategically launched depending on which stage of the workflow the subscriber fit. Email campaigns to promote and drive attendance to KW's four largest events, Family Reunion, Spring Masterminds, Mega Agent Camp, and Fall Masterminds, were also created and launched.
Targeted organic and paid social media campaigns were then created and launched. Americaneagle.com built comprehensive social media calendars for each month and completed three posts per week on Facebook, Instagram, and LinkedIn. Sponsored content was posted on Facebook and Instagram to quickly reach potential leads. MAPS Coaching's analytics and reporting were overhauled to accurately measure and communicate success, providing the team with a clearer view of the business.
Because KW Segments had never been properly branded, Americaneagle.com invested hundreds of hours in graphic design to create brand guidelines, landing page templates, agent marketing materials, and social media templates for each of the eight segments. A social media presence was created for a majority of the segments and an organic social strategy was then implemented.
Since partnering with Americaneagle.com, KW MAPS Coaching has experienced wins across all channels supported. Thanks to the robust integrated marketing strategy, there have been significant increases in overall website, email, and social traffic, and most importantly, leads. Both Americaneagle.com and KW are looking forward to continuing to build upon this successful partnership in the future.
Results
826

New Leads Acquired in Q3 2022

238

%

Increase in Email Traffic

108

%

Increase in Paid and Organic Social Media Traffic

75

%

Increase in Overall Users

Partnering with Americaneagle.com on our digital marketing efforts has been an excellent experience thus far. Our team is extremely knowledgeable and consistently brings fresh and creative ideas to the table that provide real, measurable results. With their partnership, we launched our first lead generation strategy and acquired hundreds of new, qualified leads for all of our KW MAPS Coaching programs. We're looking forward to building on our successful partnership and are confident the team will continue to produce impactful results.