Kansas City Steak Company
Appetizing Digital Campaigns Bring New Customers to the Table for Kansas City Steaks
Kansas City Steak Company, which began in 1932 as a family-owned butcher shop, has grown into one of the nation's leading producers and distributors of superior, all-American steaks. Their product offerings have also grown to include other meats and seafood. They share highly-experienced expertise on flavor profiles, cooking techniques, and what it takes to promote optimal enjoyment from cooking and dining experiences.
Challenges
Kansas City Steak Company was searching for ways to enhance its online presence, grow brand awareness, and drive more sales, from both new and repeat customers. They were coming off an atypical covid pandemic year which, because people were living more isolated and ordering food online for home-prepared meals at historic levels, their customer base had experienced immense growth. As the original isolation tendencies of the pandemic waned, Kansas City Steak Company wanted to be certain they were doing everything they could to maintain the positive momentum of their brand and products.
As people were slowly returning to everyday life and not spending as much time at home, it was clear that fewer people were searching for keywords related to the Kansas City Steak Company products. They were seeing 20-25% decreases in available search impressions on non-branded keywords, year over year. As a result, revenue and conversion numbers were suffering. Ad spending, moving forward, was to be reduced across all digital channels.
Project
Industry
Ecommerce
Food & Beverage
Expertise
Digital Marketing
Strategy & Insights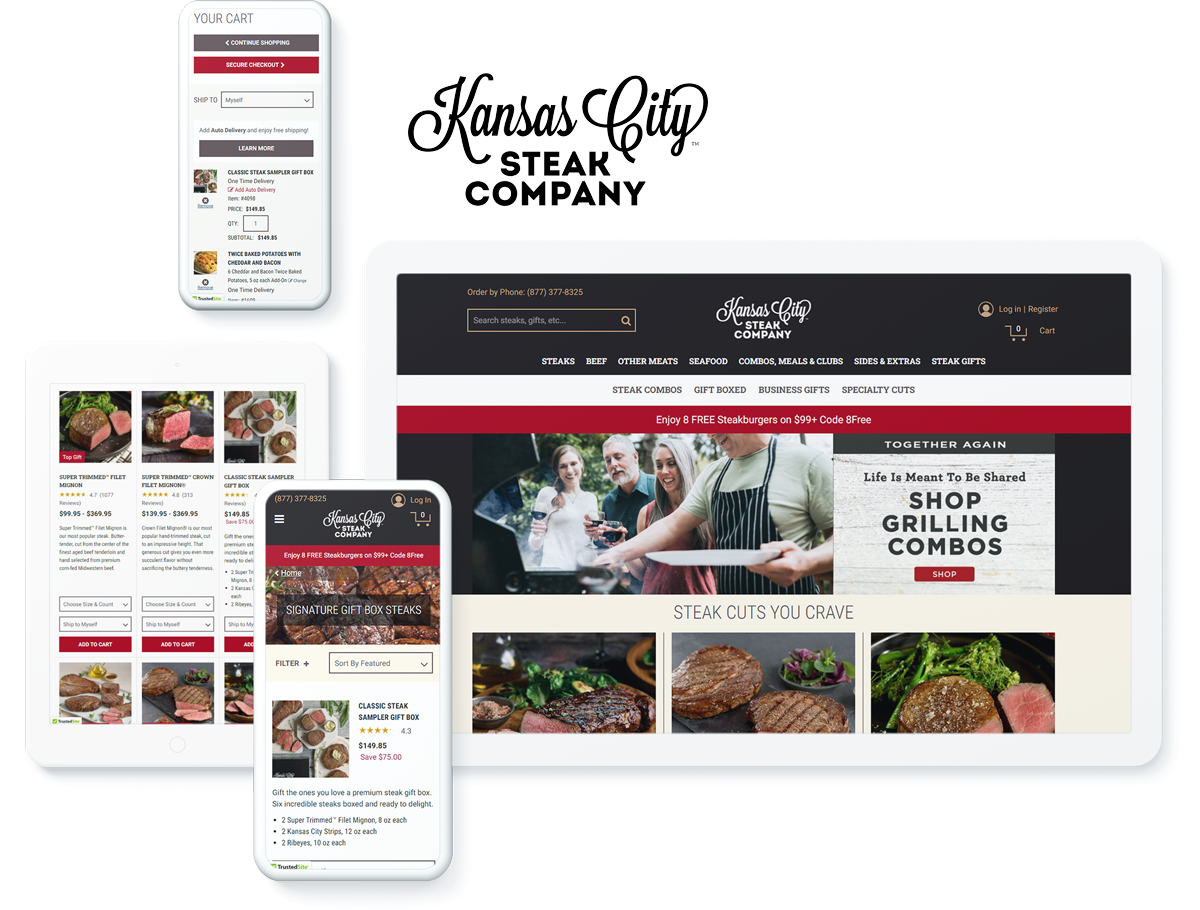 Solutions
Following a thorough digital asset audit and initiatives for Kansas City Steak Company, an omnichannel digital marketing strategy was initiated by Americaneagle.com. Creative concepts, detailed storyboarding, sophisticated photography, and graphic assets contributed toward an integrated digital brand campaign to be used in a variety of digital marketing channels. The campaign would target increased engagement and sales via paid search ads, display ads, paid social media ads, social media management, and email campaigns.
The scope of keyword targeting expanded to capture additional streams of revenue. Keywords were also segmented into distinct groupings to serve specific ads directly related to the searcher's intent. To maximize performance, multi-channel ads were deployed utilizing Google's latest campaign types and networks.
Working closely with the Kansas City Steaks marketing team, Americaneagle.com helped manage social media platforms. A consistent and expanded content calendar was developed. Additional social media platforms were incorporated as well.
The new paid search campaign strategy prioritized a select group of keywords based on the highest conversion rates to optimize the digital ad budget. Google and Bing search engines were both utilized to attract prospective Kansas City Steak Company customers.
Display ads were also deployed across the expansive Google's display ad network.
Paid social media ads were created to be congruent with this digital marketing campaign as well. Facebook and Instagram were the focus of the social media efforts.
Email campaigns rounded out the omnichannel approach of this digital marketing campaign. For this, significant attention and strategy focused on optimizing recipient lists, cadence, content targeting, and content priorities.
A proven, success-based approach to search engine optimization (SEO) was also a key contributor to the overall effectiveness of the digital marketing campaign. Every organic view that could be generated via effective SEO lessened dependence upon paid efforts. Americaneagle.com's extensive strategies to advance SEO produced immediate improvement in organic traffic to the site. Improved search engine rankings drove increases in organic clicks as well as revenue. A content plan was also developed to enhance existing site content. Additionally, phases of new content and designs are being developed to promote long-term strategic growth.
Results
52

%

Increase in Organic Sessions

52

%

Increase in New Users

9

%

Increase in Organic Revenue

33

%

Increase in Shopping Revenue

18

%

Increase in Email Revenue