Leveraging Transformative Digital Marketing Services for FD Associates' Significant Growth
Located in Washington, D.C., FD Associates is a specialist service company that provides expert guidance to companies exporting commodities and services controlled for export under the International Traffic in Arms Regulations (ITAR), Export Administration Regulations (EAR), Foreign Trade Regulations (FTR), the Office of Foreign Assets Controls, and more.
Challenges
FD Associates faced challenges with its previous digital marketing efforts, which led to them seek a fresh approach. Its existing search engine optimization (SEO) and pay-per-click (PPC) strategies were producing unsatisfactory outcomes. Specifically, the company was not ranking for relevant, non-branded terms and experienced insufficient lead quality and volume of leads, as well as consistent spam calls unrelated to its line of work. Discontent with the results of its efforts, FD Associates sought to improve its online visibility, lead quality, and overall digital performance.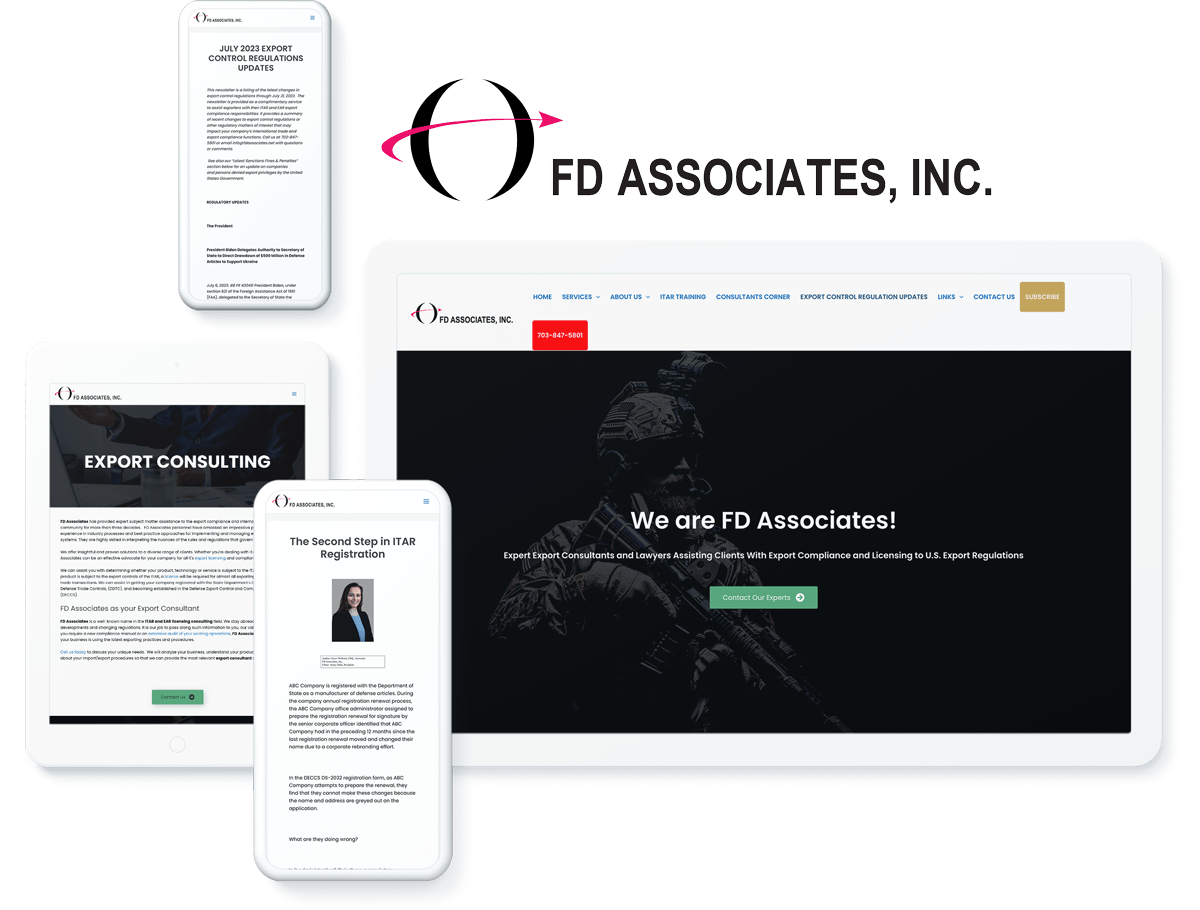 Solutions
FD Associates partnered with digital marketing company Americaneagle.com to transform its strategy to enhance its search engine rankings, boost quality lead generation, and refine the website's overall user experience.

Americaneagle.com implemented a thorough SEO strategy that included extensive content creation, technical SEO improvement, and resolving 404 errors across the website. Existing web pages and copy were updated and optimized to promote user engagement, and additional interior pages were created to increase the number of targeted keywords and provide more information on the services offered. Paid search services were leveraged, including revamped Google Ads campaigns with updated copy. The ads were deployed strategically to amplify the company's visibility and lead generation efforts.

Americaneagle.com also conducted extensive cleanup and schema markup enhancements to improve website structure and user experience (UX). Other UX enhancements included the addition of a "Regulations Updates" section and a "Consultants Corner" section on the homepage for visitors to quickly and easily find company and industry updates.

The collaboration between FD Associates and its website marketing agency has yielded transformative results. FD Associates achieved remarkable surges in organic traffic sessions and users, total number of non-branded keywords, and page 1 keyword rankings, illustrating the effectiveness of the SEO and PPC strategies. The Google Ad campaigns were highly efficient, necessitating strategic pauses due to an overwhelming influx of leads. As a result, Americanaeagle.com initiated a staffing campaign to accommodate the surge in workload driven by the number of leads. Both FD Associates and Americaneagle.com are excited to continue their fruitful partnership and foster digital growth.
Results
85

%

Increase in Sessions from Organic Traffic (YoY)

83

%

Increase in Organic Traffic (YoY)

53

%

Increase in Non-Branded Keywords (YoY)

23

%

Increase in Page 1 Keyword Rankings (QoQ)