Znode Development Partner
Providing a seamless user experience with an all-in-one B2B ecommerce platform
Amla Commerce is a trusted technology partner of Americaneagle.com. Their leading ecommerce suite is Znode, a comprehensive enterprise ecommerce platform. Znode's robust B2B capabilities include support for complex pricing, complex inventory, complex product types, workflow approvals, quote management and list management.
In addition to traditional ecommerce functionality, Znode is an all in one suite that includes Globalization (Internationalization), DAM (Digital Asset Management), PIM (Product Information Management), OMS (Order Management System), Faceted Site Search, CMS (Content Management System) and ZConnector (Systems Integration). Americaneagle.com offers Znode expertise throughout the entire process.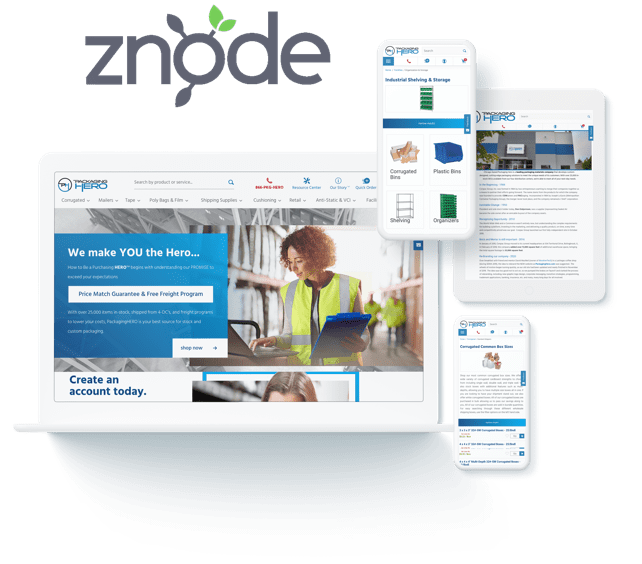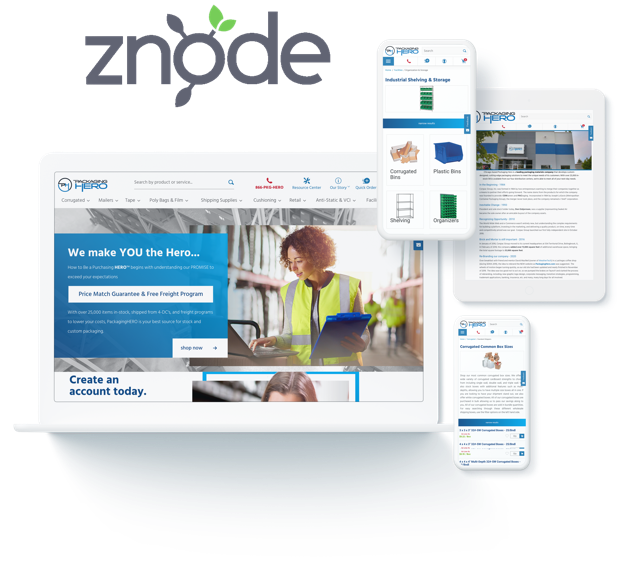 Bringing B2B Success to Znode Clients
As a dedicated Znode partner, Americaneagle.com's team is qualified to implement this enterprise, B2B ecommerce system. We take the flexibility and comprehensive functionality within this platform to build a dynamic solution for you. Our teams of experts can handle complex ecommerce needs for customers through a rich set of all-in-one features.
Product Information Management
Americaneagle.com can help easily manage product information from a centralized location. The Znode PIM provides a central location within the ecommerce platform to manage and enrich product information.
Headless Commerce
No more expensive upgrades or holding off on upgrades and functionality. Znode's headless architecture allows for consistent functional updates, not upgrades. Let us help you spend more on marketing experiences and less on upgrades.
Theme Design & Updates
We take a user centered approach to design. Successful designs translate properly to technology and empower marketing professionals to deliver the ideal customer journey across all channels.
Integrations
Znode's native connector allows administrators to extend the platform more easily to integrate into legacy systems and manage the exchange of data between systems. Americaneagle.com can help you navigate this process to avoid the risk.
Strategy & Insights
We assess your audience and user behavior from the very beginning. By understanding personas, defining journey maps and implementing strategic measurements, we're able to deliver the best experience to your users.
Hosting & Security
As a fully PCI compliant ecommerce platform, Znode takes data security very seriously. Sensitive information is safe and secure. Americaneagle.com offers cloud and on-premise hosting solutions in our highly secure, scalable and reliable environment.
Multi-Store
Znode's multi-store capabilities are truly unique. We can help you create and manage multiple brands and multiple sites that serve unique audiences and channels on a single platform. Znode accommodates B2C, B2B, and B2B2C implementations and is designed with a headless architecture backed with over 600 APIs.
.NET
Americaneagle.com has extensive experience implementing .NET platforms for our customers. Znode's .NET enterprise solution adds tremendous value to the depth of our ecommerce implementation services.
;
Znode is an enterprise, B2B ecommerce platform developed to enable sustainable growth through a rich set of all-in-one features to easi... Read More

B2B ecommerce website development can be intimidating, but it doesn't have to be. An experienced web development company can help you s... Read More

Demand generation is the process of building awareness and interest in a brand's products and services. Read More
---
Company name is required.
Email address is required.
Phone number is required.
Please use 250 characters or less.