Google's Page Experience Update Postponed to Mid-June and Fully Live by End of August 2021
Nearly a year ago, Google announced it would introduce page experience signals in its algorithm in order to improve online browsing experience. The update was expected go live May 2021.
However, on April 19, 2021, Google published an update that it would delay the rollout of the page experience update and begin with a gradual rollout starting in mid-June 2021. They announced they will begin using page experience as part of the ranking systems beginning mid-June. However, it was also noted this will be a gradual rollout and page experience won't be fully implemented until the end of August 2021. This gradual rollout will allow Google to "be able to monitor for any unexpected or unintended issues."
Accelerated Mobile Pages (AMP) Updates from Google
Along with the news on the delayed page experience release, Google shared additional updates coming with the mid-June rollout related to Accelerated Mobile Pages (AMP):

The Accelerated Mobile Page (AMP) badge will begin to go away
AMP will not be required to rank in Google News
Google may test a page experience badge, but no plans finalized
The 'Top Stories' carousel will be updated to include all news content (as long as it meets the Google News content policies and guidelines)
What does this mean? Rather than placing importance on implementing AMP for a more clean, user-friendly experience, it may be wise to focus on quality user experience on your site as a whole.
How to Prepare for Google's Page Experience Update?
If you haven't already started planning, we suggest beginning with an assessment of your current state. Google recently released a new Page Experience Report in Google Search Console to provide web developers with actionable insights to prepare.
The key areas to review include:

Largest Contentful Paint (Loading Performance)
First Input Delay (Interactivity)
Cumulative Layout Shift (Visual Stability)
Mobile Friendliness
Safe Browsing & HTTPS
No Intuitive Interstitials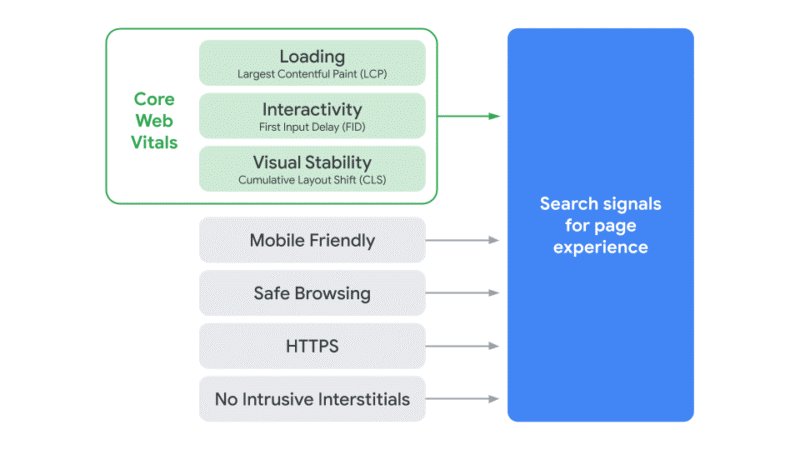 Things to Keep in Mind About the Page Experience Update
There are a few things to keep in mind about the upcoming changes. First, keep in mind all websites are unique, so there won't be a one-size-fits-all answer to optimizing your website for the page experience update. Factors such as website functionality, age of the site, and content entry practices may all play a role in the user experience health of a site. Have patience and trust your web developer in the process to move towards an optimized site. Second, look at this as an opportunity! Because the algorithm update will impact all websites, this is a great time to gain advantage over the competition by optimizing your site experience.
Page Experience Resources
Check out these great resources for more information:
Stay Tuned for More Updates!
As more information becomes available, we'll share updates and best practices to ensure your website provides the best possible browsing experience. Don't hesitate to contact the team at Americaneagle.com who can provide a custom assessment with actionable steps tailored to your unique website.

---
About Author
---