*Updated on 7/6/2023
Your ecommerce solutions for your business may be shipping out many products, but do you know if you're using the best option for your business?

What is a Shipping Carrier?
Simply put, a shipping carrier provides the services to deliver orders to your customers. You have seen the most dependable names in shipping on billboards, within television commercials, and on the side of trucks driving around your neighborhood. Most carriers can schedule pick-ups from your warehouse or office location. There are many other factors to consider when selecting the right shipping carrier for your business.

Factors to Consider When Choosing a Shipping Carrier
It's important to note that all carriers mentioned are reputable and have their own different strengths. The specific requirements of your business and products should drive your choice. Some factors to consider when choosing the right carrier include:
Package dimensions and weight
Budget
Destination and international capabilities
Delivery speed
Tracking needs
And other specific needs your product may require
Evaluating these factors and comparing the services, pricing, and coverage provided by each option will help you determine the best fit for your specific shipping needs.

Common Shipping Carriers
Here are the most common shipping carriers:
FedEx
For time-sensitive deliveries, FedEx is a great option for ecommerce businesses. They specialize in express and overnight shipping (Priority Overnight and FedEx 2Day), with more cost-effective expedited shipping options than competitors.
Fedex is the best choice if you are shipping speciality products or anything that requires temperature-controlled shipping options. Their proprietary cold packaging makes them the ideal choice for food products and perishables.
If your business frequently ships internationally, Fedex is a great option due to their global presence, extensive range of international shipping services, and expertise in customs and efficient clearance processes.
UPS
UPS is a great option for domestic ground shipments within the United States due to their extensive ground delivery network and various service options like UPS Ground, UPS SurePost, and UPS Ground with Saturday Delivery. They also offer one of the most advanced online tracking capabilities in the industry and consistently prove to have one of the highest on-time delivery performances out of the major domestic carriers.

If you frequently ship large, heavy, or oversized packages UPS is the go-to carrier for large, heavy packages. While USPS only allows for a maximum weight of 70 pounds per package, UPS has a maximum weight threshold of 150.

Another area that UPS specializes in is the shipment and delivery of high-value items. With UPS, shippers can insure packages up to a whopping maximum value of $50,000. With their guaranteed delivery services and quick responses to customer service inquiries, UPS makes a great carrier to partner with for your ecommerce business.

USPS (United States Postal Service)
USPS offers Priority Mail Flat Rate and Priority Mail Express making them a great choice if you are looking for cost-effective shipping options, especially for lightweight or smaller packages. In terms of rates, if you are shipping anything under 5 pounds USPS would be the most cost-effective shipping option.

If you frequently ship to remote locations USPS is the best choice due to their wide domestic coverage network. USPS is essential for businesses that need to deliver to P.O. boxes and military addresses, as they are the only carrier that can accommodate these address types.
DHL
DHL is known to be the world's largest logistics company, making it the best choice if your company focuses on international shipping. They deliver to over 220 countries worldwide and it is the only carrier that delivers to sanctioned nations like North Korea.
While FedEx or UPS shipping are typically faster for domestic transportation in the US, DHL offers a wider variety of international shipping options ranging from more cost effective, slower options to DHL Express which is more costly but one of the fastest ways to ship internationally.
How to Choose A Shipping Carrier for Different Scenarios
Different shipping carriers fulfill different needs. Here are multiple scenarios to help you determine which carrier can help meet your business's shipping needs.
Small and Lightweight Packages
For businesses shipping small and lightweight items, USPS and services like FedEx Ground Economy or UPS SurePost are popular choices. They offer competitive rates and efficient delivery options, especially for shipments within the United States.

Expedited Shipping
When time is of the essence, consider using UPS (United Parcel Service) or FedEx for expedited shipping services. These carriers provide guaranteed delivery within specified timeframes, along with additional features such as overnight or same-day delivery options and tracking services.

International Shipments
DHL and FedEx International are renowned for their comprehensive international shipping networks. These carriers have extensive customs expertise, expedited international delivery services, and streamlined tracking systems, making them ideal for businesses with global shipping requirements.

Heavy or Bulky Items
For large and heavy packages, LTL (Less Than Truckload) carriers like FedEx Freight, TForce Freight (formerly UPS Freight), Old Dominion and Yellow offer cost-effective nationwide solutions. These carriers specialize in handling oversized shipments and provide freight services tailored to meet specific weight and size requirements.

Specialty Items and Fragile Goods
When shipping delicate or fragile items, partnering with carriers that prioritize careful handling and offer specialized packaging options is crucial. UPS and FedEx provide services such as fragile-item packaging, extra padding, and dedicated handling to ensure the safe delivery of delicate goods.

It's always a good idea to compare rates and services offered by all major carriers to ensure you're getting the best fit for your shipping needs. With the many different carriers and requirements to consider we recommend implementing a shipping management platform like ShipperHQ that can provide you with live rates and back-up rates so you can quickly and easily compare all your different carrier options.
---
ShipperHQ is a shipping management platform that enables merchants to optimize their shipping experience in the checkout, create a seamless fulfillment and delivery experience after purchase—and increase sales. With customizable and accurate shipping rates, options for every buying scenario, and integrations with more live carriers and local delivery services than any other solution, ShipperHQ is the ultimate tool for creating a winning shipping strategy that converts.

Proudly self-funded, ShipperHQ is a bootstrapped company and a reliable and proven solution, enabling thousands of merchants worldwide to reduce costs and increase revenue since 2009.
Author: Caroline Carpenter - Senior Partner Marketing Manager at ShipperHQ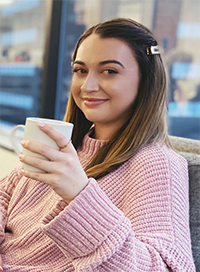 Caroline graduated from Baylor University with a Corporate Marketing and Communications degree. The past 5 years she has worked with enterprise level agency and tech partners to create successful partner strategies that drive revenue for ecommerce businesses in every industry.
---
About Author
---