Ecommerce is growing, consumer behavior is changing, and fast-growing online merchants are reconsidering their ecommerce setup and strategy. We're already witnessing a shift in commerce architectures in significant portions of retail and monoliths are slowly giving way to a best-of-breed, composable approach. And for good reason! Before we dive deeper into this, we need to understand the meaning of composable commerce.
What is Composable Commerce?
Composable commerce is a new approach to ecommerce that enables brands to assemble both their front and backend layers, selecting and using individual best-of-breed solutions. Where a monolith offers an easy and straightforward 'one-size-fits-all' solution for basic needs, composable architectures offer complex solutions, built to satisfy exact business requirements. This enables online retailers to build what their business needs, without having to worry about re-platforming or building everything from scratch. Most importantly, it leads to unique and best-in-class user experiences.

A composable (or modular) architecture means that every component of your ecommerce setup is pluggable, scalable, and replaceable. You can easily replace one service for another without affecting the other parts of your tech stack.
Why Ecommerce is Moving Toward a Composable Approach
We can safely say ecommerce is skyrocketing worldwide. How come? The rise in use of smartphones, easy and affordable access to technology, and the possibility to shop from any place, at any time are the major reasons for this growth.

But with growth comes change and ecommerce is no exception. Customer demand and expectations are rising and just selling a product is not enough anymore. The shopping experience is what counts. If you want to create highly engaging shopping experiences, you need the flexibility to implement new software and new techniques. That's the idea behind a composable, or service-oriented setup. It gives online merchants the flexibility to adapt to the ever-changing ecommerce landscape so that they are ready for the future at any time.
So, How About Headless?
Headless commerce is a huge buzzword in ecommerce and it was invented to create a better frontend experience. Thanks to the decoupling of the front and backend, you can take back control and create highly customized and engaging shopping experiences in the frontend. It's a good first step in optimizing your ecommerce setup. It's important to remember that these advantages only apply to the frontend of an ecommerce store. Do you want complete freedom, flexibility, and scalability? Then it's a must to look at your backend setup as well. That's where composable commerce comes in.
When Should You Consider Composable Commerce?
As online merchants are growing, they commonly encounter limitations in their, often monolithic, ecommerce setup that can affect the long term and healthy growth of their business. For example:

You have problems with your frontend experience
You freeze all deployments a month before Black Friday, afraid you'll break your shop
No flexibility and scalability to build what your store needs
You're not able to connect with the ecommerce software you prefer
You want to switch to another service but this will require a full re-platforming
You feel like you're locked-in
You want to expand to another country, currency or language but your platform doesn't allow it
Your tech stack is one big 'spaghetti' and maintenance has become really difficult
Are you a fast-growing online business who's open to new technology and do one or more of these limitations sound familiar to you? Then it probably means you're outgrowing your ecommerce monolith and are ready to make the move to composable commerce. This approach gives you complete freedom, unlimited flexibility, and ultimate scalability to build the ecommerce platform your business needs, from frontend to backend.
What's Next...
You may be thinking, "How am I going to make the switch?" A fair thought but the answer is simple. You can gradually transition from a monolithic to a composable structure without throwing away all the valuable business logic you've acquired over the years. Start with decoupling your frontend and backend, which we call headless commerce, and when you're ready, take the next step by slowly replacing one service for another. Before you know it, you're going to see the advantages of a best-of-breed setup. And don't forget, there's no need to build everything from scratch. The platform to facilitate this gradual change to composable commerce already exists as companies, like Deity, have already built that for you.
Deity, an Americaneagle.com partner, is a unique composable commerce platform for enterprise growth. It has a strong commerce composer and a highly engaging and blazingly fast PWA Storefront that enables you to go beyond customer expectations and facilitates your growth aspirations. We have over 25 years of experience and our people have helped huge brands like Zalando, HP, and Ferrari to make the switch to a modular approach. Are you ready to take the step towards composable commerce? Contact us, we're happy to talk about your business successes, challenges, and opportunities.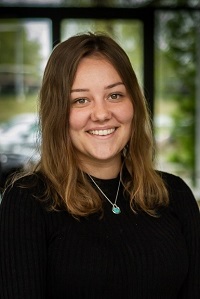 This article was contributed by Manon Sinke. Manon is an Engagement Manager at Deity and is responsible for partner marketing and content writing. She has a passion for ecommerce and loves to create successful campaigns together with valuable partners.
---
About Author
---