If you were to ask someone twenty years ago to invest in the stock market, order a car, or translate something from one language to the next, all from a handheld device, they would've thought you were insane. Today, those features are a minuscule part of the numerous things that your mobile device is able to do. Our world is becoming increasingly digital every single day and it is necessary to ensure that all your content is optimized for mobile devices.
Mobile is the Future
When was the last time you didn't look at a smartphone throughout the day? I personally can't think of a single day that I haven't used one. Most things in our world are digital or have some digital component. Around 80% of all internet users have a smartphone and use them daily. Mobile devices are changing how the world works and you need to stay current or you'll fall behind the competition. Did you know that more than half of all internet traffic consists of mobile users? Since 2011, mobile device usage has increased by 1,300%.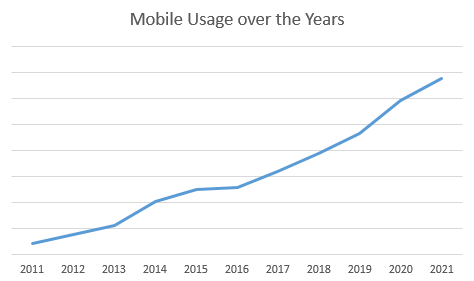 (data for graph from Mobile Devices Statistics (w3schools.com))
The latest mobile usage statistics show that nearly eight out of every ten internet users (80%) say they use their mobile phone in a physical store to look up product reviews and compare prices before approaching an employee (Tech Jury). Whether it be website design, images, or even emails, everything you do needs to be optimized to be viewed on a mobile device.
Why is it important to optimize for mobile?
Yes, you need to cater to the countless people who use mobile devices, but that's just one of the many reasons why you should optimize for mobile. Below are a few reasons that businesses around the world are optimizing for mobile:
Ranking well on Google/ SEO: Optimizing for mobile will help you reach a larger pool of audiences effectively. It's very simple. A webpage optimized for mobile means better search engine optimization overall and will attract organic growth. Many factors go into the ranking on Google's search engine (or any search engine), but one of the main factors that's become important is mobile optimization. If your website is optimized for mobile, you will rank higher on Google.
Reduce Bounce Rate: Bounce rate looks at the percentage of visitors that enter your site and leave. You want to retain those visitors and have them view your content or other pages on your site. A lower bounce rate means more time on your site, which means more conversions. If people are unable to view your content on their mobile devices, they won't engage with your brand. Optimization relies directly on reducing the bounce rate of your website. Your brand will gain more credibility and a better reputation in the long run when people don't immediately leave your webpage.
Increase Conversion Rate and Customer Satisfaction: The goal of mobile optimization is to keep your users satisfied while navigating through your content. Looking at email, your customers are receiving hundreds of emails a day. If you manage to get their attention, you want to make a conversion as simple as possible. Guaranteeing the email displays correctly on their mobile phone will improve your chance to gain conversions.
Displaying Content as it was Meant to Be: If you display different images and graphics on your web content, being aware of how mobile users see it is vital. You need to make sure your content is displayed how you want your visitors to see it instead of unplanned changes on a smaller screen. Don't do this!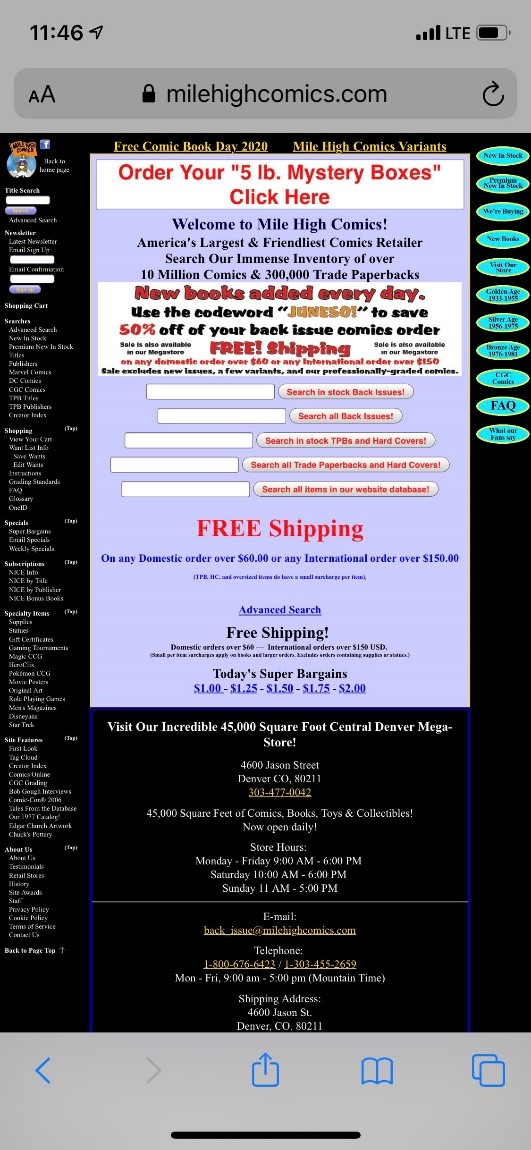 Better Sales and Marketing Strategies:

User experience is one of the most - if not

the

most -important factor of a brand. If I click on a webpage and the site doesn't load on my device, I immediately leave and find a site that is optimized for my screen. An easy-to-use and accessible website drives conversions and sales as opposed to a muddled one that people are annoyed using. Most ecommerce and similar activities are carried out from mobile devices. Optimize for mobile!
Easy Things to Focus on
Navigation needs to be simple: Keep it simple. Don't add needless bells and whistles. People are drawn to what is simple.
Use lower resolution images to display well on mobile devices: Including larger images will cause your content to be slow and may not show correctly on a mobile device
Design with finger usability: this is pretty straightforward, but make sure there are features on your webpage that works if someone uses a finger on the screen
Add mobile-specific functionality: it is really easy to create buttons/ sliders/ things to interact with on a mobile device that wouldn't work on a desktop.
Check how the design works: On most browsers, if you right-click, you can choose to "inspect" a page and choose the "mobile view" option. This is an easy way to see if everything is working
Mobile optimization is key to seeing more conversions for your business. If you ensure that everyone, regardless of their device, can view your content - you will not only rank higher on search engines, but will see tangible results from it.
At Americaneagle.com, we want to help your business succeed and we will ensure that your website is optimized for any device. If you want help creating mobile conversions, don't hesitate to contact us to see how we can streamline your website.
---
About Author
---