Written By: Yilan Yang, Channel Marketing Manager at ShipperHQ
In 2020, the ecommerce industry experienced 5 years worth of growth in a matter of months. Every merchant must meet basic shipping expectations for speed, quality, and convenience to attract and retain customers in 2021 and beyond.
Global shopping habits are changing as more consumers and brands adopt ecommerce. In order to increase conversions, decrease cart abandonment, and improve customer loyalty, merchants must provide a quality and convenient shipping process from the moment a shopper adds their order to the cart to the moment their order arrives.
According to research by the National Retail Federation, 83% of consumers find shopping convenience more important now than it was before the pandemic. Salesforce data also shows that the number of unique online visitors grew by 43% across the globe in 2020, leading to the biggest online holiday shopping season ever.
Because of all this, your pre-checkout shipping and post-purchase order tracking experiences are two essential steps in the customer journey that you need to get right.
1. Delivery Date and Time in Checkout

82% of consumers prefer to shop from merchants who show delivery dates in checkout, and 45% of online shoppers say they'd actually pay more just to see this information. Unfortunately, about 40% of US-based online retailers are missing the mark by showing shipping speeds instead of delivery dates.
How to deliver on this shipping expectation:
First, make sure to show actual delivery dates for every shipping method shown in checkout instead of shipping speeds! Understanding the difference between the two is crucial:
Shipping Speed - This refers to the amount of time it takes for an order to be delivered to a customer. For example, "Arrives in 3-5 business days."
Here are 5 customer expectations for convenient shipping experiences that every online retailer needs to meet:
Delivery Date - A delivery date is the actual date ("Arrives on Thursday, March 25th") an order will get delivered to the customer. These dates give customers a much clearer idea of when to expect their package.
Second, make sure the delivery date you show in the checkout is accurate since most customers will not shop with a brand again if their order arrives late. Here's what merchants must consider to calculate accurate delivery dates:
Lead Times: the dates between when an order is placed and when it ships.
Blackout Dates: specific dates orders will not be shipped out - like carrier closures or production shut-downs.
Cutoff Times: this might entail both shipping cutoffs (orders placed before 4pm EST will be shipped the next day) or production cutoffs (production for orders placed after January 15th will resume on January 18th).
Time-in-Transit: the shipping speed for a given order.
Holidays and Weather: account for holidays in advance, and build them into your schedule. Also, communicate any relevant delays expected due to weather.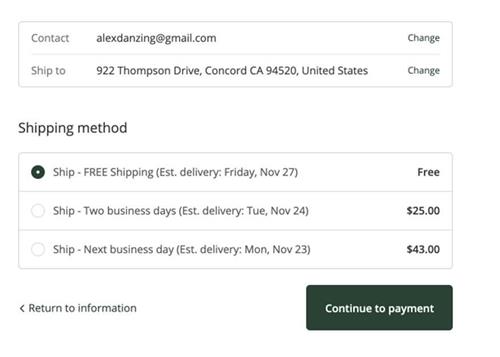 2. Creative Pickup Options
Offering Buy Online, Pick Up in Store (BOPIS) or curbside pickup is one of the best ways to make the online shopping experience more convenient for customers. In fact, 70% of consumers said BOPIS improved their shopping experience. This is also a great way to attract customers because around half of shoppers have chosen where to shop based on the store's pickup options. Plus, during Cyber week 2020, U.S. retailers offering creative pickup options experienced 29% growth in sales, compared to just 22% for retailers that only offered traditional ones.
How to deliver on this shipping expectation:
If you have a physical storefront, implementing BOPIS and curbside pickup will help you and your customers avoid shipping delays. Plus, it will save you money by avoiding last mile residential delivery fees. To get started, make sure your website or mobile app can easily sync with your in-store point of sale system. Then, check that you have real-time inventory capabilities so stock is synchronized across your online store and your brick and mortar location(s).
One example of what in-store pickup looks like in checkout is Face to Face Games, a BigCommerce online store, designed by Americaneagle.com. Their checkout is powered by ShipperHQ and allows shoppers to choose free in-store pickup from two of their physical storefronts.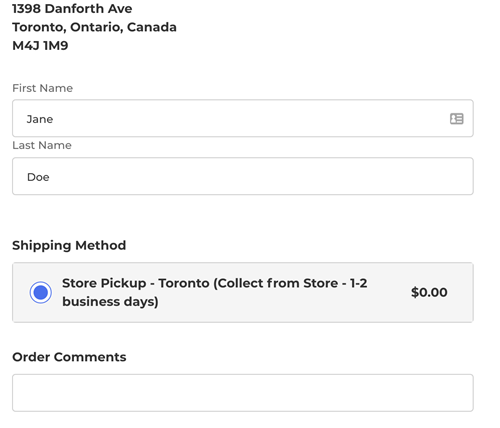 If you are an online only retailer, you can still offer local pickup options with services like FedEx Hold At Location and UPS Access Point. For Hold at Location, FedEx delivers the package to a specified pickup location. From there, the customer is notified that they can pick up the package at their convenience. Packages can be held for up to 10 days at any of the 21,000+ locations, including Walgreens stores, Dollar General stores, and FedEx Office locations, so most customers have a convenient pickup location close by. UPS Access Point operates in a similar way, with the network including The UPS Store®, nearby retailers, and self-service lockers that serve as convenient and secure locations to drop off and pick up packages.

3. Free Shipping
Today, 90% of consumers say free shipping is their number one incentive to shop online. Shopify Plus recently reported that, in a post-pandemic world, 64% of consumers will expect their orders to be shipped for free. Since a top cause of abandoned carts is high delivery cost, offering free shipping is now an industry standard all merchants must meet.
How to deliver on this expectation:
Retailers can offer free shipping without breaking the bank by using the following strategies:
Use ShipperHQ's Shipping Rules to limit free shipping to certain days, products ordered, order destination, and type of customer. For example, offer a promotion for free shipping every Sunday, or reward loyal and repeat customers by offering them a promotion code for free shipping instead.
Use a free shipping threshold to increase average order value (AOV). Consumer research shows that 91% of shoppers try to reach a free shipping threshold. Therefore a retailer with a current AOV of $50 should offer free shipping on orders over $75 to increase sales by motivating shoppers to spend more.

4. Speedy Delivery
Thanks to the rise of services like Amazon Prime and Walmart+, free and FAST shipping have become a popular shipping expectation. According to the Shopify Plus Future of Commerce Report, 67% of U.S. consumers expect either same-day, next-day, or two-day delivery. Unsatisfactory delivery options with slow delivery speeds is a top cause of cart abandonment at checkout.

How to deliver on this expectation:
For same-day delivery, ShipperHQ is fully integrated with FedEx SameDay City, which offers same-day delivery services in 34 major U.S. cities while allowing merchants to send delivery updates to their customers every step of the way.
Another solution for faster shipping is to offer local delivery, which allows nearby customers to buy products online and have orders delivered to them straight to their doorstep. This is a good alternative to shipping with a carrier for local shoppers because it allows merchants to save on shipping costs while avoiding carrier delays.
5. Post-Order Delivery Tracking

In the United States, the average shopper's post-purchase behavior includes tracking their order 3.9 times. However, only around 56% of sites integrate all post-order tracking information and events within their site. Instead users must switch between the carrier's site to check for shipment updates and the merchant's site for purchase details to get all of their order information.

Not only does toggling between multiple sites lead to a disjointed customer experience, but it is also a major missed opportunity for merchants to re-engage with their customers post-order. Shoppers are checking their order tracking almost four times after purchase, so that's four opportunities for brands to re-engage and encourage future purchases.

How to deliver on this expectation:
To offer an optimal customer experience that results in repeat purchases, merchants should host a "My Account" dashboard on their site with the customer's entire purchase history and order details, including processing and tracking information, for each order. By allowing shoppers to create an account on your site, brands are able to provide a more personalized and convenient experience. The checkout and shipping process will be streamlined since customers can save their payment and delivery information in their account. Most importantly, all of their relevant order information will be available in one dashboard.

One great example is Reinders, whose BigCommerce store was built by Americaneagle.com and pre-purchase shipping experience is powered by ShipperHQ.

Reinders encourages their customers to create either a Guest Account, where they can store shipping and billing information, view order history, and save payment methods, or a Business Account, which includes all the benefits of a guest account plus personalized pricing, real time inventory, and more.

Summary

In 2021 and beyond, it is more important than ever for merchants to prioritize convenience, quality, and transparency in their checkout and shipping strategy to deliver the great experiences consumers have come to expect. The key features every merchant needs to offer are:
Delivery date and time
Creative pickup options
Free shipping
Speedy delivery
Post order tracking

Ready to deliver on high customer expectations? Streamline your pre-purchase checkout and shipping experience with ShipperHQ. Sign up for a FREE 30-day trial.
---
About Author
---