Driving Ecommerce Growth For Automotive Leader Since 1999
WeatherTech is the leading seller and manufacturer of top quality vehicle accessories, such as floor and trunk liners, side window deflectors, mud flaps, cargo systems and much more. Headquartered in Bolingbrook, IL, the company proudly manufactures all of its products in the United States and sources all of its equipment, raw materials and business services domestically as well. In addition to being extremely popular in the U.S. market, WeatherTech sells and distributes products to over 84 countries across the globe. Since 1999, WeatherTech has been a proud customer of Americaneagle.com.
Challenges
As a company with a large product catalog, robust ecommerce functionality is critical. As online technology has evolved over the past two decades, the company has undergone incremental changes to its online presence to ensure that users can shop and get product information quickly and efficiently.
Project
Platform
Industry
Ecommerce
Manufacturing & Distribution
Expertise
Digital Marketing
Experience Design
Hosting & Security
Strategy & Insights
Web & Application Development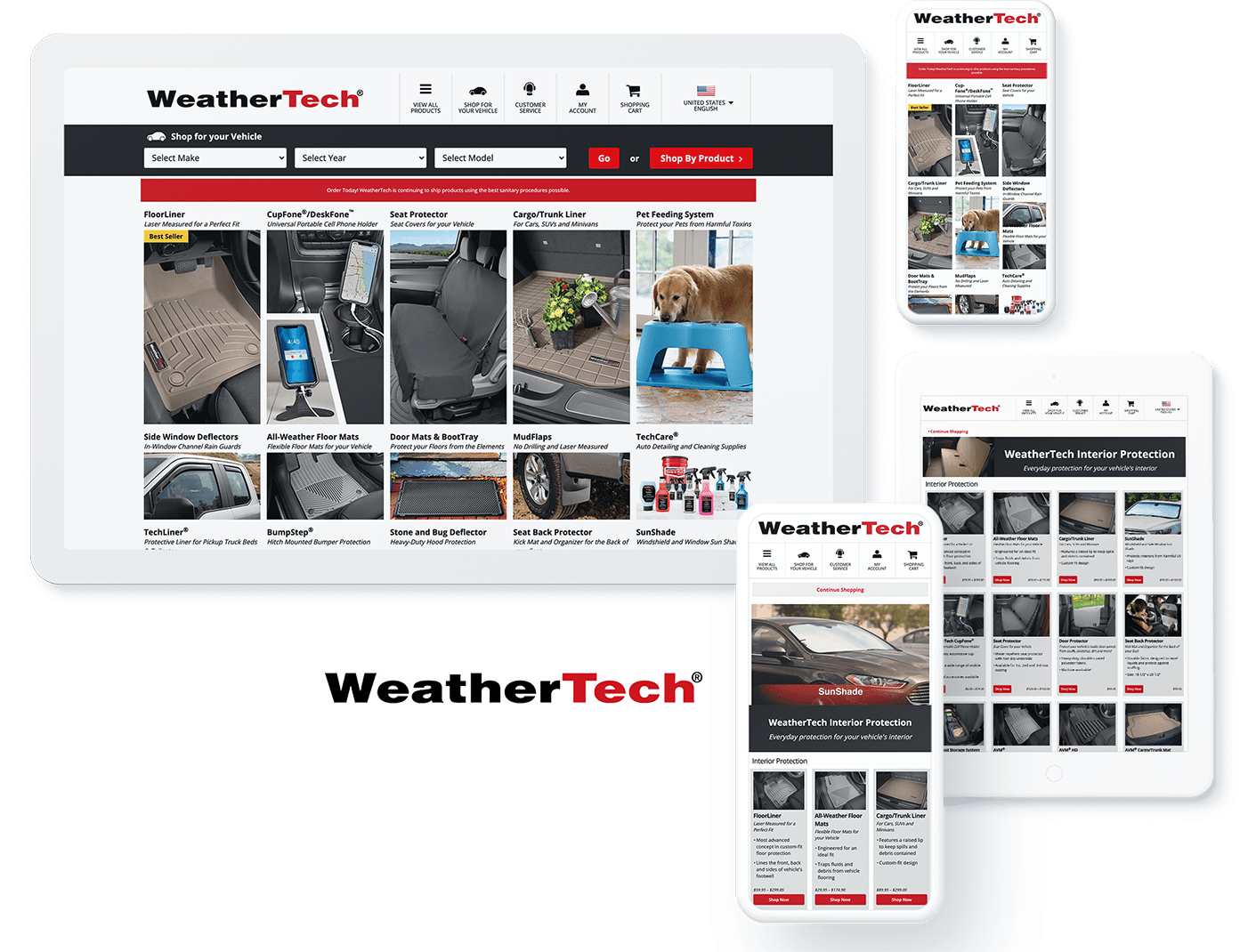 Solutions
WeatherTech first approached Americaneagle.com in 1999 to build a site that would better accommodate their massive inventory. The goal was to provide customers with an easy way to search through their line of automotive accessories. Over the years, the site has gone through several significant overhauls as well as incremental updates.
For their fourth generation site, WeatherTech once again sought Americaneagle.com's expertise to expand the website for its international customer base. Americaneagle.com implemented navigation that caters to the specific make, model, and year of the user's vehicle. With the push of a button, customers can find products that fit the make and model of their car, accelerating them through the buying process. The new site is also an impressive international tool, offering multiple languages, countries, and territories to choose from.
Americaneagle.com also provides hosting and online security services for WeatherTech, and this became an important factor for the company during the Super Bowl. Since 2014, WeatherTech has released a TV advertising spot during Super Bowl Sunday, with the goal of driving users to its website. Americaneagle.com was with WeatherTech every step of the way to ensure the site could handle the huge amount of traffic and online sales.
Preparations for the Super Bowl started more than six months prior to game day. A series of 20+ servers utilizing replication technology were used, in addition to a cloud based, CDN (Content Delivery Network). A "war room" was established, staffed by programmers, server specialists and other essential team members. Servers were continually balanced and monitored throughout the day, to ensure optimal performance. Speed was a top priority, so load testing and caching improvements were heavily relied upon. Shoppers who had products in their carts, but then abandoned them were sent personalized emails designed to re-engage their interest. With 11X more traffic hitting the website that day and no performance problems, WeatherTech's Super Bowl Sunday efforts were a great success.
The partnership of WeatherTech and Americaneagle.com is based on more than 20 years of trust and measurable accomplishments. Americaneagle.com still works with WeatherTech to this day as the company continues its phenomenal grow.

"Americaneagle.com was able to implement our ecommerce website quickly, on time, and on budget. It is now very easy for the customer to place their order and create revenue, so they're a big part of our success story. There's no possible way I would consider doing business with anyone else."