Modernized Ecommerce Solution Streamlines Processes for Nutrition Company and its Customers
Nutricia North America was established in 1983 and is headquartered in Rockville, Maryland. They are part of the Advanced Medical Nutrition Division of Danone, based in Paris, France, and create nutritional solutions that help people of every age live longer, more joyful, and healthier lives.
Challenges
Nutricia's existing ecommerce solution was outdated, slow, and difficult for business-to-business (B2B) customers to use and navigate. Because of this, customers weren't receiving the level of support they expected throughout the entire purchase lifecycle. Internally, it was difficult for employees to update products and product pages as needed. As a result, both customers and internal employees grew increasingly frustrated, which then motivated Nutricia to pursue a modernized ecommerce solution that would satisfy all users – now and in the future.
Project
Platform
Expertise
Experience Design
Web & Application Development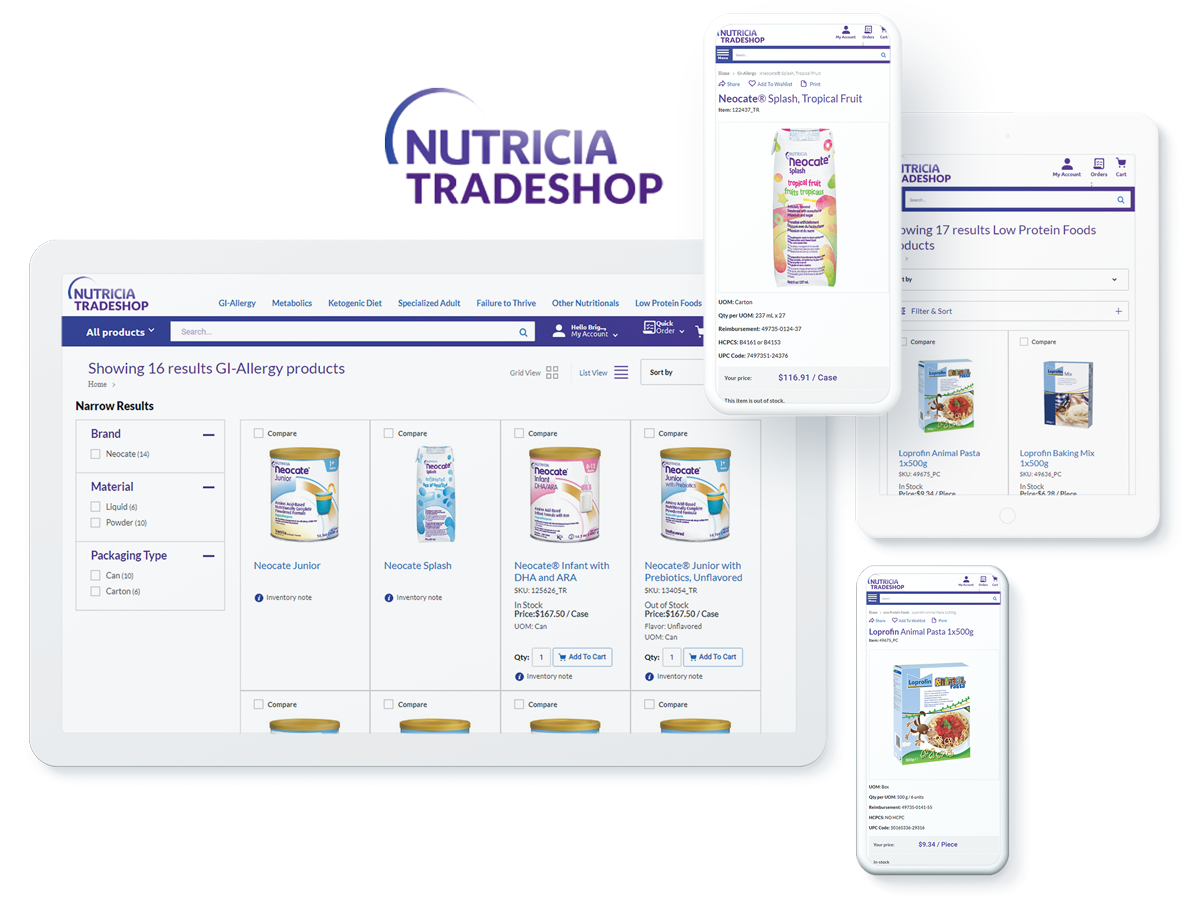 Solutions
For a website that would promote its business requirements, Nutricia turned to Americaneagle.com. The project consisted of a re-platform of Nutricia's existing B2B portal onto the Znode platform so that healthcare organizations across the U.S. could easily purchase nutritional supplies for their patients. The upgraded solution allows for products to be imported via an "importer" tool in the Znode admin, enabling customers to quickly and efficiently view which products are available for purchase.
The new ecommerce solution was built simultaneously with Nutricia's new ERP (enterprise resource planning) system, SAP. Americaneagle.com worked with Themis, Nutricia's IT team, to implement APIs for customer creation and updates as well as inventory updates. Additionally, through the integration with SAP, order statuses are quickly and easily viewed and updated.
In addition to the re-platform, the project consisted of a redesign of specific features to further boost the onsite customer experience. This included a login page for customers to have the ability to sign-up for portal access as well as a home page with a dashboard that provides access to "My Account," orders, invoices, shipping, and order history with the ability to re-order items and view details. It also included product listing pages to view inventory and add items to the cart and a product details page to view product information, inventory status, and more.
Since partnering with Americaneagle.com, Nutricia's purchasing experience has been significantly improved. It's now able to provide B2B customers with the level of ecommerce expertise they expect from a widely-recognized brand. Customers are now able to purchase products directly from the Nutricia website, allowing service representatives to focus their time on other important matters. The new solution enables employees to utilize the import tool to easily update product information and form pages. Both Nutricia and Americaneagle.com are looking forward to future site optimizations that will further enhance the experience for all users.