Improving Business Operations with an Accelerated Portal
Dairy Queen, Inc. is a chain of soft-serve ice cream and fast food restaurants that has been around for more than 75 years. The company has more than 6,000 locations across the United States and Canada, all operating under several brands such as DQ, Orange Julius, and DQ Grill & Chill.
Challenges
Dairy Queen has thousands of franchisees across the U.S. and Canada with a wide range of needs. Some stores sold only treats, some sold only food, some sold Orange Julius products, and some sold all of these products. Dairy Queen had a homegrown intranet system for their franchisees, operators, managers, and staff members to use but it was dated and difficult to navigate. The company was in need of a centralized hub that was more intuitive and faster for the franchisees to use so that their focus could remain on their store operations.
Expertise
Client Services
Experience Design
Strategy & Insights
Web & Application Development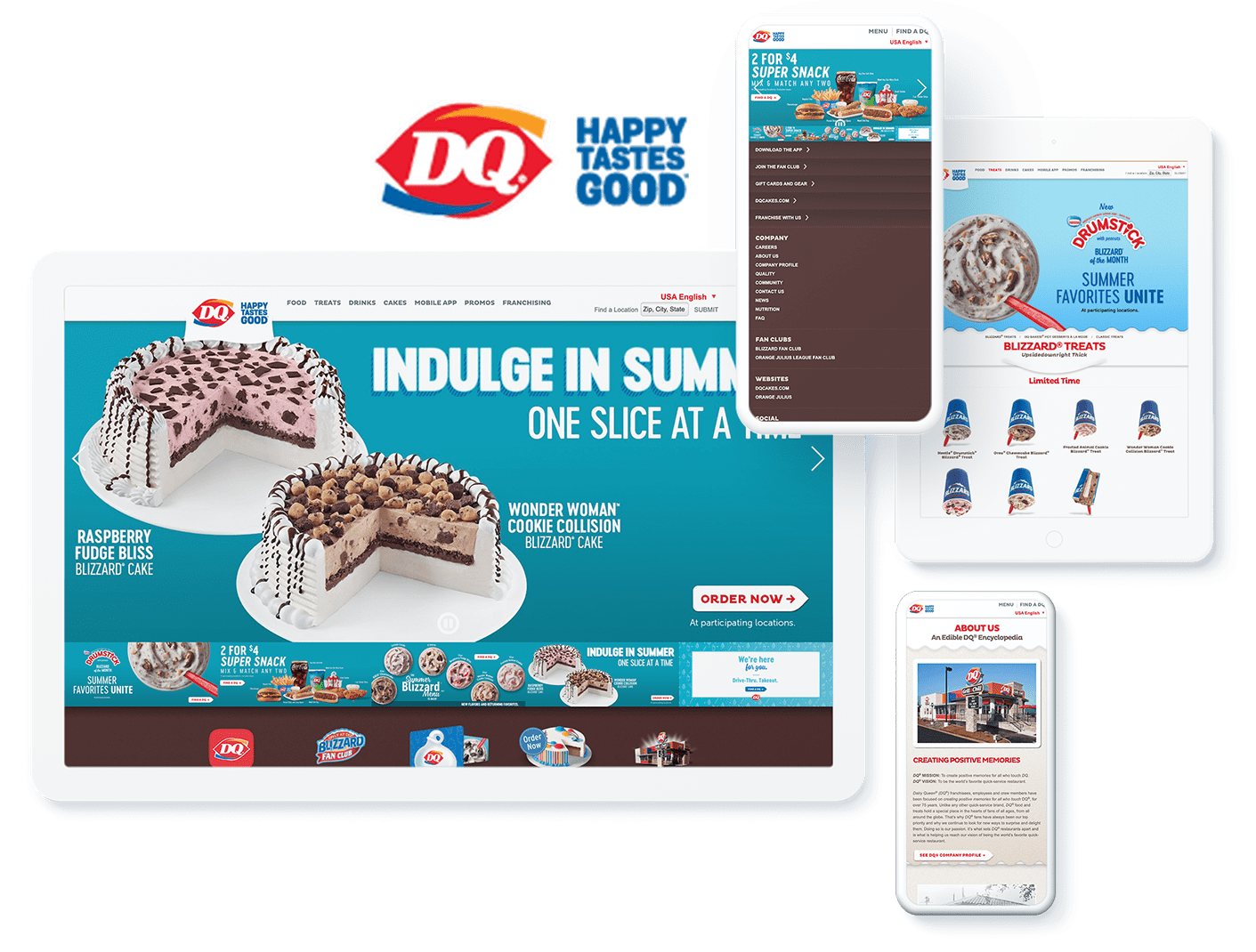 Solutions
Dairy Queen came to Americaneagle.com for a modern and functional solution built on the Sitefinity Content Management System. The project began with an extensive strategic planning phase to ensure that no detail was overlooked. Americaneagle.com worked with Dairy Queen over a period of several months to determine the most important functional features to include on the site and how to best present them. Multiple rounds of process documenting, wireframing, and prototyping took place to get the concept right.
After the planning phase, Americaneagle.com dove right into development, integrating and building out a number of custom features to improve operations and internal processes. One major addition was a store reporting feature. Built with a custom data table, this functionality allowed franchisees to generate monthly reports on their stores with a click of a button, improving productivity. Personalization was also a factor with the new portal as each person visiting the site had different needs. Americaneagle.com set up several landing pages, each with their own customizations based on user permission sets. This ensured that each franchisee only saw content that was pertinent to their own business operations.
Another aspect of the project included a major redesign. Dairy Queen wanted its new portal to have a user-friendly and modern design. The new DQ Hub is appealing to the eye and functionally sound, with an intuitive design that is easy to navigate. The entire site is also responsive, enabling franchisees to check on the store operations from their mobile devices.
Since launching, the Dairy Queen Hub has transformed the company by improving day-to-day processes for franchisees across the board. The portal accelerated business with a sleek experience that keeps up with the way users interact online today.

"The new hub has been completely company changing. One franchisee told DQ's corporate office that the new hub allows him to send reports on each of his 10 stores in about 5 minutes. This process used to take him 30 minutes per store report! The promotional readiness section has been so successful that we've copied it and are using it for international franchisees and markets."