Optimizely Development Services
Creating digital experiences confidentially with Optimizely
Why Americaneagle.com and Optimizely? Americaneagle.com is a proud Bronze level partner with Episerver, now Optimizely, to offer customers one of the most comprehensive CMS solutions available. Optimizely empowers businesses to scale through the most customer-centric approach to digital experiences. Utilizing its Customer-Centric Digital Experience Platform™, Optimizely features best-in-class content management, robust commerce and intuitive data and personalization solutions. The platform has consistently earned industry, analyst and media recognition for its vision, capabilities, and customer commitment. Let Americaneagle.com build your dream solution using Optimizely's data-driven and third party integrations.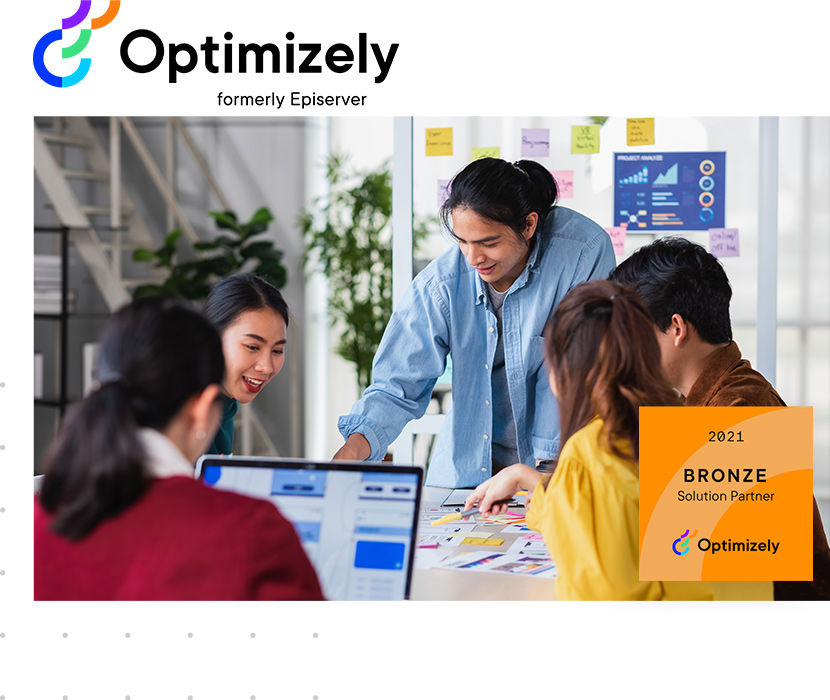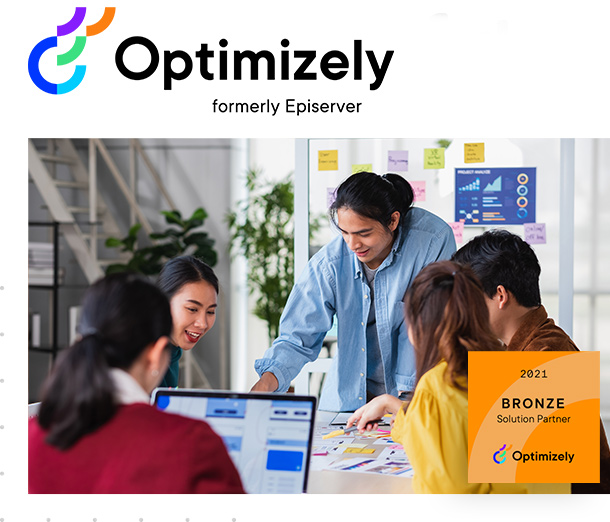 Optimizely Product Capabilities
- Commerce Cloud
- Content Cloud
- Intelligence Cloud
- B2B Commerce Cloud
- Digital Experience Platform
- Experimentation & Product Delivery
Full Implementation
Allow our 25+ years of expertise to aid in your full scope implementation project. Our technologists will apply their specialized skills in web development to build custom Optimizely websites and launch implementations successfully from beginning to end - we stay engaged and are on top of your every need.
Strategy Services
Our strategic consulting experts will partner with your team to create and execute strategic plans that increase engagement and optimize conversions. Tap into the power of Optimizely, the leading digital experience platform designed to help customers unlock digital potential.
Managed Support Services
Your cloud solution should never fail you, and neither will we. Americaneagle.com's dedicated global managed support services team is here to make sure your operations are monitored and supported so you stay on the cutting edge. With scalable support packages, you're free to focus on the things that keep your digital presence fresh.
Digital Marketing
Americaneagle.com's Digital Marketing experts can create a custom campaign plan that will attract more traffic to your Optimizely site. Whether it's through SEO, social media, PPC, email, or A/B testing, we work with our customers to develop a content optimization plan.
Integrations
Our expert integration services work to simplify, automate and connect your Optimizely website with key business systems. We have hundreds of certified developers on staff who can architect, implement, and configure connectivity from your Optimizely CSM to your ERP, CRM, DAM, PIM, and any custom or off-the-shelf systems.
Ecommerce
With more ecommerce experience than any other Optimizely partner, it is a no brainer to team up with Americaneagle.com's ecommerce experts. We will help you leverage Optimizely's Commerce Cloud, the most complete commerce suite for growing companies.
Headless CMS
Optimizely's headless API allows you to use their enterprise CMS platform as coupled, decoupled, and headless architecture. We will help you leverage your site so you can easily control and edit content for all your applications in one place.
Having a plan for content governance will go a long way toward improving your website's user experience and overall success. Read More

Copywriting is an essential part of any digital marketing toolbox. Read More

Three actions you should take after your data quality audit is complete, as well as what the risks and rewards of those actions are. Read More
---
Company name is required.
Email address is required.
Phone number is required.
Please use 250 characters or less.