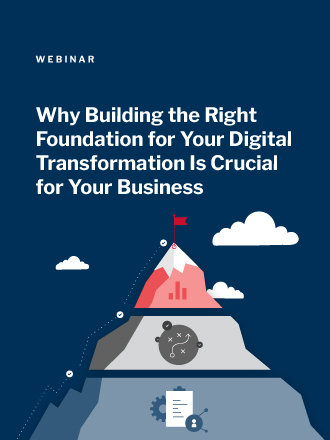 A well-developed, comprehensive strategy is critical to the success of any digital transformation project.
Many agencies today dive right into the implementation phase of a project without really understanding a business's specific needs and goals. By developing a foundation on which to base your digital strategy, you are much better able to successfully accomplish your objectives that are based on business and market requirements.
In this webinar, we discuss in detail how the team at Americaneagle.com takes the time to truly understand your business and its audience in order to remove any digital roadblocks that your company might be experiencing.
Download this webinar to learn:

The principles and key components of a foundational strategy, as well as the requirements needed to establish a successful, long term approach
How to build a foundational strategy that reflects your organization's unique needs and goals
Why having deep insight into your specific business requirements, customer audience, and industry market are so important before a digital strategy can be created
How recommendations from experienced experts can capitalize on opportunities, avoid risks, and prioritize your transformation roadmap