Creating Seamless Business Processes with PIM
Collecting, Enriching, and Spreading Data Across Multiple Channels
As companies continue to adopt several new technologies, the need to create unified digital experiences through seamless integrations has rapidly increased. Our dedicated Product Information Management (PIM) implementation team will work to efficiently manage, gather, and distribute product information for your business - all while cleansing your data to ensure a seamless integration across channels.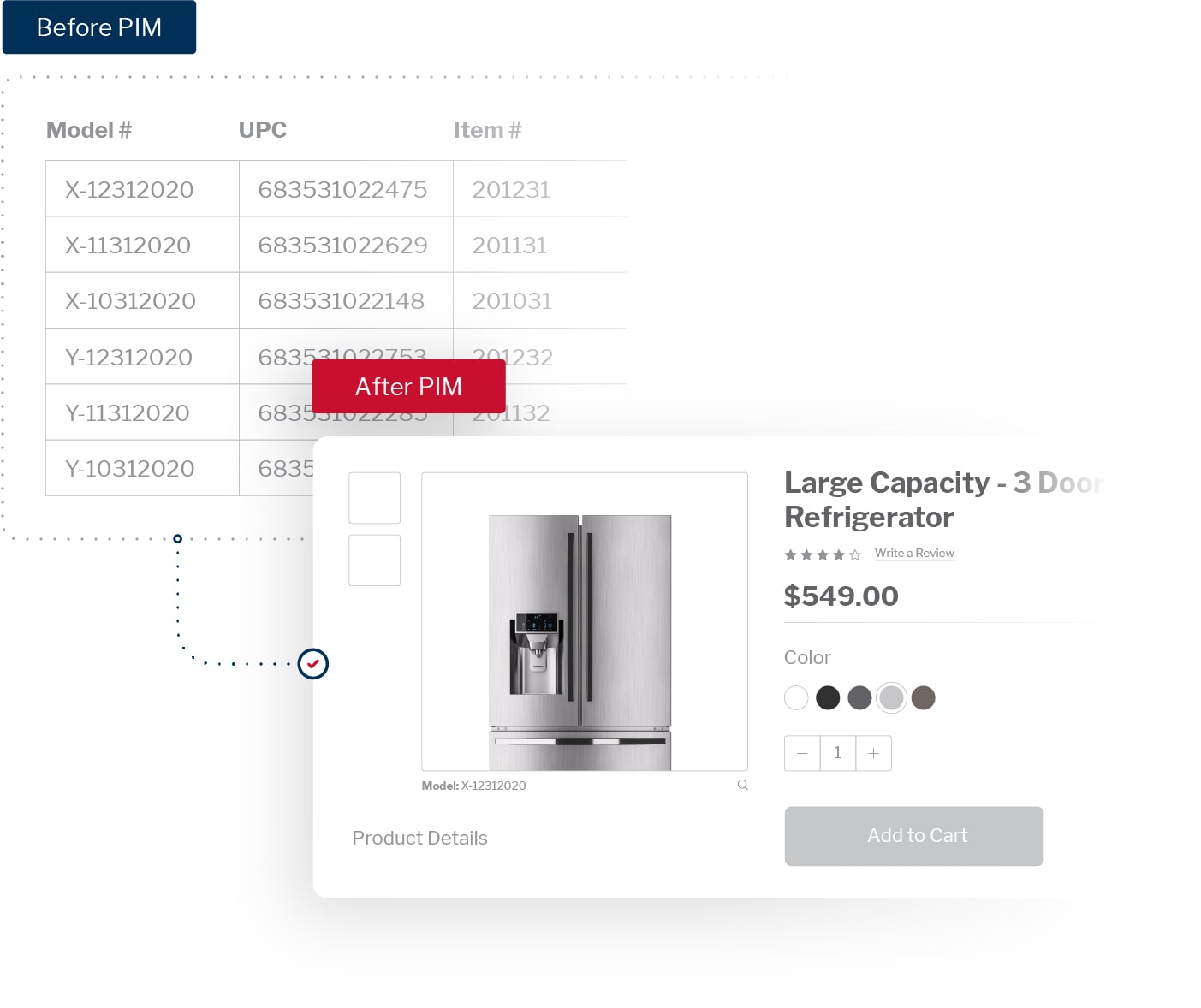 What is PIM?
A Product Information Management system allows your team to move product data seamlessly across channels. PIM streamlines the way that your users interact with the data your team is managing day-in and day-out. With PIM, business users can automate the creation, enrichment, translation, and publication of product information and content directly inside of this key system. It's foundational to providing an exceptional customer experience in a global, omnichannel market. Through automated and workflow driven governance within the system itself, product stakeholders have a one-stop shop solution to onboard, enrich, and deliver their product data.
Our PIM Expertise
We look at every PIM integration project individually. Our first step is information gathering and understanding all of the business units that will be interfacing with the system. We focus on maintaining data integrity while eliminating inefficiencies in the workflow. Once all integration requirements are gathered, we create an in-depth, field by field integration plan. Our team provides a detailed plan laying out how data will flow between your website and various systems. If you are unsure of your current needs, our integration consultants can help. We will work to suggest opportunities to connect your systems and find areas to consolidate redundant software.
PIM Support
Upgrades & Channel Growth
Content Strategy & Creation
Workflow Optimization & Change Management
Data Modeling
PIM Recommendations
We provide industry-leading guidance and support to transform your digital presence through extensive research and analysis to achieve for your specific goals.
PIM Implementation
Our team performs an architecture strategy to determine the purposeful and meaningful organization of product information.
PIM Integration
Channel Specific
Ecommerce
Catalogs & Sales Sheets
Suppliers
Data Acquisition (Gathering)
Extract the data from ERP, CRM, straight from a retailer/supplier, etc.
Catalog Management (Enhancement)
Product experience creation. Add text, stories, images, videos, documents, specs, SEO, etc.
Plan & Release (Develop)
Combine products into assortments, groups, showrooms, campaigns or other segmented targets for specific channels and customers.
Syndicate (Distribute)
Push product info to different channels like eCommerce, print, POS, advertisements, email marketing, retail, etc.
Insights (Summarize)
Product information management reporting contains valued intel such as completeness and performance.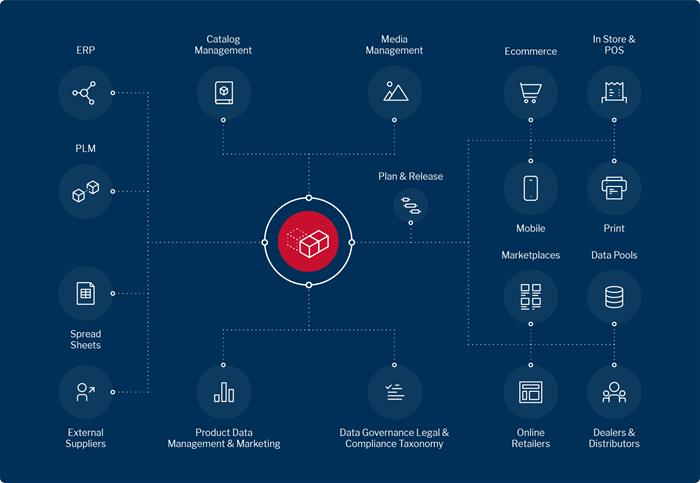 How Does PIM Help My Team?
Executives
Accelerates the time-to-market of products, allowing teams to be productive while focusing on initiatives aimed at boosting revenue.
Marketing
User experiences are unified across all channels through PIM, making cross channel promotion more of a seamless experience.
Product
A PIM reduces data errors and allows product managers to focus on crafting a more enhanced experience.
IT
Allows governance and control over product data and provides data functionality with integration capabilities.
Collecting
Collects data from existing sources such as an ERP or database
Defines and cleans data to distribute to your channels
Prioritizes data between sources
Enriching
Enriches products with technical, usage, and emotional descriptions
Translate product information into multiple languages classifying and associating with specified channels
Manages the lifecycle of your data and maintains control of data completeness
Spreading
Manages the distribution of data across multiple channels such as ecommerce, print, social networks, etc.
Selects specific catalog and attributes you want to distribute to each channel
Creates efficiencies to easily create multi-channel product distribution