Pro Football Hall of Fame
Honoring Excellence on the Field and Online
The Pro Football Hall of Fame, located in Canton, Ohio, focuses on honoring the greatest football players and moments that have shaped football's history as well as educating the public regarding the origin, development and growth of pro football as an important part of American culture. Their mission is to Honor the Heroes of the Game, Preserve its History, Promote its Values, and Celebrate Excellence Everywhere.
Challenges
The Pro Football Hall of Fame and Americaneagle.com began their partnership in 2004 and since then have been working together closely in the creation and maintenance of a powerful, user-friendly website. When the Hall of Fame first came to Americaneagle.com, a new ecommerce store was needed to complement the famous retail shop located in the Hall. The website needed a graphical refresh and easier-to-use navigation to provide a great user experience.
Project
Platform
Expertise
Ecommerce
Events
Responsive Design
Web & Application Development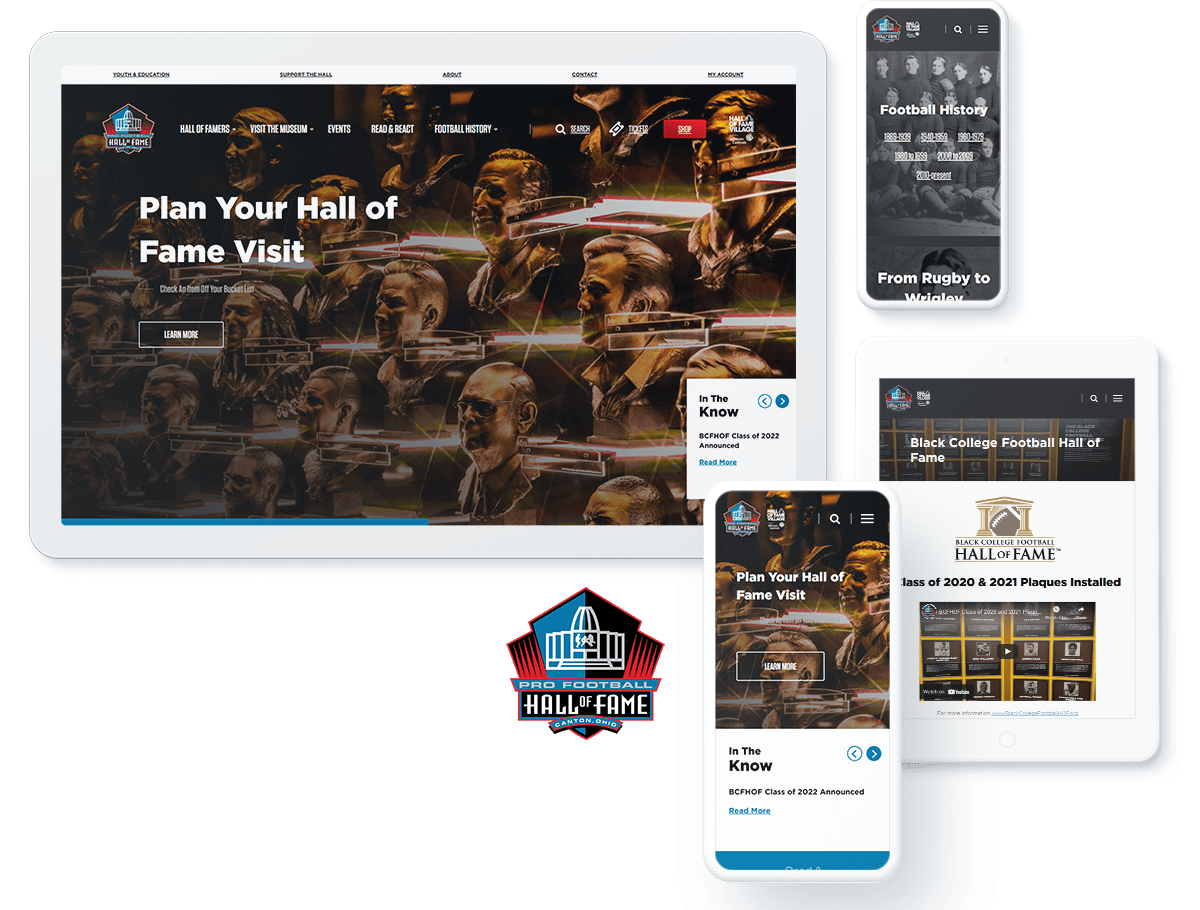 Solutions
A new navigation bar was designed to maximize usability with an attractive layout. Americaneagle.com also implemented the easy-to-use idev® Content Management System (CMS) and the ROC commerce platform that allows Hall of Fame staff to easily add news and events and have control over the online store inventory.
Hall staff no longer have to contact technicians as the CMS developed by Americaneagle.com does not require users to be proficient in programming or HTML. A robust broadcast email tool was also integrated with the ecommerce store, allowing the Hall to keep fans up-to-date with news and special deals.
Our digital strategy team continues to work with the Hall of Fame staff on a monthly basis to consistently innovate and look for ways to increase online conversions and sales.

"The Hall of Fame knew sales from the online ecommerce museum store were not where they should be, so we naturally looked at Americaneagle.com due to their success with ecommerce and the incredible work they did on the Hall of Fame portion of the site. We never expected the increase in sales that we saw. Americaneagle.com once again proved themselves to us."