Shoe Company Benefits from Dedicated Remediation & Measurement Efforts
Owned by Latitudes, Inc., Klogs Footwear is a family-owned business located in Sullivan, Missouri. Since 1999, the company has been manufacturing molded polyurethane clogs, commonly worn by those in both the healthcare and hospitality industries, that are designed to be slip resistant, easy to clean, and comfortable.
Challenges
Due to internal restructuring, Klogs Footwear's digital marketing presence grew increasingly stagnant. Its search engine optimization (SEO), paid search, social media, and data measurement efforts were put on hold, leading to a decrease in awareness, traffic, and conversions. In an effort to get its digital marketing back on track, Klogs hired a consultant but quickly realized it needed to partner with an experienced full-service agency in order to move the needle forward and achieve its growth objectives.
Project
Platform
Industry
Manufacturing & Distribution
Retail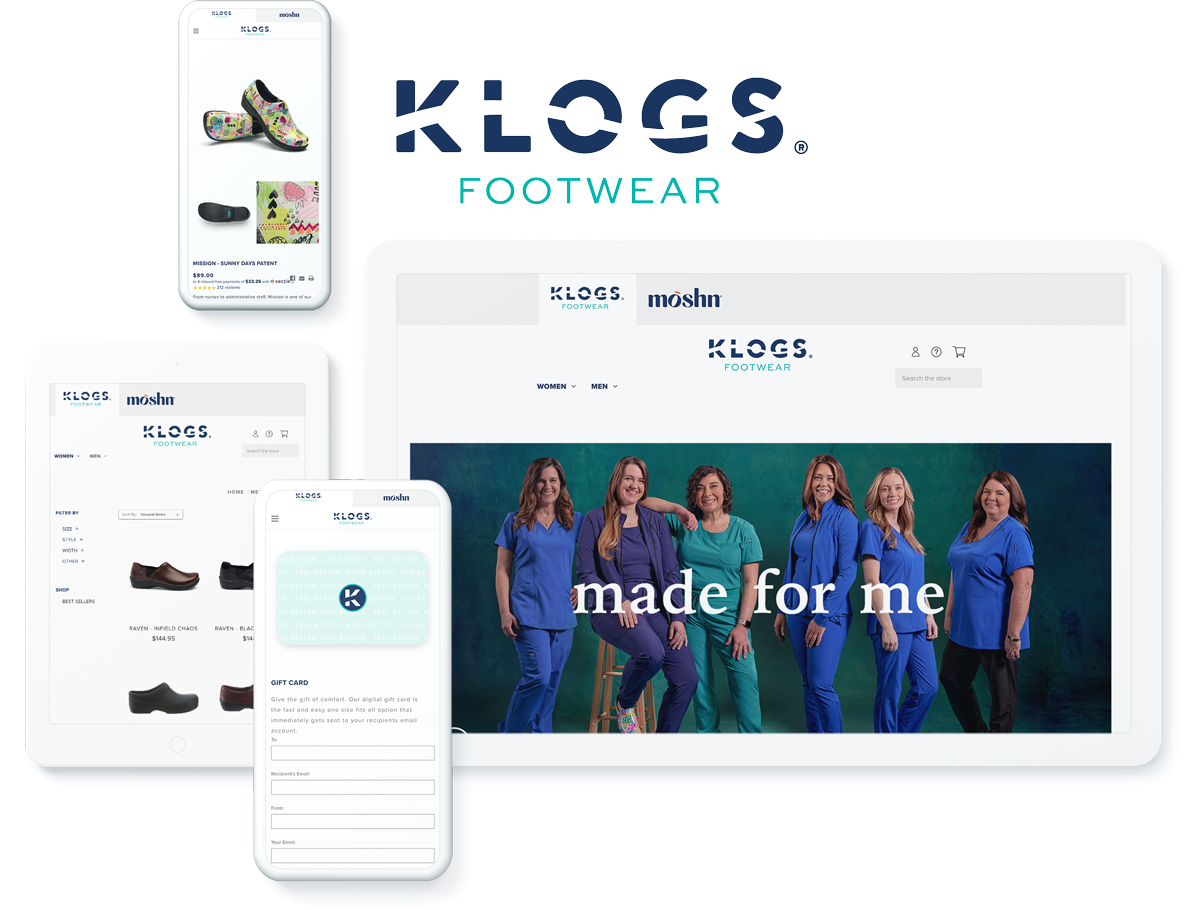 Solutions
Klogs partnered with Americaneagle.com to reimagine and strengthen its overall digital marketing strategy. The project began with consulting initiatives and a number of audits, including a Google Ads audit, Google Merchant Center audit, and data discrepancy audit, to determine what enhancements needed to be made in order to best set Klogs up for success. In terms of SEO, Americaneagle.com conducted both a technical audit and a content audit to uncover specific elements that needed to be remediated throughout the site. A social media audit of Klogs' Facebook and Instagram accounts was also conducted.
Based on its finding from the various audits, Americaneagle.com began making enhancements to Klogs' digital marketing strategies. This included remediations of the retailer's Google Ads setup, Merchant Center, social campaigns and account structure, and more. Americaneagle.com also helped identify the source of Klogs' inaccurate data and provided third-party solutions for data tracking, including both Universal Analytics and Google Analytics 4.
Additionally, Americaneagle.com implemented robust paid search and paid social strategies to help Klogs maximize its reach and drive increased traffic and sales. To do so, multiple tools are leveraged, including Google Ads, Performance Max, Facebook Ads Manager, and Google Search Console. BigCommerce's out-of-the-box analytics capabilities are also leveraged. Combined, these tools provide a measurement strategy that drives intelligent business decisions.
Since partnering with Americaneagle.com, Klogs Footwear is experiencing positive results. The different digital marketing audits and remediations conducted enabled the shoe retailer to gain control of its efforts and begin moving the needle in the right direction. Americaneagle.com is confident that it has equipped Klogs with the necessary tools for future digital marketing success.
Results
127

%

Increase in Website Visits

60

%

Increase in Clicks

32

%

Increase in Organic Revenue

26

%

Increase in Transactions