Serving Healthcare Employees with a Dynamic Benefits Portal
Advocate Aurora Health Care is the 10th largest not-for-profit, integrated health system in the United States. A national leader in clinical innovation, health outcomes, consumer experience, and value-based care, the system serves nearly 3 million patients annually in Illinois and Wisconsin across more than 500 sites of care.
Challenges
Advocate Health offers competitive and comprehensive benefits to its employees and their families, ranging from health insurance, retirement plans, and financial wellness education. The organization's existing benefits website provided vital content to employees, however, everything was accessible to the public, which proved to be a liability. Additionally, the website was outdated, difficult to use, and not optimized for mobile viewing. Advocate Health needed a new benefits website with a modern design that would reduce user strain and provide added security.
Project
Platform
Expertise
Experience Design
Hosting & Security
Strategy & Insights
Web & Application Development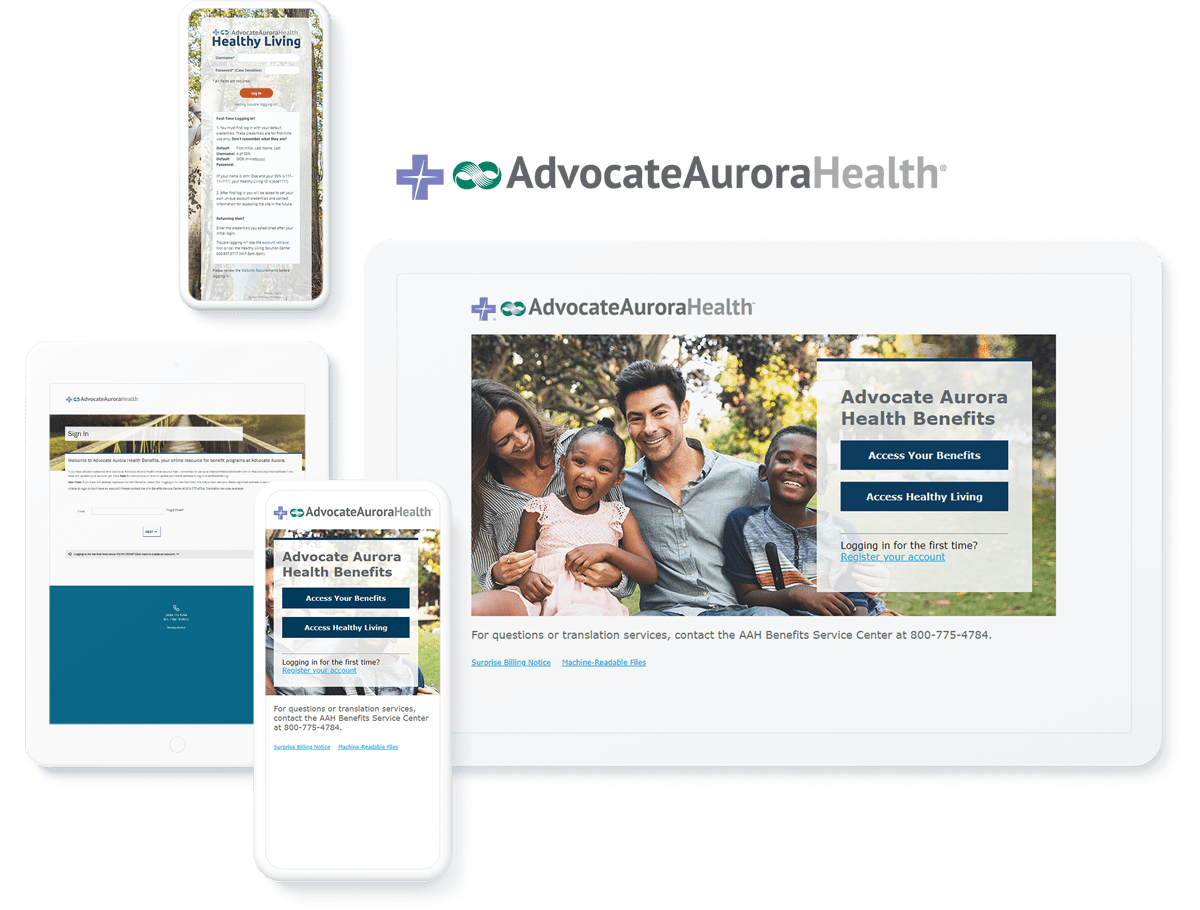 Solutions
The Americaneagle.com team designed and developed a solution for Advocate Health on the Sitefinity platform that modernized the experience of researching and ultimately selecting employer benefits.

The project began with a strategic planning phase to analyze the best way to serve Advocate's different user groups. It was determined that visitors coming to the new Advocate benefits website were either employees, prospective employees or the spouse of an employee. Using this information, Americaneagle.com's award-winning graphics team designed the entire website starting with a minimalist public-facing homepage screen containing just 3 calls to action. All pertinent public information was consolidated to one web page with the bulk of Advocate's benefits information hidden behind a login screen. This enabled Advocate to protect sensitive details about their organization's benefits while still providing outside job candidates high-level benefits information, which plays a key role in the recruitment process.
The entire website was powered by a single sign on thanks to an integration with Advocate Health's HR management software, promoting ease of use. Americaneagle.com redesigned the entire user interface of the employee-facing section of the website, making it responsive across all devices. A number of content tools were created including a callout tool for Advocate to highlight news and special events and a plan comparison tool that allowed users to review insurance plans side by side. Additionally, the Americaneagle.com team cleaned up navigation, to make it simple for employees to find the information they are looking for.

Since partnering with Americaneagle.com, Advocate Aurora Health received positive feedback from employees. Now, with an optimized web presence, the hospital system can focus on what they do best: providing best-in-class health care.

"We officially launched the site and have received GLOWING feedback from our leaders and team members. Thank you, thank you, thank you for keeping this project on pace and for being calm in the storm and pushing this across the finish line. I truly appreciate your partnership. "