Organic Optimizations Lead to Positive Growth for Window Replacement Business
Founded in 2006, Window Nation is a family-owned business that offers custom-made windows, doors, and siding. The company first opened its doors in Maryland and has since expanded to 16 states across the U.S.
Challenges
Window Nation approached Americaneagle.com looking for an improved digital marketing strategy. The company was preparing for its peak season, spring and summer, therefore it was seeking new, innovative digital marketing opportunities to stay ahead of the competition.
Project
Expertise
Digital Marketing
Experience Design
Strategy & Insights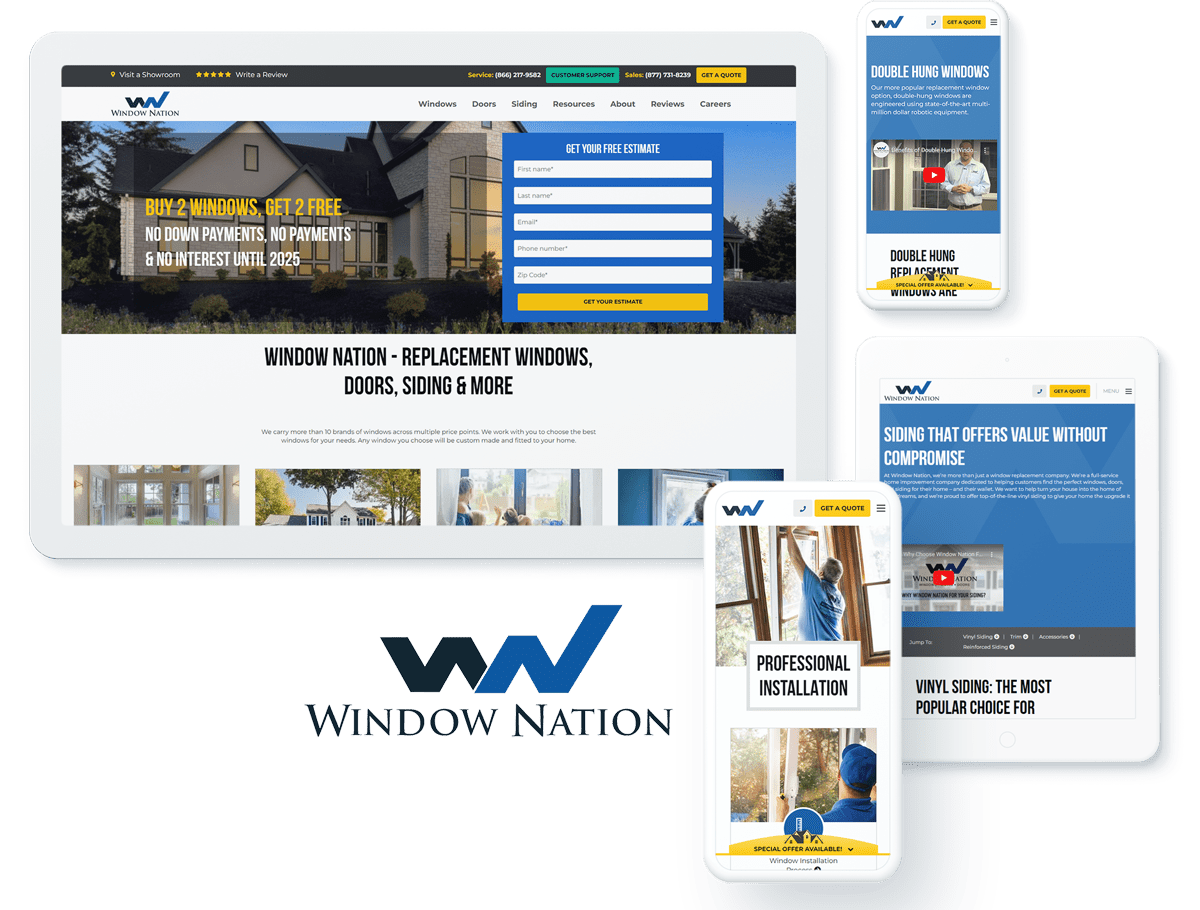 Solutions
After conducting an in-depth search engine optimization (SEO) audit, Americaneagle.com suggested Window Nation focus on increasing its organic web traffic. To put this plan in motion, Americaneagle.com first completed a keyword gap analysis with an emphasis on Window Nation's direct competitor Window World to see which keywords it would need to incorporate into the overall SEO strategy.
Next, Americanagle.com created meta descriptions for each of the website's pages to help increase Window Nation's traffic and engagement on the search engine results page. Additionally, the digital agency updated the site's title tags according to recommendations made during the SEO audit.
As part of the strategy, every week, Americaneagle.com would supply Window Nation with 1-2 documents of recommendations per page. For example, the team would pick out a keyword that was ranking low (i.e. Bay Window) and then provide a list of recommendations to implement across the entire site with the ultimate goal of improving its Google ranking. After providing the recommendation's, Window Nation's team implemented the changes, and Americaneagle.com would then monitor and report on performance.
Furthermore, Americaneagle.com recommended simple user experience (UX) changes that would yield positive results. The UX recommendations included moving buttons around on the page and changing the color of certain buttons to yield more call-to-action clicks.
Window Nation has experienced significant organic growth as a result of its partnership with Americaneagle.com. The digital agency was able to deliver a robust strategy in a timely manner, and both parties are looking forward to implementing new digital marketing tactics in the future.
Results
54

%

Increase in Total Site Sessions

44

%

Increase in Top 3 Keywords on Google

30

%

Increase in Page 1 Keywords

22

%

Increase in Organic Site Sessions